The Student Number is a field that schools can use if they wish to record any student number such as ID badge numbers or admission numbers.
Seeing and adding Student Numbers
You can see and edit a student's Student Number in the Identity section of their student profile.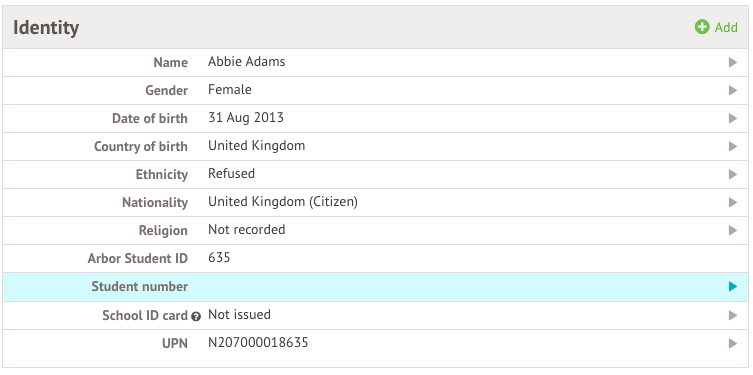 Click into the student number field to add it manually. Student numbers can't be imported or added in bulk.
Add the number to the slide over, then click Save Changes.

You can report on student numbers using the Custom Report Writer and our Download Student List feature.

What is the difference between Arbor Student ID and Student Number?
Student Number and Arbor Student ID can both be found in the Identity section of the Student Profile.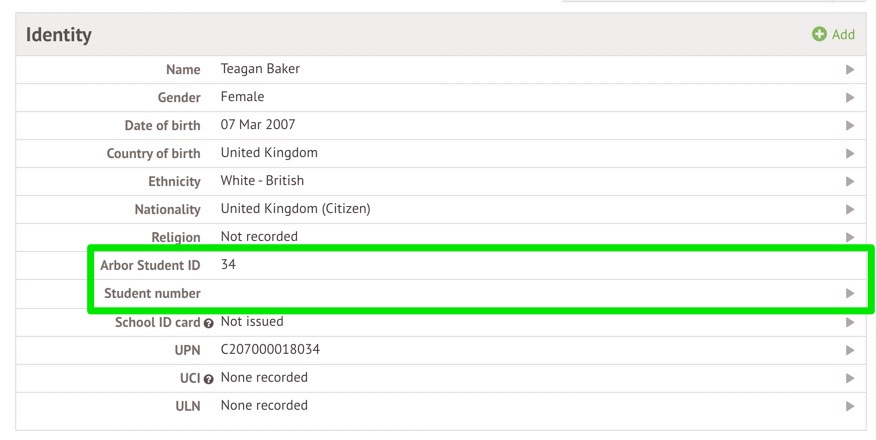 Difference 1:
Student Number isn't something filled in automatically and can be left blank.

Arbor ID can't be changed. This determines the page identity for their profile.

Difference 2:
Student Numbers may not migrate over from your previous MIS (If you came from Integris or CMIS, this will not come over to Arbor).

Arbor ID's are generated before your Arbor site is released.
Difference 3:
Student Numbers aren't an easy identifier in Arbor. Some students may not have a student number unless it was manually inputted.

Arbor ID's are the best identifiers in Arbor as each are unique, easily searchable and reportable, and every student will have one.