Using attendance patterns allows you to automate student enrolment. Using this method, you can include students in all morning roll call registers, all afternoon roll call registers, or both morning and afternoon roll-call registers, just by giving them the correct attendance pattern.
For more information on attendance patterns, take a look here: What are Attendance Patterns?
If you wish to change attendance patterns for next year, you'll need to follow these instructions.

If you need to change their attendance pattern mid-way through the year to change which registers they appear in, follow the instructions below.
If a student already has an attendance pattern and you have taken attendance for more than one class, please do not delete the attendance pattern.
There is no way to change attendance patterns mid-year in bulk, so you'll need to go to the Enrolment section of each students student profile. Click the Attendance Pattern row.

Click the Edit button, then in the next slide over add the last date they should have their current attendance pattern in the Until date box. Then click Save Changes.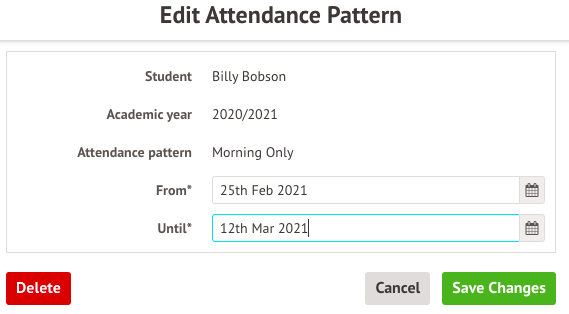 Next, you'll need to add their new attendance pattern by clicking +Add.


Be sure to change the From date to the first day they should have the attendance pattern to make sure the dates don't overlap.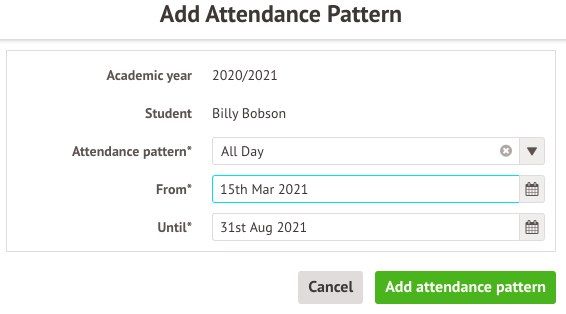 The student will then have two attendance patterns. If you have automatic enrolments set up into registers based on attendance patterns, the student will automatically switch to be enrolled into the right registers on the right dates - there's nothing more you'll need to do!