When completing Step 3 of the New School Year Setup process, you need to copy your registration forms over to the next academic year.
If you need to split a year group into two registration forms, just map the students to the class most students will be in. Once you've done this, you'll be able to create the additional registration form and then move students into the right registration form.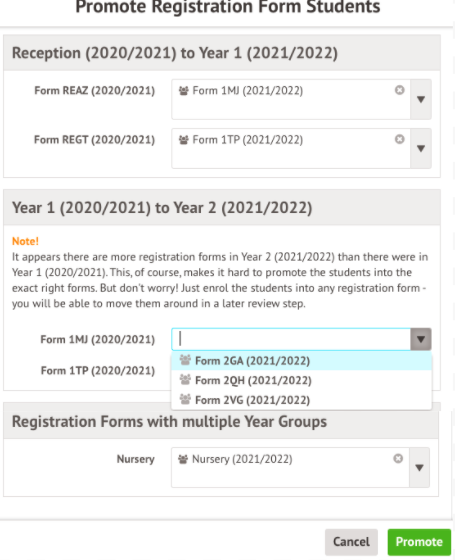 To split students into more than one registration form per year group, click on 7. Review and tweak registration form enrolments.​
On the next page, click on the year group in the grey box on the top right and then choose the year group you need to split.
Once you've chosen the right year, a list of the students in that year next year will appear.
Click on the registration form for one of the students you want to place into a different registration form and choose it in the drop-down. Repeat this for all of the students who should be in the other registration form.
​
You can repeat these steps as many times as needed, for any year groups and registration forms.
After this, continue with the new year setup process (step 4). See our New School Year Help and Guidance for help with the next steps.
Can't select the registration form?
To be able to select a registration form from 7. Review and tweak registration form enrolments, you need to have added the registration form and linked it to the right year groups.
Click +Add to add a new registration form if needed, or click into it to check the year groups.

When adding registration forms, be sure to select all the year groups that could have students in the registration form.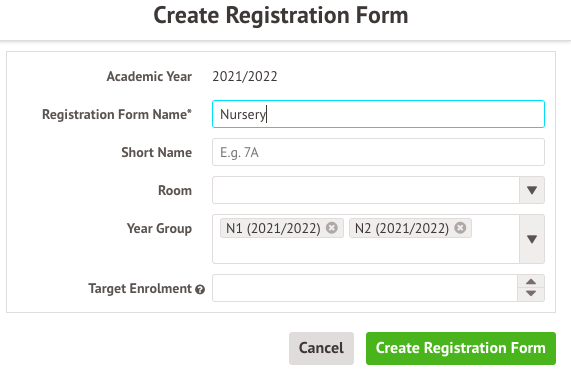 You can add additional year groups by clicking into the Year Group field.