We know that sometimes when you're setting up the new year in Arbor you may make a mistake and need to amend something or start the step over.
There's no dedicated button to reset a step in the New Year Setup screens but the setup can be undone by deleting whatever you've set up already.
In the Academic Calendar step
Click into any of the Terms or Holidays you've set up.

Click on Edit in the slide-over.

Choose Delete to remove it.

Repeat for any other parts of this step you want to remove and create again.
In the Off-Roll Leavers step
In this step, you would have to click into each row of the Reason column to undo the off rolling.

Once you click into the row, click on Edit on the slide over and choose Delete.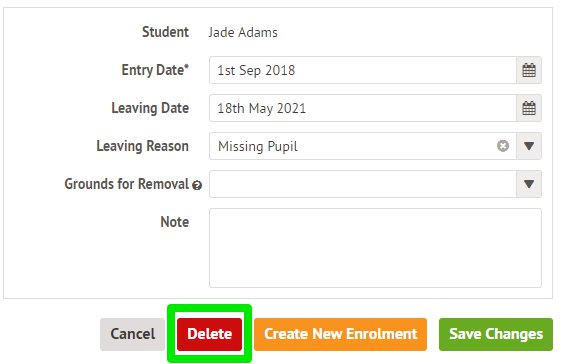 In the Year Groups and Registration Forms step
You can click into the year groups or registration forms on this step to delete them which will allow you to create them and promote students into them again from the beginning of this step.
For example, if you accidentally promoted the wrong students into a registration form you can correct it by either:
Using our steps for splitting students via the tweak registration forms page. This page can be used to move students from an incorrect registration form to the correct registration form.
Deleting the registration form from the next academic year. To delete it you just need to click on it on the Year Groups and Registration Forms

page.

Then click the red Delete Registration Form button to delete it.

Once it's deleted you'll be able to go back to the step where you copy the registration form from the current year into the new year (step 1 copy year groups and registration forms).

In the Custom Groups or Houses steps
Click into the Custom Group or House and delete it (then you'll be able to copy them again or create new ones).
To do this to a custom group you'll need to click into the custom group in that step, then click More on the slide-over.

Click Delete Group on the right of the page.

To do this for Houses, click into the House.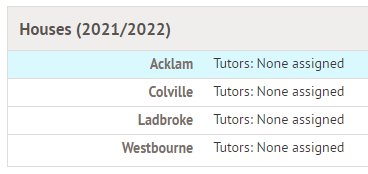 Click on Delete House on the right-hand side of the page.

In the Courses and Classes step
Click into the course you want to delete in the Review Courses and Classes section of this step.
Click the red Delete Course button on the right of the screen.

In the Meals step
For this step, we can reset it for you, just get in touch with our support team and we'll be happy to reset this.
In the Interventions step
Click into the Intervention in the Review section.
Click on the Intervention Details tab.

Scroll down to the bottom of the page and click the red Delete Intervention button.