The Students > Behaviour > Fixed Period Exclusions > Exclusions page allows you to record temporary exclusions (referred to as 'suspensions' by the DfE from Autumn 2021) within your school. You can also view all Fixed period Exclusions from this page.

Using the filters, you can filter for specific dates or number of sessions missed. You can also choose extra columns to add to the table.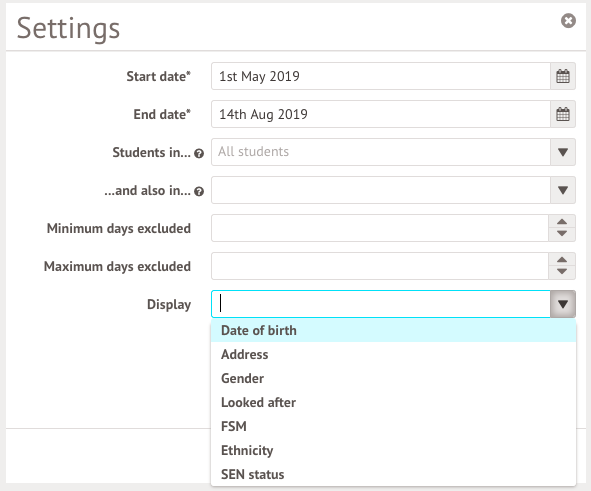 Adding a new Fixed Period Exclusion
You can add a Fixed Period Exclusion by clicking on the green Add Fixed Period Exclusions button.
A slide over will appear for you to enter the required details to create the Fixed Period Exclusion. You can see more information on the reasons here: How do Exclusion Reasons in Arbor map to the DfE codes?
Please note: Only fill in the daily start and end time if it is a lunchtime exclusion.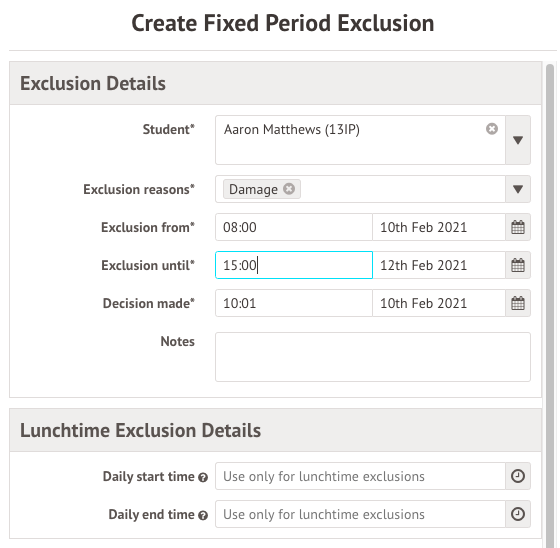 You'll then need to choose which AM and PM roll call sessions to exclude the student for, then click the green button. Each session counts as 0.5 days and one session, so the example below will count for 1 day, but 2 sessions.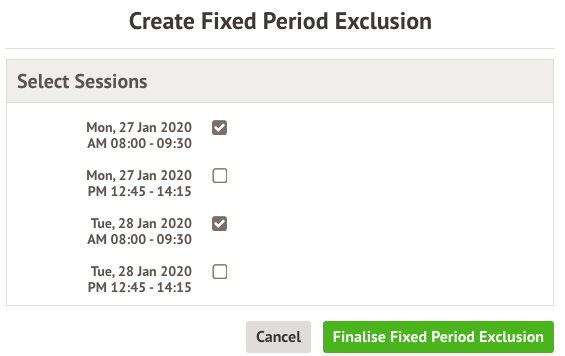 When the exclusion is created it will be displayed in the table.
Editing the Fixed Period Exclusion, notifying guardians and taking further actions
Clicking on any cell in the table (apart from the student name) from the Students > Behaviour > Fixed Period Exclusions > Exclusions page will generate a slide over where you can:
Notify the student about the exclusion

Notify their guardians about the exclusion

Add attachments

Click Edit to edit the details
Click Edit to delete the exclusion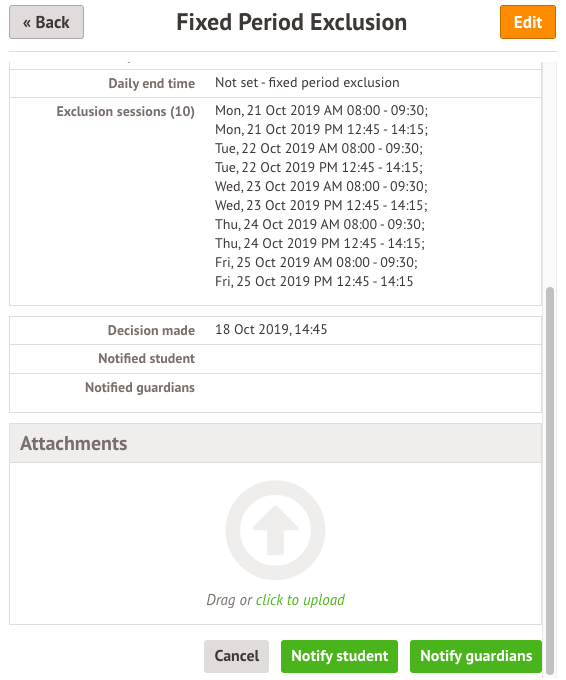 Clicking on the student name cell in this table will take you to their Student Profile.
Clicking on the Exclusions tab in Behaviour allows you to see the exclusions of the student and also allows you to see if a Guardian has been notified.

Clicking on the X will open a slide over where you can choose to Notify Student or Notify Guardian.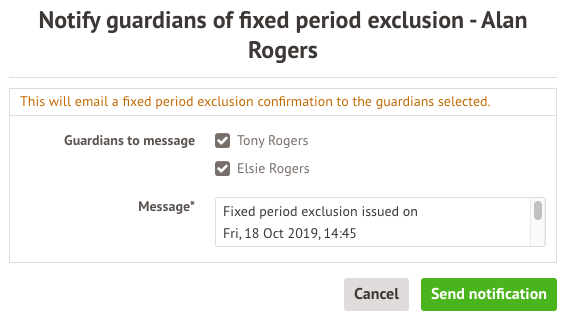 For the times of the exclusion, planned absences will be logged for the student. You can see these on the student's profile, in the Attendance > Dashboard and Planned Absences & Notes sections.
You can also see them in the Marks (By Date) section.