To enable you to add new applicants for the next year you need to first create an intake season. This area of Arbor is separate to the New School Year setup area, as you'll need to set up a new intake season for each new cohort of students that apply to your school, such as nursery pupils starting in Spring term.
Step 1 - Adding the year
Before you start to set up the Intake Season and Applicants you need to check that you have the dates of the next Academic Year entered into the system.
Do this by going to School > School Structure > Academic Years
Click on the green +Add button in the top right-hand corner of Academic Years to add the next year.

Can't set up the academic calendar to start on the right date?
We recommend you have your academic calendar for each year start on 1st September and end on 31st August. If your students don't start back right away, you will be able to fill in these days as holiday or inset days.
If you get an error message when trying to start your year on the 1st September, this means your academic calendar from last year finishes too late. Contact the Arbor Support Team if supported by Arbor, or your Support Partner if not supported by Arbor so the end of this year's academic year can be changed to 31st August. You'll then be able to add the new academic year to start on the right date.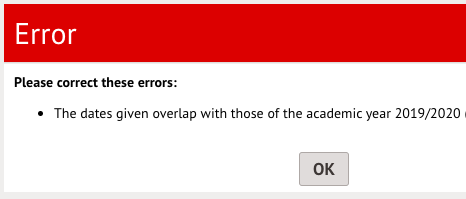 Step 2 - Adding the new intake season
You need to make sure that you have an Intake Season for the next academic year created before adding any applicants.
Go to Students > All Students > Applicants to get to the Applicants Dashboard. The Applicants Dashboard will show all of the Intake Seasons created on the MIS. Click on the green +Add sign at the top of the dashboard.

From the slide over it is important to add a name for the season and the academic year it's linked to.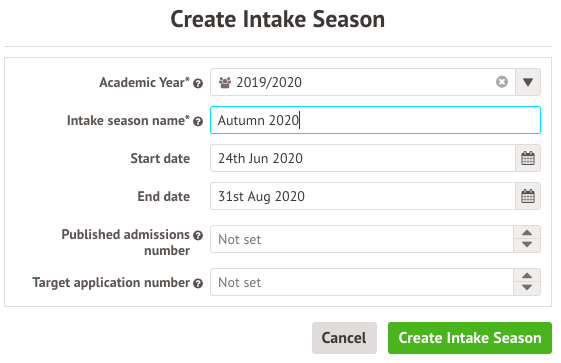 Applicant buckets and intake groups
Once the Intake Season is set up you will see that two new sections have been created called 'Applicant Buckets' and 'Intake Groups'.
Applicant Buckets

- These can be used to help you manage the type of application as it comes in e.g, the local parish, siblings, etc. It will help you to sort students for the applications admission criteria and non-standard aptitude testing.

Intake Groups

- These can be used for creating multiple intakes within an academic year e.g if you had an intake of nursery and reception students and wanted to split them.