Setting up a linked Arbor-defined curriculum assessment
If you want to, you can use curriculum and summative assessments together to allow Arbor to suggest a summative assessment grade for each student based on their coverage of the curriculum. The suggested grade is calculated from their overall mastery which is based on how the curriculum has been benchmarked.
We require you to set up a summative assessment before you create your curriculum assessment. You can then link multiple curriculum assessments to one summative assessment!
To set up a custom curriculum assessment instead, click here.
Before setting up the curriculum assessment
Before setting up the curriculum assessment, please ensure you have:
Set up the grade point scale for the summative assessment you will use

Decided on your curriculum

If you want to link this to a summative assessment, make sure you have added the summative assessment to your Assessment Framework and Annual Policy
Step 1 - Add the curriculum assessment to your Assessment catalogue
Go to Students > Assessments > Assessment Framework > Assessment Catalogue and click the Create new assessment button. Click the Create new curriculum assessment button.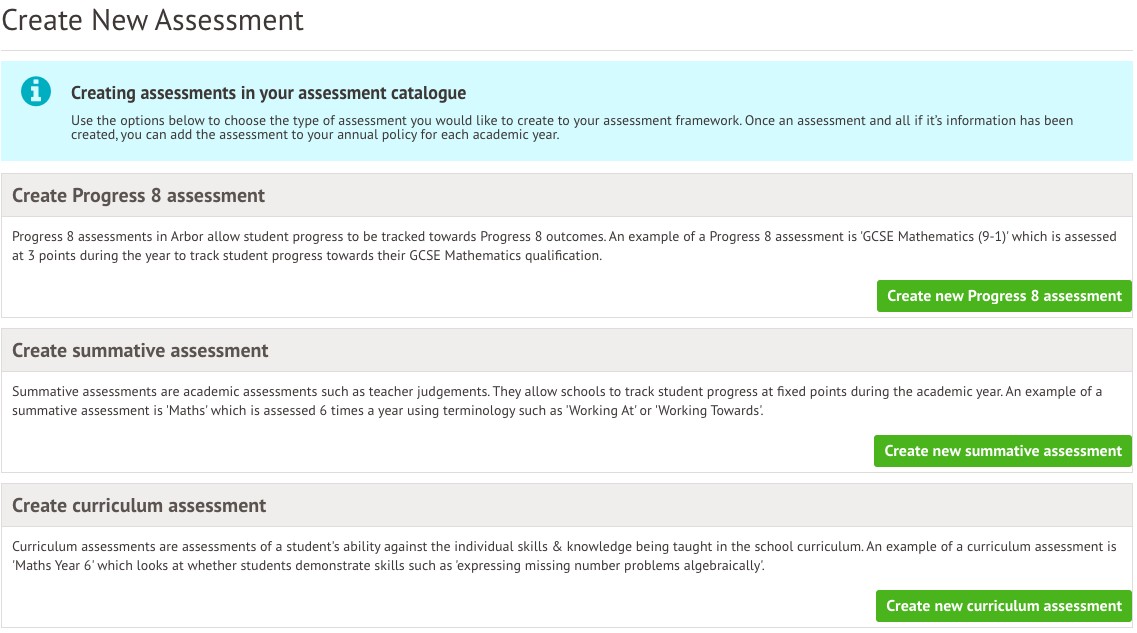 Here you can choose whether to select a curriculum from the list of available curricula (such as rising stars) or to upload a custom curriculum. For instructions on adding a custom curriculum, see this article.

Click on an available curriculum, then click Use curriculum to select it.

You will be taken to step 1 of the Curriculum setup process. In this step, you can choose what to name your assessment, the subject it links to and what key stage it is applicable to. Click Next once this step is complete.

During step two, you can review the curriculum statements.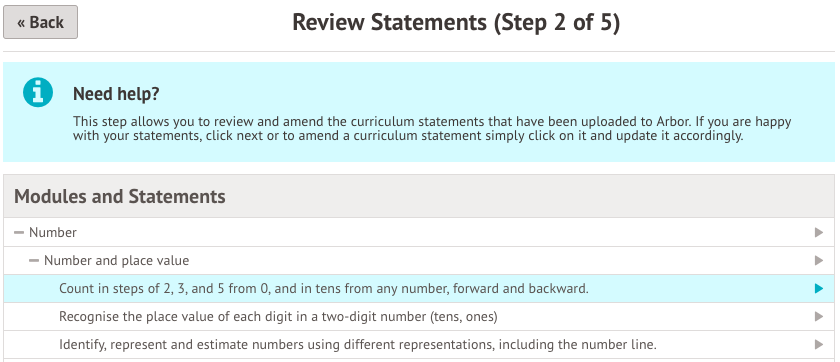 You can edit a statement by clicking on it and updating the slide over.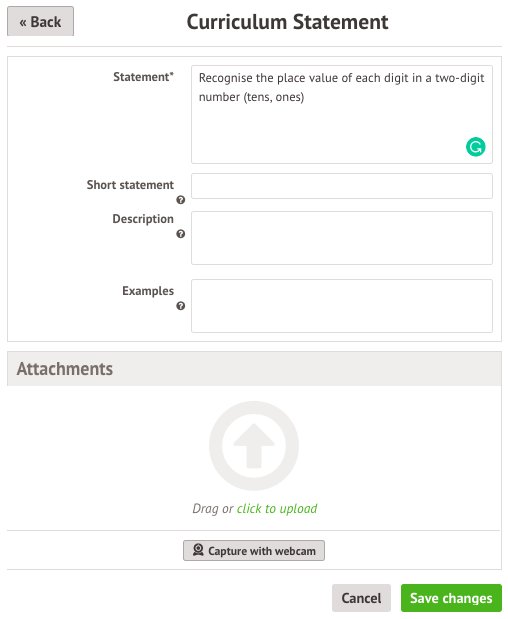 Once you are happy with all your statements, click Next and you will be taken to step 3, where you can choose a marking scale. To change the default marking scale, click on the one you want to use, and click Use marking scale.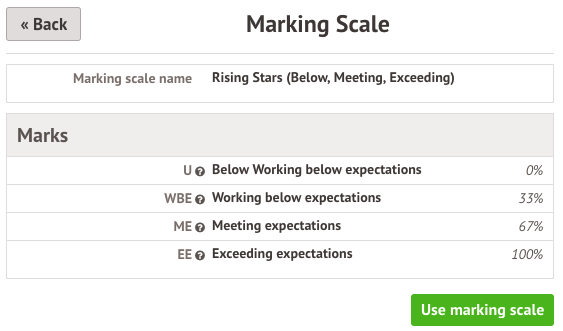 If you want to add your own marking scale, you can do so by clicking +Add and adding the grades to the slide over, then click Save changes.
Once happy with your selection, click Next.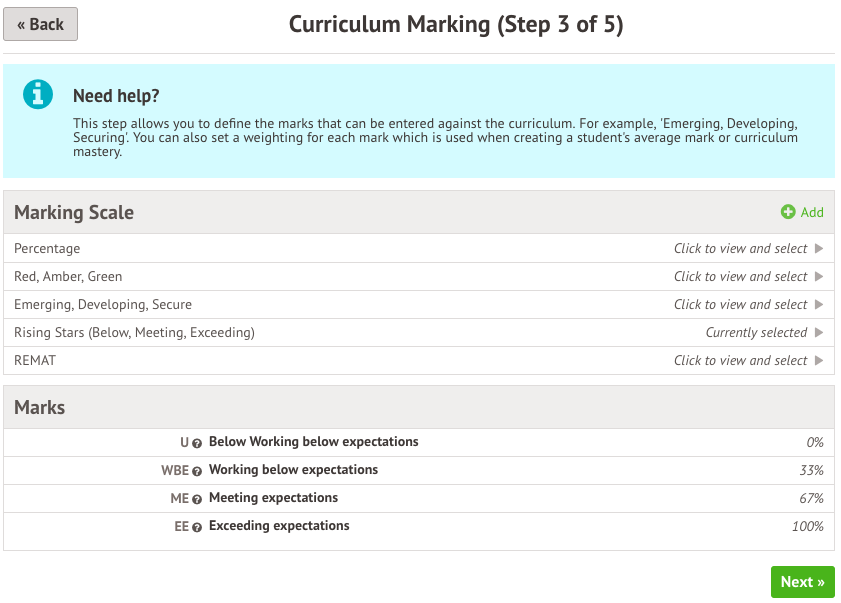 Step 4 allows you to link your curriculum assessment to a summative assessment you have already set up. Just choose the summative assessment from the drop-down list.
If you do not want to link this curriculum assessment to a summative, simply click Skip.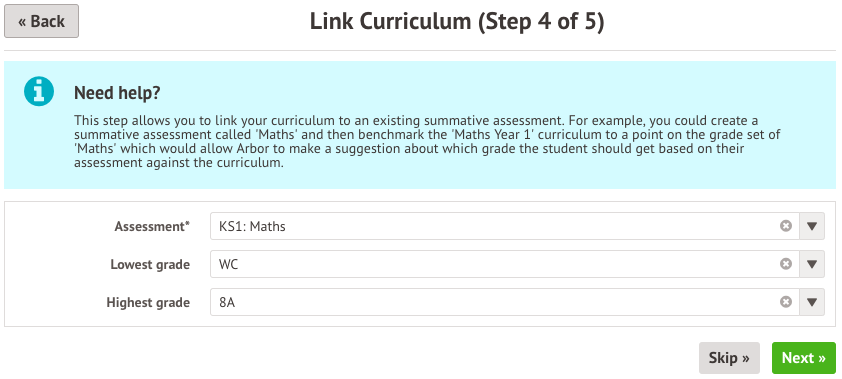 In step 5 you can review your setup. Once happy, click to Complete setup.
Step 2 - Add the curriculum assessment to your Annual Policy
Once you have defined your Assessment Framework, you will be able to create your Annual Policy for the academic year. Annual Policy includes all aspects of assessments that are specific to an academic year, such as which assessments students are taking and Data Collection dates. In this section, you can also manage your assessment periods, assessable courses, curriculum expectations, and schoolwide targets for the year.
Now you have created your assessment, you need to add it to your Annual Policy to be able to add marks for the current academic year. Click the option to add our curriculum to the Annual Policy, or go to Students > Assessments > Annual Policy and click Add assessment to policy.

You can then select which students will be assessed by this curriculum assessment this academic year. Click Add assessment(s) to add the assessment to your policy for the academic year.
This is mainly beneficial to secondary schools as it creates a link on the course timetable giving direct access to the assessment mark book for that course only. You can select the course you would link to link the curriculum to or leave blank in order to not link to any courses.

You will then be able to access your assessment through the Manage Assessments page, and your markbooks through the Formative Tracking page.
Adding an existing Curriculum Assessment to your Annual Policy
Go to Students > Assessments > Annual Policy > Manage Assessments and click on the Add assessment to policy button.
You can then select an Assessment type, and select which assessments to add to your policy. Then click Next.

On the next page, select the groups of students you would like to include in the assessment, how often the assessment will be taken, and add any courses to be linked. Then click Add assessment(s).