Setting up a custom curriculum assessment allows you to create a completely bespoke curriculum for your students to follow and be marked against. For example, you can use this to create Bell Foundation EAL assessments (since we don't offer these in Arbor).
You can easily divide your curriculum into 'modules' and 'submodules' if you want to. The most common way to do this is along topics (e.g. 'Number and place value', 'Measurement'), but some schools decide they would like to group the statements by when they are taught (e.g. 'Term 1', 'Term 2') or even to roll multiple years curriculums into one and group by year (e.g. 'Year 3', 'Year 4').
To set up an Arbor-defined curriculum assessment instead, click here.
Before setting up the assessment
Make sure you have:
Set up the grade point scale for the summative assessment you will use
Decided on your curriculum
If you want to link this to a summative assessment, make sure you have added the summative assessment to your Assessment Framework and Annual Policy
Setting up the assessment
Step 1 - Import your curriculum
Once this is complete, go to Students > Assessments > Assessment Framework > Assessment Catalogue and click the Create new assessment button. Click the Create new curriculum assessment button.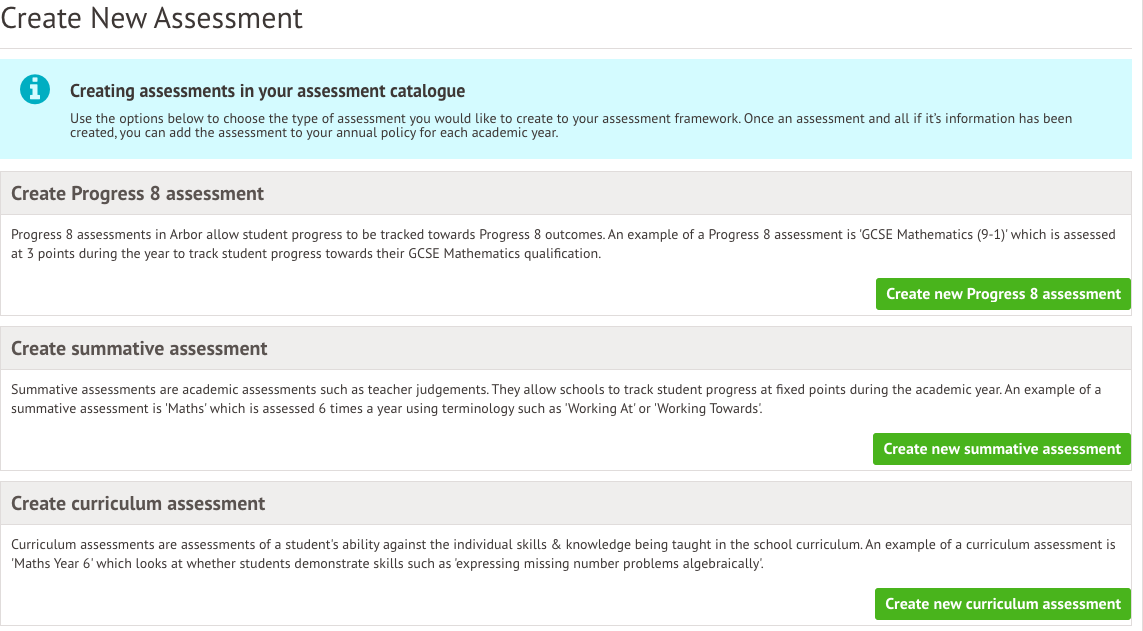 Here you can click the Upload custom curriculum to upload a custom curriculum.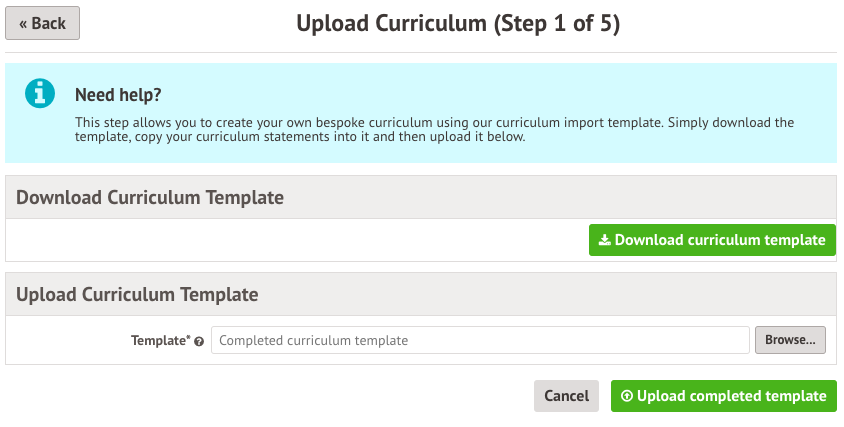 Click on Download curriculum template which will download an excel template. This template will walk you through the process of how to enter the required information for upload.
There are some things we need to upload your curriculum successfully:
Curriculum Statements - These are the individual skills that make up your curriculum eg 'Know the difference between animal and plant cells'

Submodules - These are groups of curriculum statements that fall under the same area, eg

'Cells'. These are not mandatory, so if your curriculum doesn't have submodules you can leave this column blank.

Modules -These are groups of submodules or statements that fall under the same area e.g. 'Biology'. A curriculum must have a least one module.

Please do not move or rename any rows or columns! If you do, we will either not be able to upload your curriculum or it may be uploaded with errors.
Write the first module name in the first row of the module column. If you're using submodules write the first submodule in this module next to this in the submodule column.
Then write the first curriculum statement in this submodule in the curriculum statement column. For modules and submodules, there is a character limit of 255 characters – this is to ensure that they display properly in the system and makes module selection a good experience. For statements, descriptions and examples there is no character limit.
You then can input all the statements in this submodules in new rows until you get to a new submodule. Write the name of the new submodule in the submodule column next to the first statement in this submodule. Carry on like this until you get to a new module, write the name of the new module in the module column next to the first statement in this column.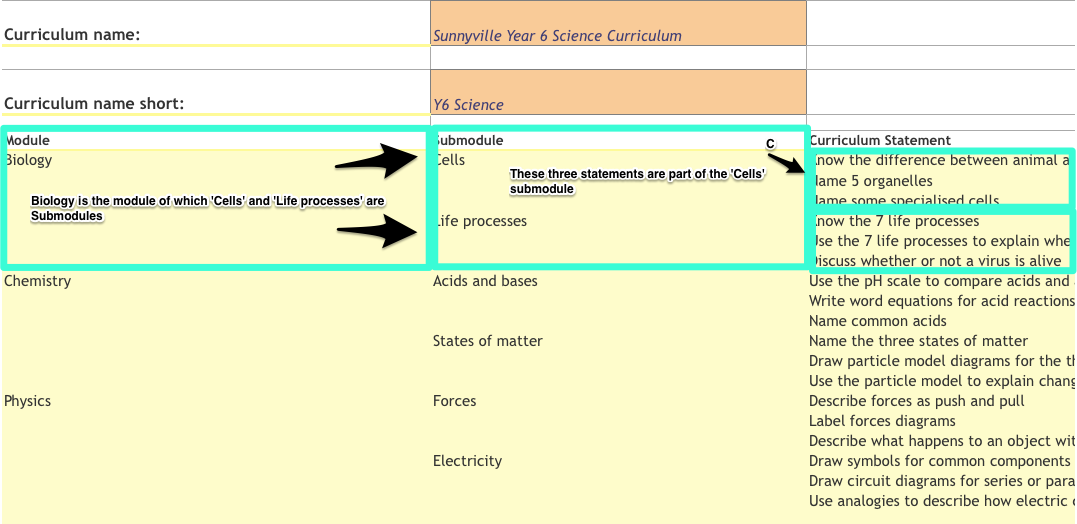 Once you have completed your spreadsheet, return to the Arbor Upload Curriculum page and click Upload completed template to select the excel file from your computer.
To complete the setup process, follow the rest of the instructions for a normal curriculum assessment as detailed in the section above.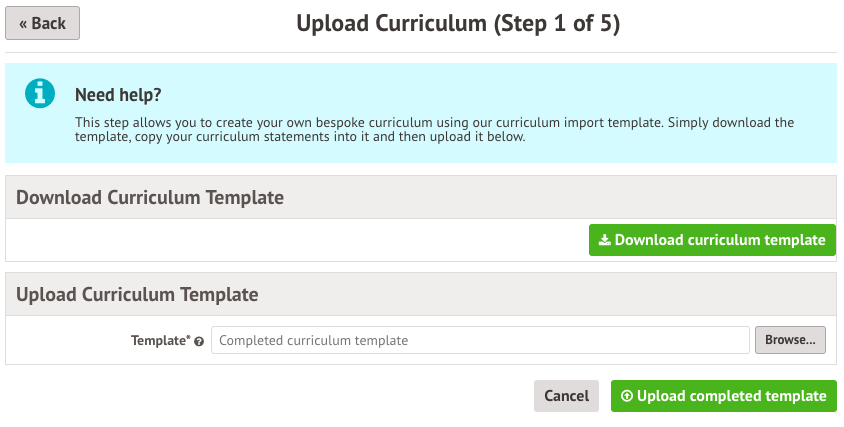 Step 2 - Add your curriculum
In this step, you can choose what to name your assessment, the subject it links to and what key stage it is applicable to. Click Next once this step is complete.
During step two, you can review the curriculum statements. You can edit a statement by clicking on it and updating the slide over.
Once you are happy with all your statements, click Next and you will be taken to step 3, where you can choose a marking scale. To change the default marking scale, click on the one you want to use, and click Use marking scale. Once happy with your selection, click Next.
If you want to add your own marking scale, you can do so by clicking +Add and adding the grades to the slide over, then click Save changes.
Step 4 allows you to link your curriculum assessment to a summative assessment you have already set up. Just choose the summative assessment from the drop-down list.
If you do not want to link this curriculum assessment to a summative, simply click Skip.

In step 5 you can review your setup. Once happy, click to Complete setup.
Step 3 - Add your assessment to your Annual Policy
Select to add the assessment to your policy, or go to Students > Assessments > Annual Policy and click Add assessment to policy.

Select the groups of students you would like to include in the assessment, then click Add assessment(s).