In this article, you will find information on recording guardians as key workers as instructed by the DfE for data collection around student attendance.
Recording guardians as key workers
You can use our out-of-the-box identifier to record whether staff are Key Workers on the guardian profile.
If you want to record additional details for students, staff or guardians that you don't see here, you can set up a User Defined Field to show on their profile. Take a look at this article for how to set one up - as an example you could set up one for whether students have access to a computer at home.
Just go to the Guardian profile to set them as a Key Worker in the Identity section.

You can also complete this action in bulk from Students > Parent & Guardians > Bulk Update > Is Key Worker. Just select the guardians to set or unset, then click the blue pencil icon.

Reviewing your key worker children
Using our new demographic page
To see a list of students where at least one guardian is a Key Worker, go to Students > Demographics > Derived Indicators > Background > Has Key Worker Guardian.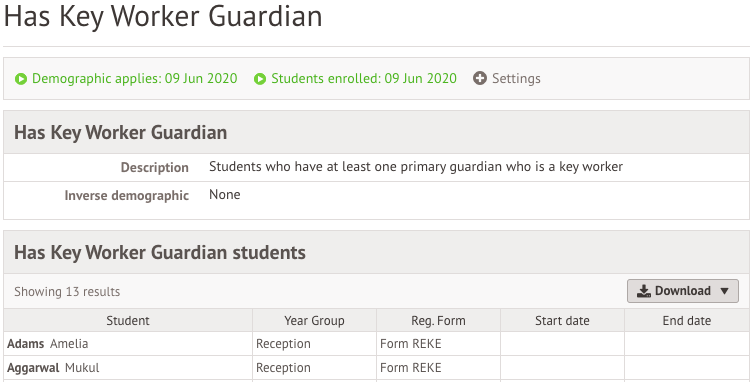 Using a custom report
To use this field to produce a list of your students where at least one guardian is a Key Worker, click here to download your report template.
This will save the file to your computer. Do not open the file!
Head to

School > Custom Report Writer

then click the

Create New Report

button.
Select the button at the bottom of the page to

Import a Report.
Click Browse to select the template file from your computer, then click Upload.