Exporting to SISRA or 4Matrix
Top Tip: If your school hasn't yet used SISRA with Arbor, you'll first need to export your student data into SISRA by following the instructions in this article.
To export your results to SISRA, 4Matrix or other software, go to Results > By Subject to get a subject overview by series.

Change the filter to adjust the date range (for example, to export results for resits from the year before) and select the students you would like to see results for.
Click the Download button in the top right and select Excel. Additional fields are in the downloaded file that are not displayed on-screen for brevity. These include identity and demographic fields that may be used in other analysis software.
The excel file will then download to your computer. You'll need to get in touch with SISRA or 4Matrix or take a look at their resources for what to do then with the file.

All results for a specific qualification
To see all student results for a specific qualification, broken down by results for each award and unit within the qualification, go to the Per Qualification page. This will help you to see which results are strongest and weakest for different units.

You must first set filters for the awarding organisation, qualification category (EDI/Non-EDI), qualification name, and the year group of students you want to analyse.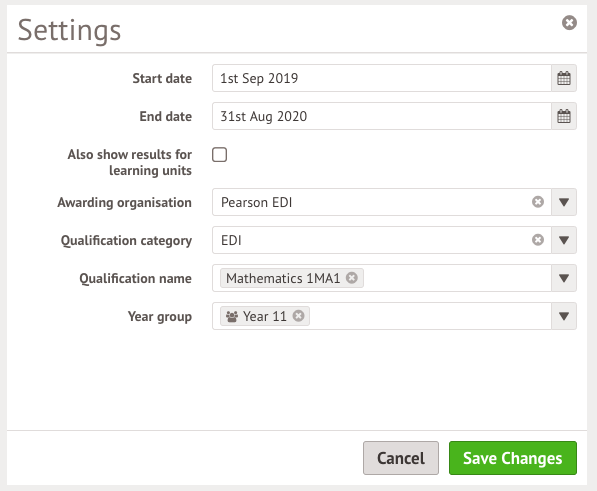 Once you have applied your filters, you can view the results or download to Excel.

Raw results for exporting to ALPS connect
Go to Results > Raw Results to view the raw results for all your students or qualifications, which you can export to ALPS connect.