We've built a secure integration between Arbor and Google Classroom™, which syncs your courses, classes and enrolment information from Arbor automatically to your digital learning platform. This means when you want to set up classes, or if anything changes, you won't have to enter data twice, saving you lots of time.
You'll have in-depth support with your integration from one of our trusted partners. They can also support you with Single Sign On (SSO) and Two-Factor Authentication (2FA).
For more information about this integration, or to get set-up, contact accountmanagers@arbor-education.com
How does the integration work?
Arbor can integrate directly with Google Classroom™ (rather than through a third party), synchronising courses and student enrolment information to save you time setting this up and maintaining it across two systems.
The synchronisation works one way - from Arbor to Google Classroom™. This means that any changes made in Google Classroom™ are not reflected in Arbor, and would need to be made manually. As such, we recommend amending data in Arbor if needed.
To get the most out of the integration, make sure you have already set up your students and staff on your Google account - your Support Partner can help you with the Google User Provisioning. Make sure you have:
students and staff defined as users in your Google for Education account (with a unique email address because it will be used as an identifier in the synchronisation).
correct student and staff Google email addresses set as the work and default email address in Arbor - if not, you can see how to import them in bulk here.
What information is and is not synced?
Staff and students
To sync student and staff information, you need to make sure every student and teacher has a unique email address in Arbor, because it will be used as an identifier in the synchronisation.
The email address to be used for each student and staff member must be set as the Work email address and the Default. Please check profiles to make sure this is the case - you can see how to add email addresses as the default work email in bulk here.
The data synchronised from Arbor to Google Classroom™ is:
Courses (course name and subject) for the current academic year
Course academic leads for the current academic year
Students' enrolment in courses for the current academic year
Only 'bottom-level' courses are synced - in this example, Citizenship: Year 7: Y7Set1 and Citizenship: Year 7: Y7Set2 would be synced, but Citizenship and Citizenship: Year 7 would not.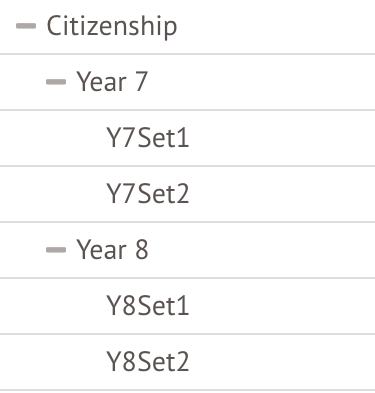 What information will not be synced?
Currently, we do not sync assignment or guardian information
A course that does not have students and does not have any academic leads in Arbor
Students and academic leads that do not have an email address in Arbor, or who's default email address does not match the email listed on the school's Google account
Please note that if a student, staff member or course is deleted from Arbor, this will not be deleted in Google - you will need to delete in Google manually.
How often does the sync happen?
Once the integration is set up, we start to sync your data right away, but the process can take a few hours to complete depending on the amount of data held in Arbor.
We sync your data overnight each night, so any updates will be visible in Google Classroom™ the day after they are made in Arbor.
How can I switch off the integration?
Go to School > Data > Integrations Administration and select Google Classroom. Click Disable integration and confirm that you wish to no longer synchronise your data.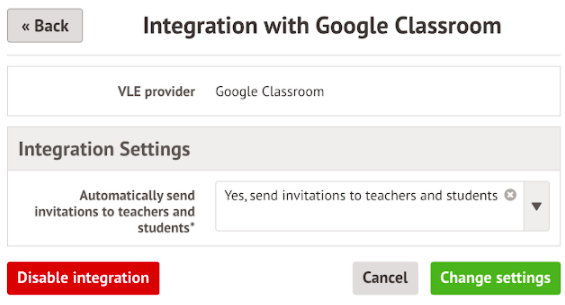 How do we get started with the integration?
Our integration with Google for Education can be purchased as a standalone feature and isn't included by default in our packages. To discuss your upgrade options, get in contact at accountmanagers@arbor-education.com.
Once you've purchased your integration, we'll match you with one of our trusted Google-accredited Support Partners, who will work with you to set up your integration and provide ongoing support. Please note that Arbor Support will not be able to support you with any questions about Google Classroom™ - please direct these to your Support Partner.
Your school will also need to be a GSuite for Education user.