You can use our integration to export staff contract information from Arbor into Access Budgeting, so you don't need to make changes on both systems.
Permissions
You'll need the Integrations: Administer All Integrations permission to access the Integrations Administration page to set up the integration in Arbor. If you don't have the permission, you'll need to ask your admin team to give you permission using these instructions.
Running the sync
Go to School > Data > Integrations Administration and click the Access Budgeting integration. It should already have a tick in the Enabled column.

You'll be taken to the Export Staff Contracts page. Use the filters to narrow down your results by business role, or by staff type.

In the table, you can see details of what was synced in the last sync. For any staff that couldn't be synced, hover over the cross for details. You'll need to correct this before re-syncing if you want their information to be sent to Access - you can see how to manage contract information here: HR, Contracts and Salaries

To sync your data, click the Export button.
Top Tip: All staff will be synced, using the search box in the table or the filter bar will not limit the staff records pushed to Access.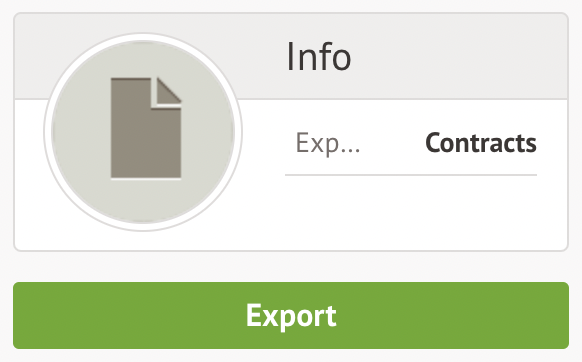 The XML file will then download to your computer, usually into your Downloads folder. Do not open the file. You'll need to import the file into Access Budgeting's software.

FAQ
What staff identifier is used?
The staff identifier we use is the Arbor unique staff ID. This means that staff who have the same name have different identifiers, and when the sync is run updates to existing staff will not cause duplicate additional records in Access to be created.
How do I use the filters?
All staff contains past staff who have since ended their contract, whereas Current staff only includes those with an active contract. Whether staff are considered teaching staff depends on their business role - see here for more information.
We can't use the integration?
If your school is already using Access Budgeting, there should be a tick in the Enabled column. If you don't see a tick, or can't see Access Budgeting in the table:
Contact Access Budgeting to make sure you have purchased this service, and to make them aware that you are using Arbor
If the tick does not appear, please contact the Arbor Support Team if supported by Arbor, or your Support Partner if not supported by Arbor.