Schools need to include enrolment figures for students in the spring census. Please note that this error cannot be resolved until on or after census day.
Pupil reconciliation does not match the number of pupils on roll.
Step 1 - Add in your pupil reconciliation numbers (including part-time)
Go to the Pupil Reconciliation section from the left-hand side of your census.
If you have any students who are Part Time and are not required in school at the time of the census, make sure you add this number into the Part time not in field on this page.
To add the number of students in each group, click one of the fields and add in the number.

Step 2 - Check your class numbers
If the number of students enrolled and the number of students scheduled to be in class is still different, click the Reconciliation status field.
You'll see the number of students that are enrolled in your school that are not reconciled. Before you submit your census, you'll need to get this number down to 0. For classes where the numbers of Home pupils given and Actual students in the class match, no action is needed.
Students scheduled to be in more than one class
You will need to remove the extra from the Enrolment section of the student's profile.

You can then amend the enrolment dates, or remove the enrolment (only do this if they were added to the course by mistake and they never attended).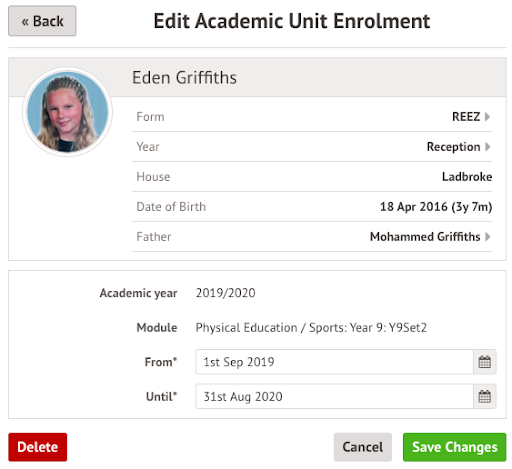 Make sure you amend the number of students in the class from the Classes section of your census.

Students not scheduled to be in any classes
Any students who are not scheduled into any classes at the time of the census will be flagged to you. Click on their name to resolve them.
The student should not be on-roll and has been enrolled in the year incorrectly - follow these instructions to remove them.
The student has been missed off from being enrolled in a class - follow these instructions to add the enrolment.
You've added nursery students from a legally separate school to your site - follow these instructions to exclude them.
Your school has not scheduled classes correctly for primary age students - you'll need to make sure your timetable slots for your primary classes last the whole morning (until the start of lunch), and your afternoon session lasts the whole afternoon (until the end of the day) from School > Timetable > Timetable Administration > Timetable Slots. Select the periods to edit, and click the Bulk action button to choose Edit Start and End Time.