For any staff at your school who are teachers, you'll need to record some information on their teacher status, to be collected in the Workforce Census. You can check and update this information in bulk, and from the staff member's staff profile.
Permissions
You will need the Staff Profile: All Staff: Basic HR Administration permission to update teacher statuses. If you don't have the permission, you'll need to ask your admin team to give you permission using these instructions.
Adding teacher statuses in bulk
Go to School > All Staff > Bulk Update > Teacher Status or School > Data > Data Quality Dashboard > Staff > Teacher Status.
If any of your staff have been given a position with a 'Teaching' Position Category, you'll need to set the staff member's Teacher Status. Select the teachers to update and click the blue pencil icon to select Bulk Update Teacher Status.

QTS, QLTS, EYTS and HLTA
In the slide over, select whether they have QTS, QLTS and EYTS. If they have QTS, select the QTS route. You can also tick if they have HLTA status.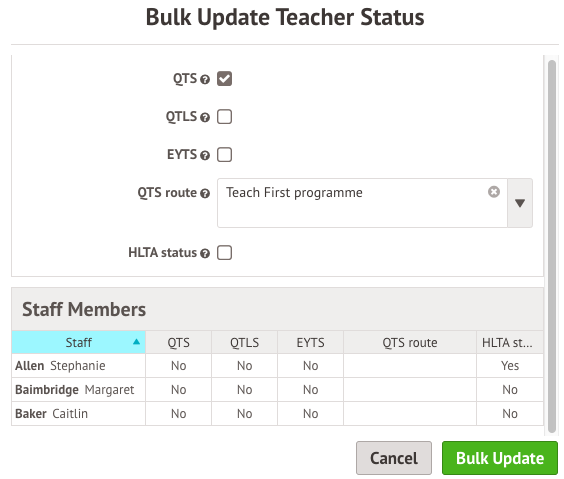 Newly Qualified Teacher (NQT) year
Click into an individual staff member to add the date the staff member started their first newly qualified teacher year. Arbor will automatically calculate whether this member of staff is in their NQT year 1 or 2 on Census day.
Please note this information is only needed for teaching staff (staff with QTS) in NQT year 1 or 2. Once the staff member is no longer in NQT year 1 or 2, they will be automatically output in the census as Not new qualified.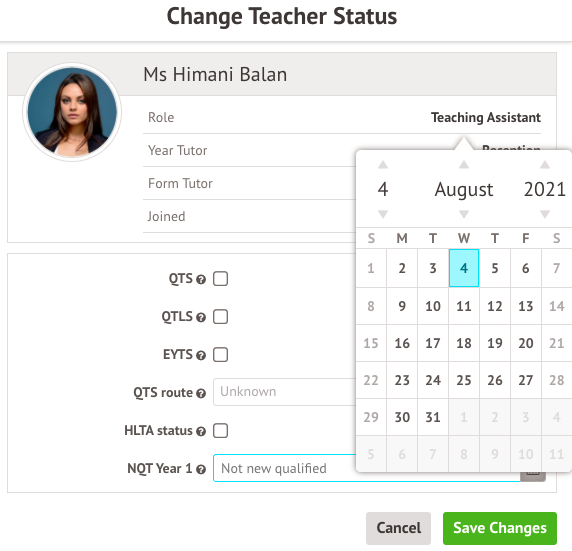 Adding teacher statuses from the staff profile
Go to the staff member's staff profile and click into Teacher status in the Qualifications & Checks section. Add the information into the slide over.