The Educational Needs section of the Student Profile compiles all information regarding a student's interventions, special educational needs, gifts and talents, educational plans, events, funding and SEN statements and notes.
This Student Funding section lists any funding the student is assigned. For example, you may need to report on some student's top-up funding indicator for the census.

Click +Add to add funding.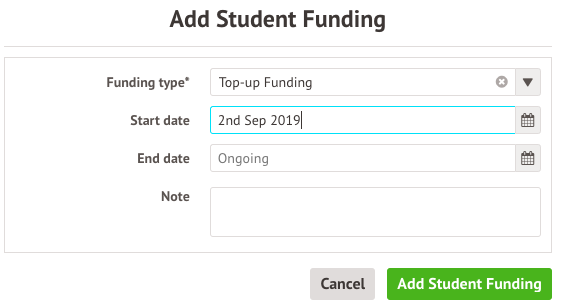 Available funding types for all schools:
Adult Education Bursary
Adult Learning Grant
Care to Learn
Discretionary Bursary Awarded
Free Childcare for Training & Learning for Work
Professional and Career Development Loan
Programmed Led Apprenticeships hardship fund
Time off for study
Top-up Funding
Vulnerable Group Bursary Awarded
16-19 tuition fund
Repeating final year of 16-19 funded provision
For schools who complete the school census there is also:
Disability Access Fund (DAF)
Exceptional Needs Funding
School led tutoring programme
For schools who complete the ILR there is also:
16-19 Bursary Fund (Discretionary)
16-19 Bursary Fund (Vulnerable Group)
19+ Hardship
20+ Childcare
Care To Learn
Disabled Students Allowance
Element 3 Top-Up Funding
Residential Access Fund
Residential Support