If your school uses houses, you can easily set up and manage this in Arbor. You can then see data grouped by House in many areas of your Arbor site - useful for seeing behaviour points totals for each house!
Please note: This process should be used to create houses mid-year.
If you'd like to copy over your current houses to next year, or add new ones for next year, we recommend following the New School Year Setup process.
How long will it take?
Adding a house - 1 minute

Adding a Head of House - 2 minutes

Adding students manually - 5 minutes
Permissions
You will need either the School: Pastoral Structure: Administer or Student Profile: Enrolment: Administer All Students permission to manage houses. If you don't have the permission, you'll need to ask your admin team to give you permission using these instructions.
Adding a new house
To create, edit and view houses on Arbor go to Students > Enrolment > Houses. Here you can see the houses this academic year, the Head of house and how many students are in each.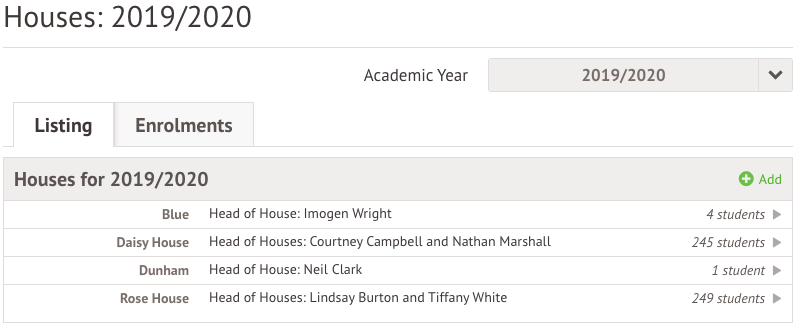 You can create new houses by clicking +Add.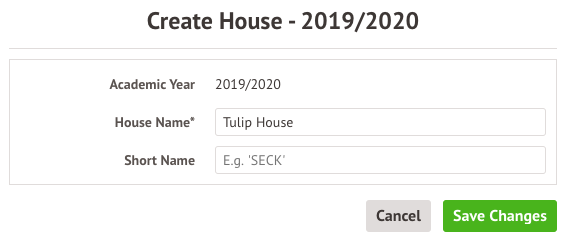 By clicking into a house you can see and edit the setup of that house.
Adding a Head of House
Add a Head of House by clicking +Add. You can see more information here: Add, change or remove Head of House
Please note that we also recommend giving them the Head of House business role to make sure they have the right permissions.

Can we assign staff to houses?
It isn't possible to add staff to houses outside of making them a Head of House.
Adding student enrolments
Adding student enrolments into a course or registration form
Add an automatic enrolment from this house into a course if needed.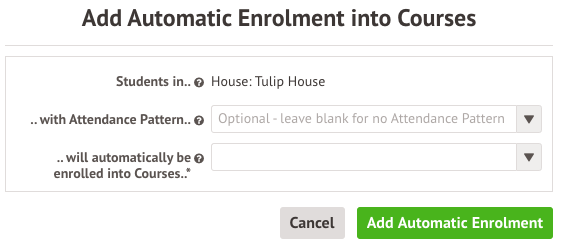 You can link registration forms to the house.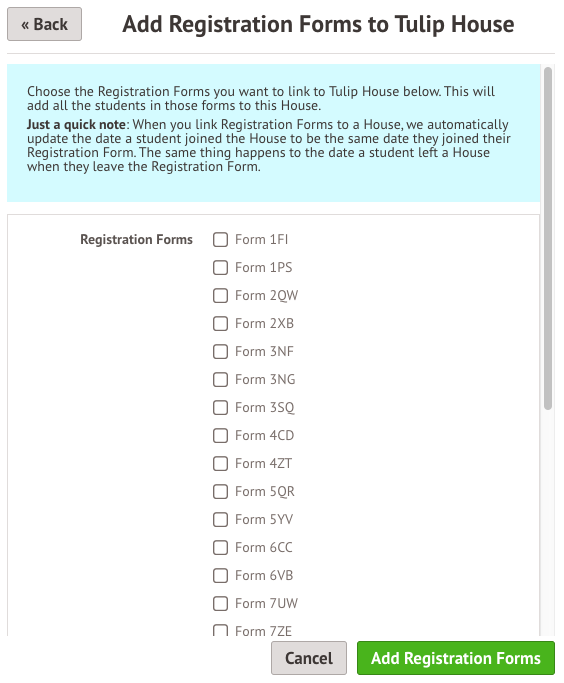 Adding students one by one
Add students to the house from the Current Students section by clicking +Add.
Adding students from last year
If you want to add all the students who were in a particular house last year, you can from here. Just select last year's house here.
You can also add individual students.
Moving or removing students
You can then transfer students to a new house or withdraw students from this house if needed.