Go to School > Meals > Meal Reports from the left-hand menu.
For all of the report tables, you can change the date ranges by clicking on the filters at the top of the page, and download them by clicking Download.
Numbers by week
This report shows a breakdown of each provision per week, for the current term.

Numbers by form
This report shows all registration forms and the different meal provisions your school offers. This grid will show the number of times each provision was taken on that day within the registration form.
The date can be changed by choosing a different date and clicking on Change Date.

The meal register can also be accessed here by scrolling down to the bottom of the page and clicking on View Register for _.
Monthly payments
This report shows the payments your school has received for each month this academic year.
This report loads the month, money collected, money deposited, invoiced amount, surplus and balance.
Clicking on a month will load a page with the weekly payments within that month.

Charges by person
This report shows students that have been charged a meal over a specific period of time. You can filter down the report to only show specific registration forms if needed.
Charges by date
This report shows a list of all meal charges for the selected date.

The Meal Funding Report
On the meal funding report, you can report on current or past years and weeks, and look at the student and staff meals taken that week.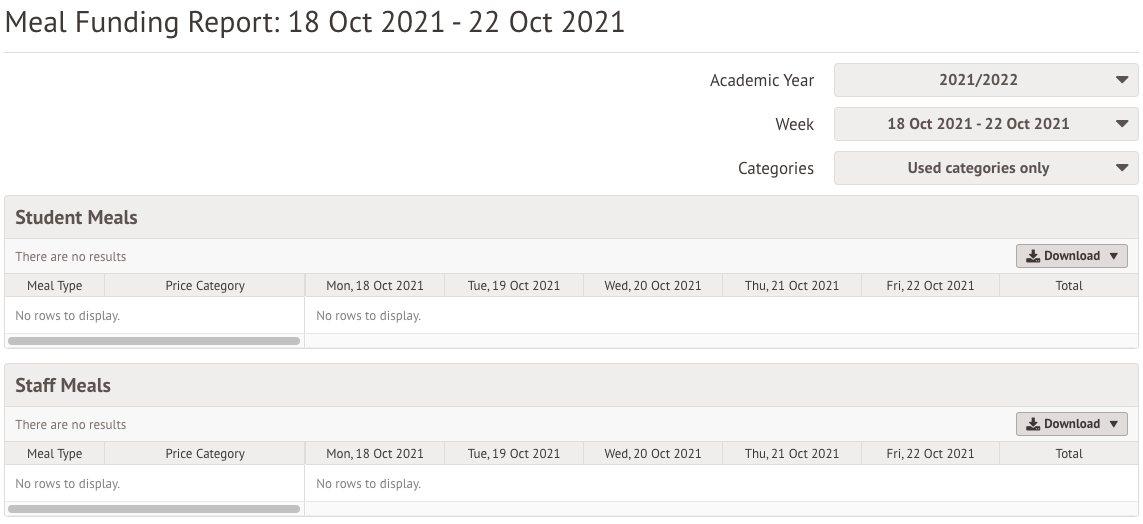 You can also see a list of uncategorised meals here.

You can see how to resolve these in bulk here, or you can click on the meal to select a meal choice.