What is My Calendar?
My Calendar offers a personalised way of keeping track of your school meetings and events, allowing you to see what's scheduled in your day and allowing you to add more events and meetings with other participants. Just go to My Items > My Calendar, or click the Calendar widget on your homepage.

You'll be able to see this week by default, but you can change the week using the arrow buttons. Switch between a day, week or monthly view using the right-hand buttons. Jump back to this week using the Today button.

Hover over an event to see more information, or click on an event in your calendar to jump to the event overview.
You can see how to create more events here: Creating and managing events
Staff members assigned to cover a lesson will see this lesson in their calendar. Clicking on the lesson will allow them to access the Lesson Dashboard so they can take the attendance register.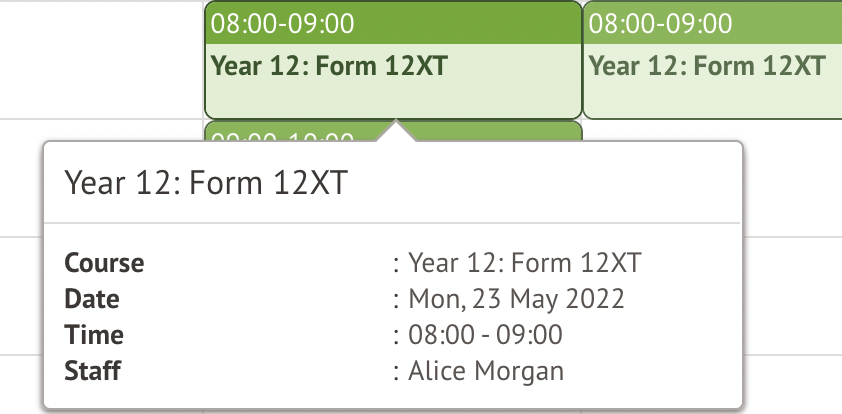 What does the colour coding mean?
In My Calendar, the events are colour coded:
Dark Green: Class lessons (including lessons you're covering)

Light Green: Urgent Events

Light Yellow: Extra Curricular Events

Orange: All other Events (Break, Club, General, Meeting, Parents Evening, Sports Fixture)
Can we change the colour coding?
It is not possible to change the colours in the calendar.
Why do events look like they overlap in my calendar?
If you have events shorter than 30 minutes, you may notice that in the calendar display, they can look like they overlap with another event! Even though the timings show they on't actually overlap.
The shortest time span that we can show vertically for events is 30 minutes, due to needing to keep the writing readable. Once it's less than 30 minutes, to show it is a shorter event it will instead halve in width.
While this can look like it is overlapping with another event that starts right afterwards, you will be able to see by the times listed that they do happen one after the other.
How do I link my Arbor Calendar to an external calendar?
You can add our personal Arbor Calendar events to other applications and systems. This means any events created in your Arbor calendar will appear in your external calendar, but any changes made in your external calendar will not be reflected in Arbor.
Go to My Items > My Calendar > Live Feed. Copy the long URL and go to your external calendar application.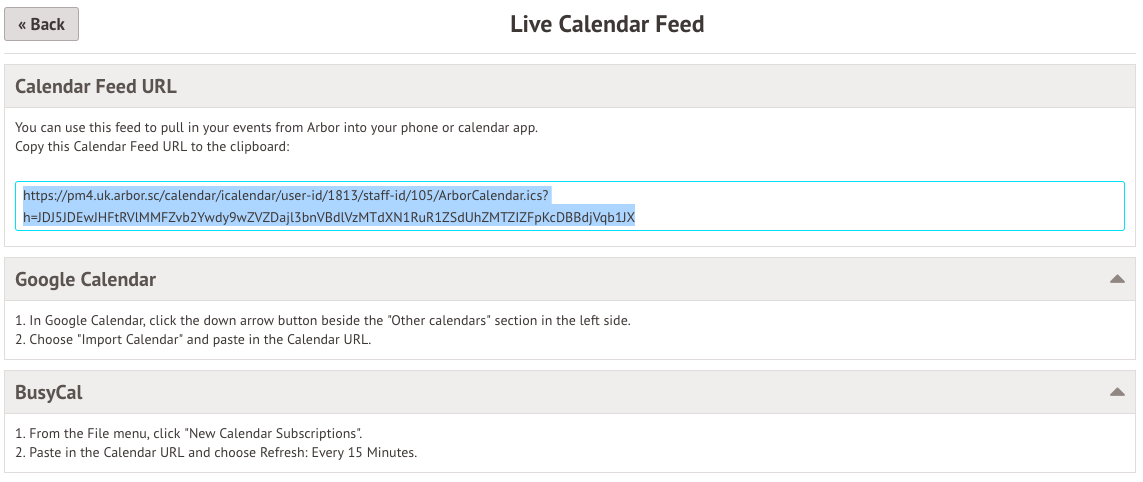 Google Calendar
Click to add another calendar and choose the 'From URL' option.

Paste the URL you copied into the box, then click Add Calendar.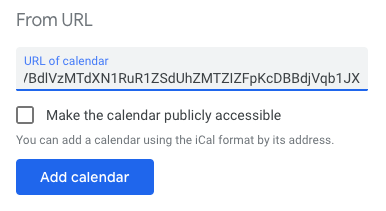 Your Arbor events will then appear in your external Google Calendar. Please note that Google will sync once every 24hrs, so you may not see events appear right away.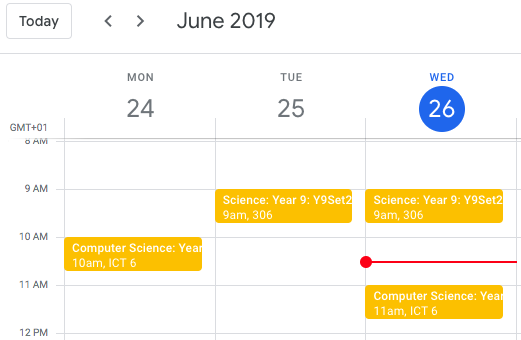 Office365 or Outlook
Go to your Outlook calendar and select Import Calendar (Add in the app) and select From Web. (From Internet in the app).
In Link to the calendar, paste in the link you copied from Arbor. Add a calendar name, then click Import (Ok in the app).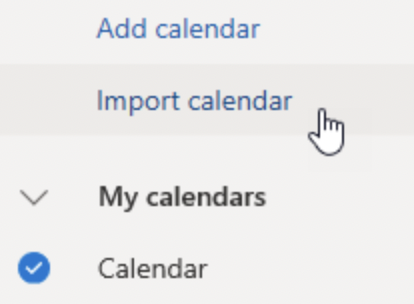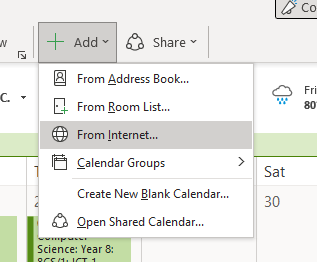 Can we link all staff Arbor Calendars to external calendars in bulk?
You can sync all Arbor Calendars with Outlook using SalamanderSoft. Please get in touch with SalamanderSoft to see what your next steps would be.