You can change the teacher's name format in printable timetables to an identifier or an abbreviation of their full name.
Please note that this will not change the format of staff names in the Parent Portal or Student Portal - these are in the format Salutation, surname e.g. Mr Smith.
Go to School > Timetable > Timetable Administration > Timetable Settings and click on the Staff and Course Names tab.
Here you will view all teachers within a selected academic year and how their names will appear on timetables and registers. Abbreviations are 3 character identifiers for each teacher at your school. The identifier appears on school, student and room timetables, to save space.
You are able to edit existing 3 character abbreviation (they are automatically generated for each teacher), to set a maximum of 4 characters. Just click on the teacher name whose abbreviation you want to change and you will see a new form appear that allows you to add a new one.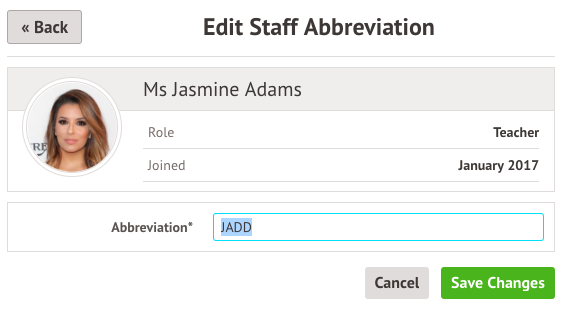 You can choose the format of abbreviations in printable student timetables at the top of the page by clicking Staff Name Format.