Arbor's powerful built-in messaging platform allows you to quickly and easily contact students, guardians and staff.
While emails are free to send, there is a small processing fee for SMS. To keep costs down for schools, messages are pre-purchased in bundles of SMS Credits. 1 SMS = 1 Credit. The larger the credit bundle, the cheaper each message becomes.
From the date of sending your first SMS, Arbor gives you a 30 day grace period to purchase a SMS bundle. This means that you'll still be able to send all your essential messages to students and guardians while you top up your SMS Credits.
SMS Credit Balance
The balance of your SMS Credits can be viewed at any time on the SMS Billing page in Arbor. This can be found by going to School > Communication > Setup > SMS Billing.
Click the Usage tab to see your usage.

Credits and characters
Please note that the character limit of 153 characters is only an estimate. This is the maximum number of characters allowed, but the real number will be lower to account for an estimated 22 characters for the school name that we append to the end of the message.
The actual number of characters and credits is shown when sending an SMS.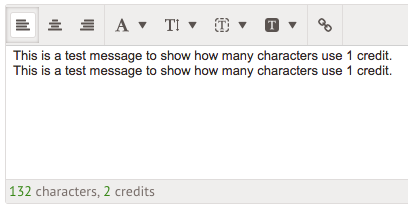 This shows a more accurate credit estimate, which often varies on a per-recipient basis because of merge fields (and recipients with foreign or Channel Islands phone numbers).
How do we know we're running low on SMS credits?
No surprises when you need to send important messages and find you don't have enough credits! If you have permission to top up your school's SMS balance, we'll send you email reminders when you're running low on SMS credits.
Users with the School: Communication: Setup permission will receive an email when your balance is below 150 credits, and another reminder when your balance is at or below 0.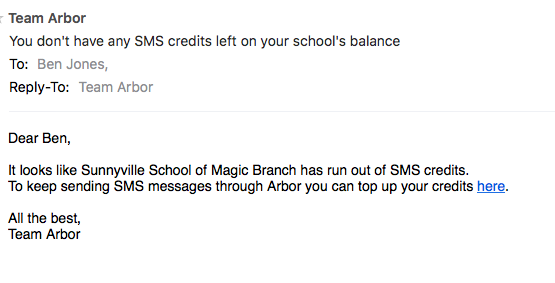 Adding more credits
To purchase an SMS Bundle and top up your Credits, select the bundle you wish to purchase from the SMS Billing page.
We offer bundles of:
250,000 for £6250 (you will need to contact us at

accountmanagers@arbor-education.com

to purchase this option

100,000 for £3000

50,000 for £1750

£10,000 for £400

£1000 for £40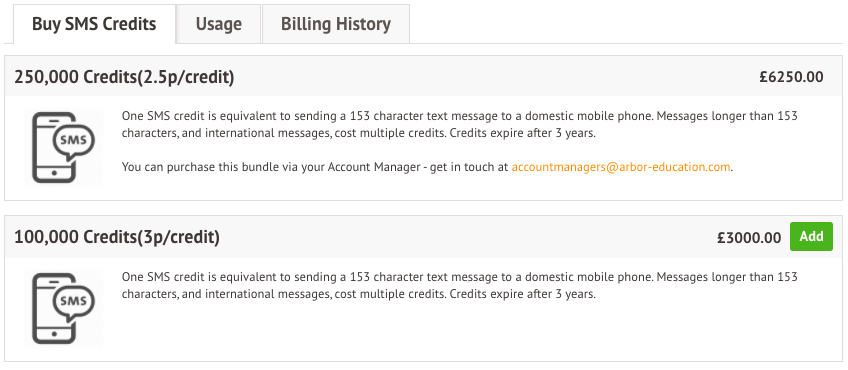 Once the bundle is added to your basket, click Checkout and select your preferred method of billing. Credits purchased by Debit/Credit Card or Direct Debit will be instantly added to your account, while payment by Cheque/BACS will require processing before Credits are added.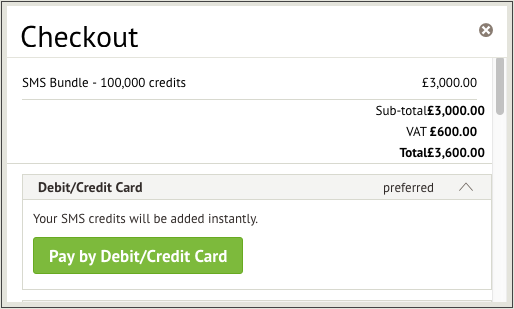 Downloading an Invoice for an SMS Bundle Purchase
You can download an invoice for SMS bundles purchased within Arbor by going to School > Communications > Setup > SMS Billing and clicking on Billing History.

This will show you the schools SMS Purchase History. Select the purchase that you want to download an invoice for. A slide-over window will appear on the right with details of the payment. Click Download Invoice.