Within your MIS, you can log cash or cheque payments for trips and clubs through the Clubs, Trips and Meals modules. You can also take card payments for Meals and other Customer Accounts (that have card payments enabled), but not Clubs and Trips through the MIS as an admin - you would need to Log in as a guardian.
To top up an account, go to School > Payments > Accounts > Balances to review balances for students in school. The table is listed so the most overdrawn balances appear first, but you can also order by Student or Registration form.
Clicking the filter box at the top of the page also allows you to apply additional filters, or add a column for Year Group or registration Form.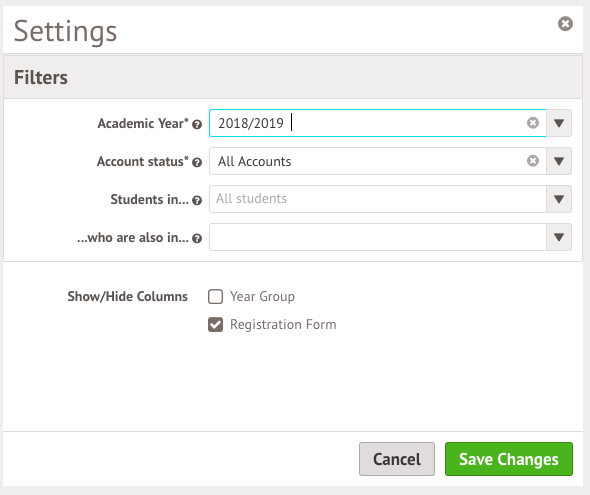 Topping up balances
To record multiple top-ups in Bulk, select the students you wish to top up, click the Bulk action button and choose Top Up Accounts.
Enter the details for each Top up; such as the Amount, the Guardian it was made by, whether it was Cash or Cheque, and any notes. When you're done, click Save.
Topping up by card
Go to the person's profile and navigate to Payments > Account type > Account Overview using the left navigation bar. Click on the Top up by card button.
In the slide over, fill in all necessary information and click Pay now.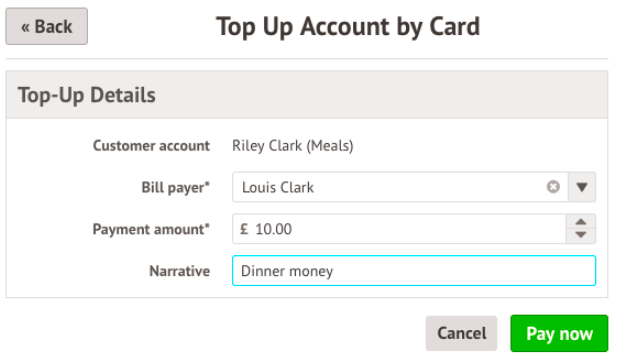 Next, a pop up will appear for you to input the card details into. Note that Arbor only accepts payments by Visa and MasterCard cards. American Express and other cards are not accepted in Arbor. Once the details are correct, click Pay. You then may need to perform Card Payment Authentication.