Why do I have to put my password in every time to log in?
We follow strict security requirements in the Arbor App because it contains personal data about students. This means you have to log into the app every time you use it. It also means you can't use stored passwords or fingerprint recognition (which default to the phone pin after 3 attempts), as sometimes multiple guardians share the same device or know each-others' pins.
Will I get a receipt when I make a payment?
You will not receive a confirmation of payment via email if you've made a payment through Arbor for clubs, trips, meals or other payments.
You can click into an account balance, club or trip to view what you have already paid and any outstanding amounts to be paid.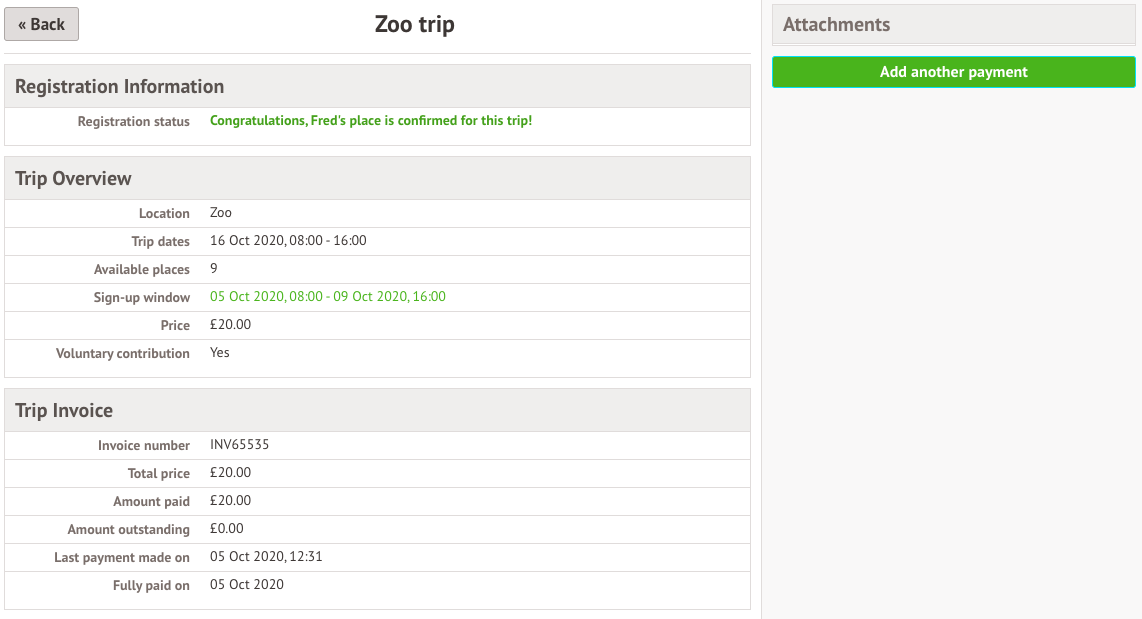 Can I pay using childcare vouchers?
You can pay the school via cash, cheque or bank transfer and they can top-up your child's account or pay for cubs and trips. Alternatively, you can pay by card on the Parent Portal or Arbor App. We do not support payments using childcare vouchers within the Parent Portal or Arbor App.
If you do wish to pay using childcare vouchers, please contact your school for their policy. It may be possible for them to accept the childcare vouchers outside of Arbor, and log a payment through Arborfor the Meal top-up club or trip payment as a cash payment.
Can I move money between accounts?
If you've accidentally paid money into the wrong account for your child (e.g. into a different account but you meant to pay into the meals account), or into the wrong child's account (e.g. you've paid into their sibling's account instead), you'll need to request a refund. Once the refund has been issued, you can then make another payment into the right account.
Because your child's school manages your account, we can't access your profile without speaking to them first. You'll need to contact them directly to issue a refund.

Can you save my bank details?
We follow strict security requirements to make sure payments have been made and verified by you. This also makes it easy to change details if your bank details are now different. This means we can't save your bank details.
Why can't I pay for this club/trip/meal?
If you can't pay for a club, trip or meal using the Parent Portal or Arbor App, this could be due to a number of things:
Your school has not yet enabled payments on their site - you won't be able to pay for anything.

Your school hasn't set up the club or trip yet - you'll need to wait until they do.

The sign-up period has not yet opened - you'll need to wait for it to open to be able to pay.

The sign-up period has already closed - unless you signed up before the sign-up period closed, you won't be able to make payments. You'll need to contact your school to pay by cash or cheque.

Your card has been rejected - we only accept Visa or Mastercard so you'll need to use one of these card types to make card payments.
Can I select what meal my child will have?
Parents are not able to choose what meals their children will have each day. This is so parents can't change the meal option right before lunch, meaning that catering staff would not be able to cook the right number of meals. If you would like to change your child's meal option, please contact the school and they can change this for you.
How can I view all my children?
Using the Parent Portal, you can see and update information for children you have been linked to by your school. If you do have other children at the same school but can't see them, it may be that they haven't been linked to your account. You'll need to contact your school to get them to link you together.
You'll only be able to see children who have attended that school within the current academic year. If you have other children at another school who use Arbor, you'll need to log in to the other school's site to see your other child.
Can I see other guardian's contact details?
Guardians can't see the contact details of other guardians. In this example, both guardians live with the student. Max cannot see Paricia's details, but he can see Poppy's details as he lives at the same address.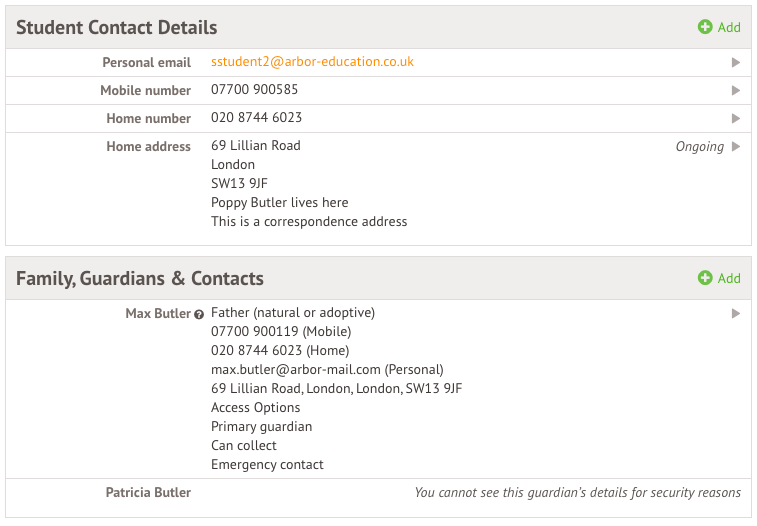 If the child lives at the same address as one guardian but not the other, the other guardian would also not be able to see the student's address. In this example, Faye is logged in.