Set Up Examination Rooms
You should set up exam rooms before you complete any other tasks in this section of exams.
Go to Students > Examinations > Administration > Set Up Examination Rooms to see a grid of all the rooms you have already set up as possible exam rooms. To add a new room, click the green button.
Select the rooms you want to add as exam rooms and click 'Mark as Examination Rooms'.
If you don't see the room you want to add, be sure you've added it to your site using these instructions.

The rooms are now available to select when assigning exams to rooms.
As you can see below, the room layout must be input in order to set the set capacity.
Click the field highlighted in red to set up the room layout.

Click 'Edit Room Capacity' to input how many rows and columns of candidates the room can fit. The number of candidates the room can fit is initially calculated as the number of rows multiplied by the number of columns.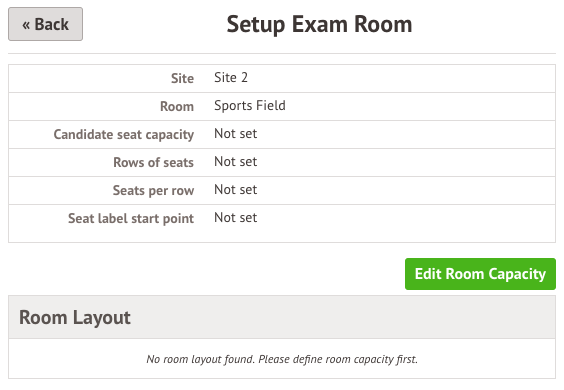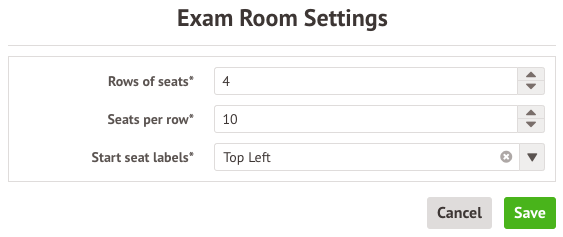 Click 'Save' to set the Candidate seat capacity, as shown below.
You can now customise your exam room layout by selecting the exam room and clicking the green 'Edit Room Layout' button.
Toggle each seat as Available or Unavailable to define the room's layout, change its shape or skip over certain areas.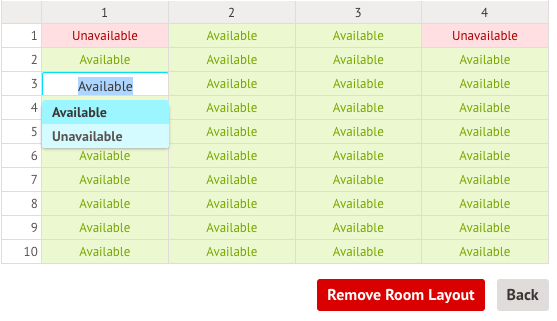 Click 'Back' to save the changes.
The Candidate seat capacity will now be updated to account for any seats marked as 'Unavailable'.

Deleting a Room Layout
If you have made a mistake in an exam room layout, you can delete the layout and start again. To do this, click the exam room and select either Edit Room Layout or Edit Room Capacity. Then click the red Remove Room Layout button.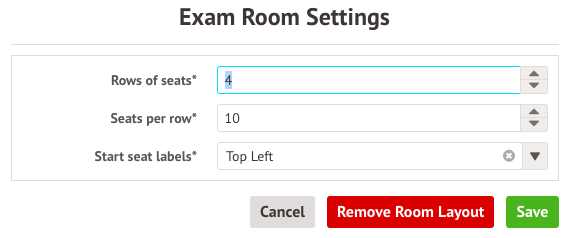 Please note, this is only possible if you have no candidates seated in this room. If you do, you will receive this message:
To remove candidates from seats, take a look at this article.