You can print examination registers and candidate lists in Arbor - useful for exam invigilators to tick off who is present in the exam.
Permissions
To print exam registers, you'll need the Qualifications: Administers All Students permission. If you don't have this permission, ask your admin team to assign it to you.
Printing the register or candidate list
For one exam or sitting
Go to Students > Examinations > Scheduling > Assign Seats.
To print a register for an individual sitting or exam, click into the sitting or exam. Click the Print button, and select the applicable option.

In bulk
On the By Sitting tab (you cannot do this from the By Exam tab), tick the boxes next to the sittings to print exam registers. Click the Bulk action button and select the applicable option.
You can also do this for exam rooms from Scheduling > Allocate Exam rooms.
You can also do this for invigilators from Scheduling > Assign Invigilators.
The registers will then be downloaded to your computer in one PDF file. You can open it and print your registers.
What do the registers and candidate lists look like?
The candidate lists will have information about the start and end times for each student.
The register will have a box where the invigilator can mark whether the student is present or not.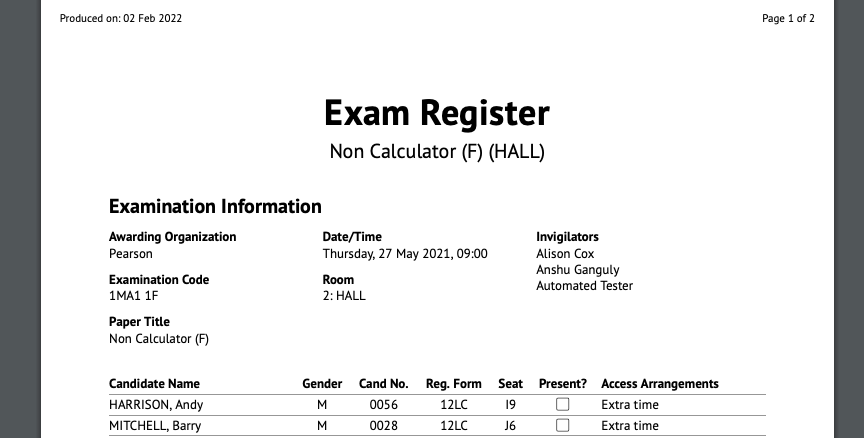 If your school has chosen to display Access Arrangement reasons in the exam register, you'll be able to see these in brackets next to the Access Arrangement. You can see how to switch this on here.
Can we change the columns in the lists?
It is not possible to edit the columns that are included in the printouts. However, you can change the order that students are output in from your Centre Setup.
Inputting attendance for the exam into Arbor
When exams are scheduled in Arbor, this does not create a register (like you'd have for a lesson or Intervention). As such, you can't take attendance for the exam directly.
You will need to print the registers as shown above. These will then need to be collected and given to your attendance officer who will need to complete the instructions shown here: Updating Attendance for students who have had Exams