For each exam
Potential clashes for students or groups are shown before a candidate is seated. Go to Students > Examinations > Scheduling > Allocate Exam Room. Select the exam to check there are no clashes in your exams.
Here you can see if you will have any potential clashes.

You can also see if you have any actual clashes.

To resolve the potential clashes, you can move students to a different room.
Click the student to select a different time or room for the exam to take place in, then click Change Exam Room.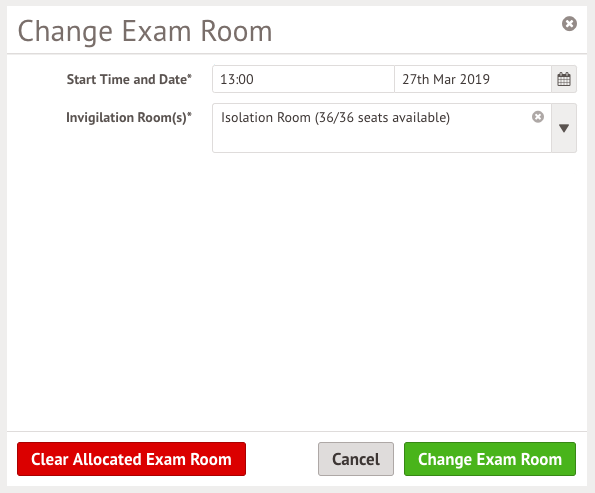 There will now be no text in the Clash Status column.
To allocate students to a new room in bulk you can use the pencil icon select Allocate Exam Room. You'll see a drop-down with a quick summary of the students and their access arrangements.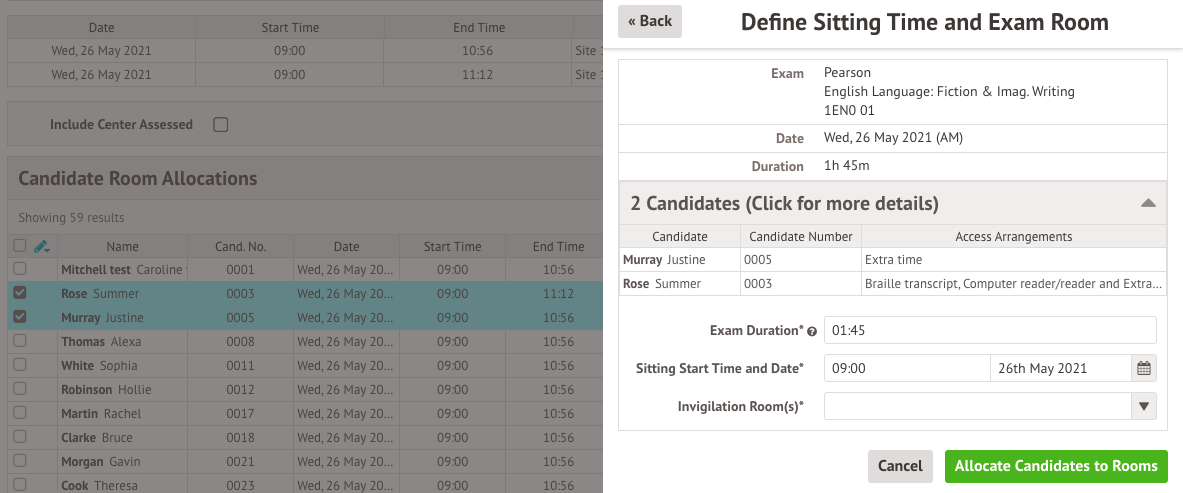 For each student
You can see if any of your students have clashes (an exam clash is two exams scheduled at the same time) in Scheduling > Exam Clashes.
The date and time shown in each row are the exam's date and time, not the candidates'.
Easily resolve the exam clash by clicking the clash and assigning the student to a new Invigilation room or, move their exam to a different time.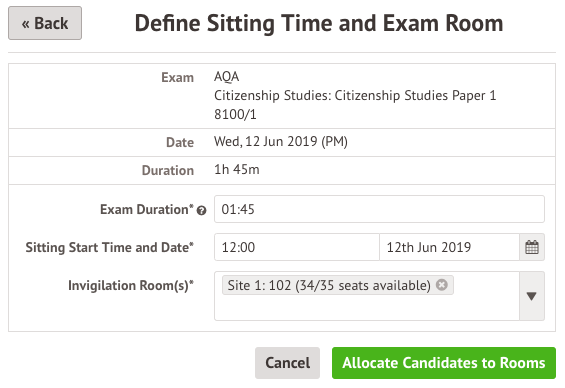 How do I see if my coursework is clashing?
Go to Students > Examinations > Scheduling > Allocate Exam Room. Select the exam.
You will see a tick box to Include Centre Assessed assessables. This includes exams that can take place at any time, such as an Art practical exam, or coursework.
If you tick this box, then click Apply, any clashes between Centre Assessed assessables and other exams will show. If you untick it, the clashes won't show. This box is unticked by default.

If you then have any clashes you would like to resolve, follow the instructions in the first section of this article.
Scheme/discount code clashes
You can see and resolve discount scheme code conflicts for Exam Entries in Examinations > Entries > Entries Conflicts.
If a student has been entered into two exam awards with the same scheme or discount code, they'll be displayed in the table. You can then select the student to withdraw them.