This article covers troubleshooting tips that you may need when using Guardian Consultations.
Communications
Managing the guardian consultation setup
Booking slots
Why can't the parent book a slot?
There are multiple teachers assigned to a slot - why can't it be booked?
If meetings are linked to two members of staff (if teachers have a job share or a Teaching Assistant is also assigned as an academic lead) and one of them has another event in their calendar, such as an absence or lesson, the meetings won't have any bookable slots for the period the absence covers. You'll need to either find cover for the event in their calendar or change the available staff members for the meeting.
How do I change the guardians in a meeting?
When you set up a meeting, you tick the boxes next to the guardians that will be attending the meeting.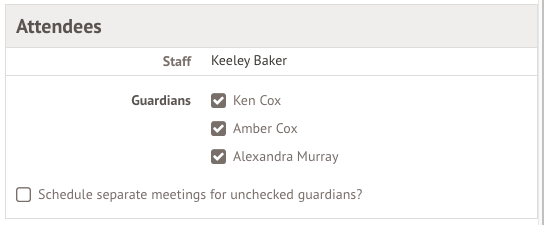 To edit the guardians attending a meeting, click the meeting and click the Change guardians attendees button (you'll only see this button if the child has more than one primary guardian that could attend the meeting).

You can then edit which guardians will be attending the meeting.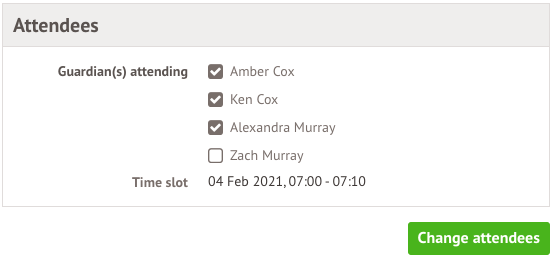 You can also remove guardians from a meeting by clicking the meeting name, then clicking the guardians to remove them.