You can resend a communication that was previously sent to a specific person by going to the Communications section of a person's profile (on a Student Profile, this will display as Communication & Notes). This page displays communications & notes that have been logged or sent regarding the specific person.
Only Public messages are displayed here. If a message is Private, it can only be viewed in All School Communications: Mark communications as Public or Private
What Permissions do I need?
Send to any Student - Communications: Administer All Students
Send to my Students - Communications: Administer My Students
Send to members of Staff - Send and administer school communications: Administer
Use the 'Show guardian communications (Legal and Primary only)' filter - Student Profile: Communications: View All Students or School Communications: View school communications
Resending communications
Go to the Communications section of the person that you want to resend the communication to.
Select the Communication from the list that you want to resend, this will open the communication to show the full details on the right-hand side. Click on Actions on the right side of the communication.

Email Reply will bring the original communication forward into the Reply Screen but selecting SMS Reply will not. You can select Email Reply even when viewing an SMS.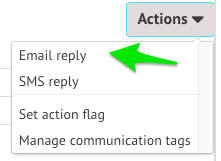 A Send Email popup window will appear. You may have to select the recipients that you want this communication to go to and select which email you are sending as.
Once you are happy with the contents of the communication, click on Send at the bottom right of the popup window. This communication will now be listed under Communications on the profile.
FAQ
What if the recipient of the original didn't have an email address at the time?
We would recommend adding an email address for the recipient and then resending the communication using the steps above. This will then send the email to the newly listed email address.
Will the school be charged if we select SMS reply?
The school will be charged credits for any sending of SMS. It is always best to check that you have SMS credits before sending an SMS. Please take a look at our SMS guide - SMS Billing and Credits
Can I resend a communication from School > Communications > All School Communications?
Yes, you can resend communications from that page. Select the Email or SMS that you want to resend and click on Actions on the right-hand side. The process is much the same from there.