To create a new letter, go to School > Communications > Letters > New mail merge letter, or to view saved drafts go to Letters > Letter Drafts. You can see more information about using drafts here.
From this page, you will be able to compose a letter. You can also use a letter template by clicking the Load letter template button. If you don't see this button, follow the tips in this article: Why can I not see the Load Template button for email/SMS/letters?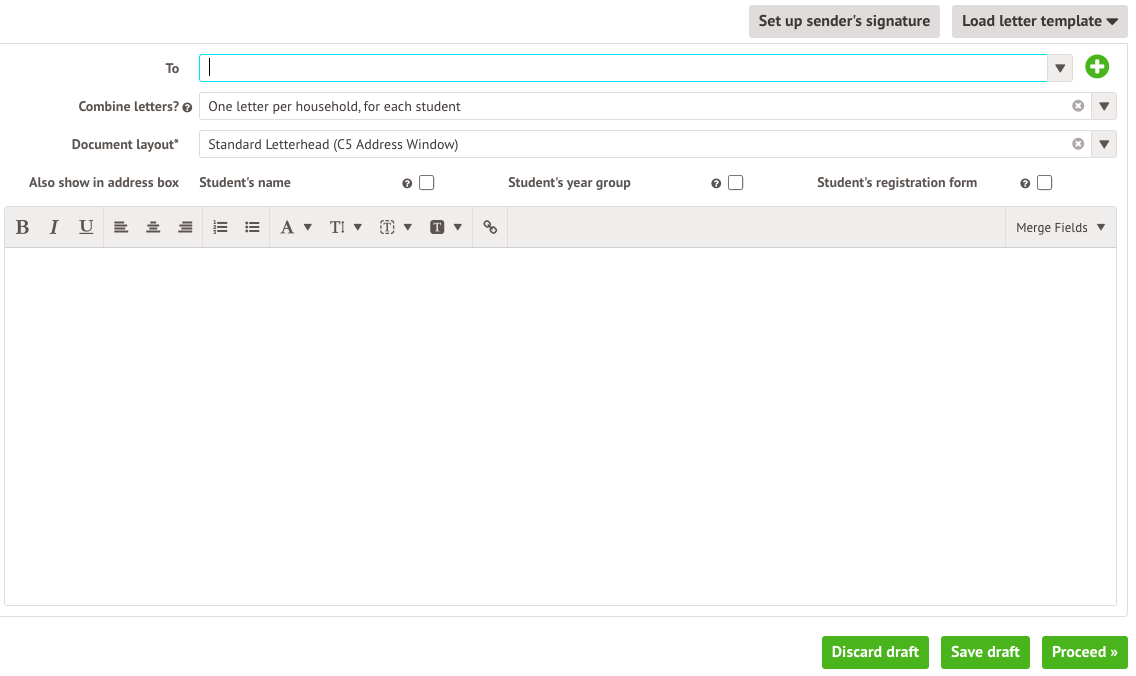 Choose the recipients by selecting them from the drop-down list in the To column. You can choose to send the letter to an individual, selected by scrolling through the list or typing the name and selecting the appropriate individual. You can also send to different groups. You can also send to different groups or all enrolled students or their guardians.
In the Combine letters? section, you can choose whether you want to combine emails to one per household or one per recipient and if you want to send an individual email for each student or one regarding all students. Take a look at this article for full details.

To select a preset layout click the arrow next to Document layout.
The Merge Fields selection box may be used to customise each email to the appropriate individual.

When you have completed the setup, click the green Proceed button.

From the next screen, you will have the ability to review your letter. At the bottom of the screen, you can see which users have an address associated with them. Those that do, will have a green tick next to them. The users that don't will have a red cross next to them.
You can preview what each letter will look like for the individual recipient by clicking the preview icon.

At the bottom of the page before sending you'll see the total number of letters you're about to send.
If you are happy with your letter, scroll to the bottom of the page and press the green Generate button. This will then generate the letter in Arbor and will automatically create a PDF download. The letters can then be printed.