You can make Labels in Arbor for Students, Applicants, Guardians or Staff to print out as stickers. Go to School > Communications > Labels.
Permissions
Identity: View All Student - create labels for students, applicants or guardians
All Staff: View Basic HR Details - create labels for staff
If you don't have the permission, you'll need to ask your admin team to give you permission using these instructions.
What information can I include in labels?
The Permissions you have also determine what information you can add to a label, the same as when downloading a student's profile. For example:
If you can see student photos, you can add photos to the labels.

If you can see student enrolment info, you can add year group/reg form/house to the labels.

If you can see student contact info, you can add a postal address to the label.

If you can see admission information, you can print labels for applicants.

If you can see student's guardians, you can print labels for guardians.
How do I create labels?
For example, to create labels for Guardians:
Choose the Avery Page Layout which defines the size of labels you wish to use.

Choose the group or groups of students you wish to make the guardians labels for. If you want a subset of guardians, you can make a custom group and then select it from the drop-down.

Choose whether you want to include Primary Guardians and/or Legal Guardians.

Whether you want one label per household.

If checked, all guardians who live at the same address will be grouped together on one label. If not checked, then we output a separate label per guardian.

Decide which fields you wish to include on the label

Download the Guardian Label Sheet and print.

When printing labels for students, you can collate them by year group, registration form or house (or just print them in alphabetical order).
Once you've completed step 3 of the New School Year Setup, print student labels with their year group, reg form and house next year using the Display future enrolment information option.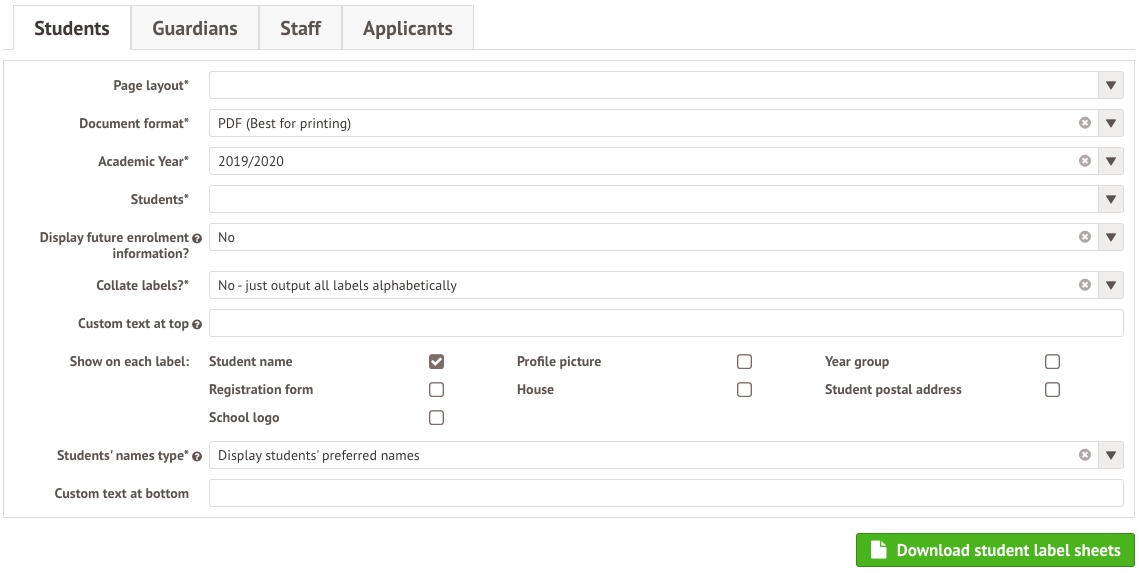 What are the available sizes?
We use standard templates for each size from Avery, so as long as you choose the correct label type it should fit: Which Avery label size should we use?