For your MAT MIS staff members, you can record details of their pay, working periods and absences and report on them from the Absences area.
Please note that most of the guidance below is only for staff members set up on your MAT MIS site. For how to change school staff details, see the Positions and contracts for school staff section below.
Permissions
You'll need the Basic HR Details: Administer All Group Staff and Contract Management: All Group Staff permissions to complete the actions shown below. If you don't have permission, you'll need to ask an administrator to give you permission following these instructions.
For your MAT staff
Recording staff pay details
You can set up pay scales and spinal points for your MAT MIS staff from the Group Staff > HR Admin > Pay Scales page, in the same way as on the School MIS.
You can add a pay scale to a Group staff member's contract from the Contracts > Salary section of their MAT MIS staff profile. For contractors, you can log hourly or daily rates in the Contracts > Daily/Hourly rate section.

Reporting on pay and contracts
See all of your Group staff contracts on one page including pay scales, salaries and FTE hours from Group Staff > HR Admin > Staff Contracts.
Logging working periods
To make sure your staff absences calculate correctly, we recommend adding working periods for all of your part-time MAT MIS staff members. This means an absence will only count the hours that fall within a staff member's working period.
To add working periods for a staff member, go to their staff profile and click +Add in the Working Periods section.
In the slide over, you can select when the working period applies and select the days of the week the working period applies, then click Save Changes.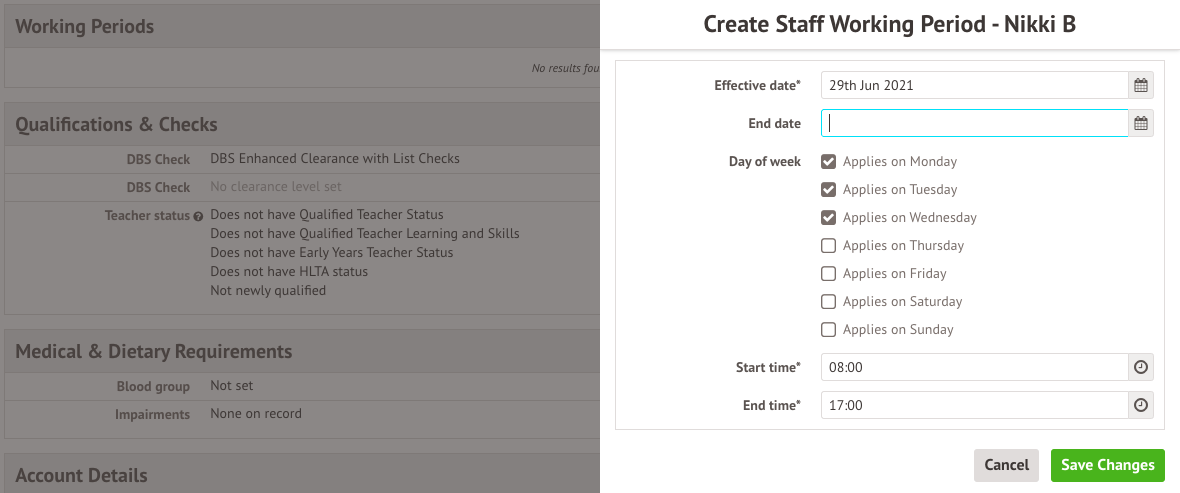 Working periods don't include lunch breaks, so a working period of 8am-5pm will be treated as a 9 hours of work. If you'd like to include lunch breaks or any other breaks in staff absence calculations, you'd need to set up multiple working periods. So for this example, a full day's absence would count as 4 hours missed.

Recording absences
You can see and record absences for your MAT staff members from the Absences section of their staff profile. It is not possible to add these in bulk.
Click the green Record New Absence button to create a new staff absence. In the slide over, choose the type of absence, start and end date/time, and approval information.
Once you've added all the details, scroll down and click the green Create Staff Absence button.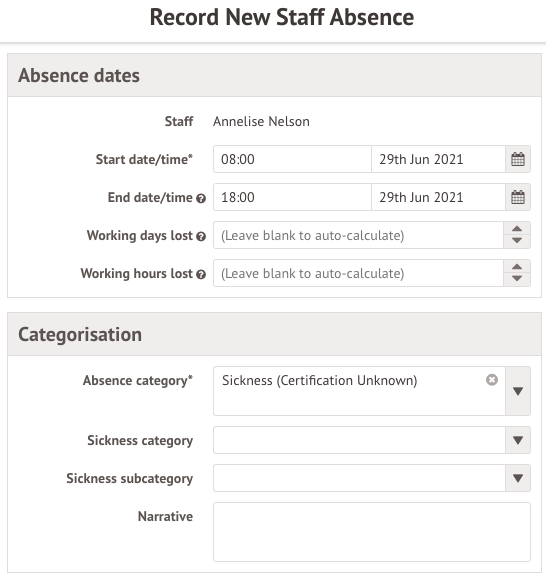 Click into an absence to view or edit the details, or delete the record.

Positions and contracts for school staff
For your school staff, you can't use the pages above to update their absences - instead use the instructions below.
To view all of your school staff members' positions, go to Analytics > Staff/HR. Select Absence or Context and go to School Staff Census Positions from the left-hand menu. You can also use the Group Single Central Record to view staff details grouped together.
This page allows you to identify and modify staff member's census position category for each of their contracts. Each contract forms one row of this table, so if a staff member has two contracts, each will be shown in a separate row.
You can use the filters to check staff at a particular school or who have a particular position category, for example, you may want to see who hasn't been given a position category.
Click a staff member's name to view more information. If you have the permission to log in to the school the staff member works at, you can click the View staff profile button.
You'll be taken to the staff member's profile on the school MIS site, where you can make any changes needed, such as adding a contract, excluding them from the census and your MAT MIS calculations or amending the position.
What's next?
Need to report on your staff figures across your schools and MAT, or look at absence statistics? See our guidance here: Staff analytics on the MAT MIS