If you've got the Student Profile: Action: Attendance: Administer All Students permission, you can edit marks for more than one student at a time, or for whole class, from the Students > Attendance Registers > Bulk Edit Marks Standard page.
If your school uses timetable periods, each attendance mark will align with the correct timetable period. Column headers display as periods by default. If no periods are set up, you'll see the timeslot.
A green tick means the student was present.
A yellow clock means the student was late.
A dash means no mark was recorded.
A letter indicates the student was absent and for what reason.

Click on the green filter option at the top to choose a date range and student group, and choose to display the Year Group and Registration Form of each student.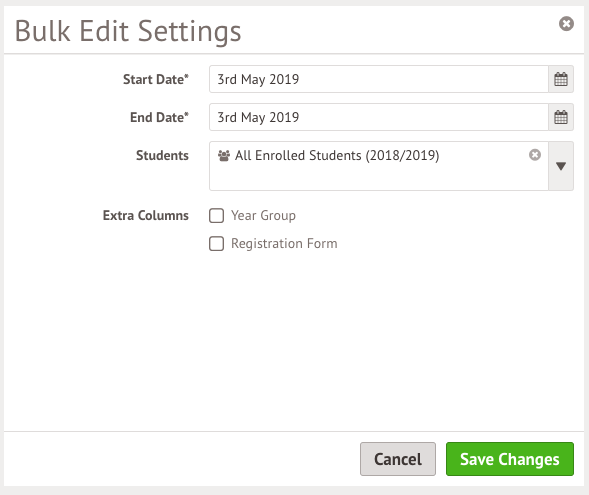 As well as classes, marks for Internal Exclusions and Interventions are also shown so you can see if a particular student was meant to be out of lesson. If a student is registered in more than one session at once, all sessions will show (so you might see more than one mark in some slots).
You can also view Attendance Notes or log a Planned Absence right from this page - just hover over a mark in the table.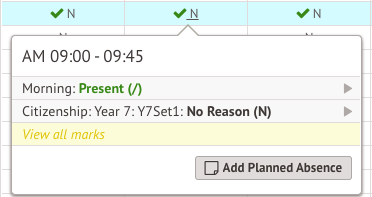 Editing the marks
Along with many other bulk edit options such as emailing guardians, there are four options to bulk edit marks:
Bulk change marks

Bulk set present

Bulk set late

Bulk set absent
Just select the students to change marks for, then click the blue pencil icon to select which option to use.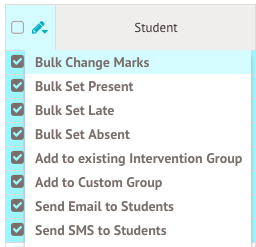 Changing marks from one code to another
Select Bulk Change Marks to change all marks with the same attendance code to a different code. For example, if you want to change all your N codes to O codes just select the options below, then click Save Changes.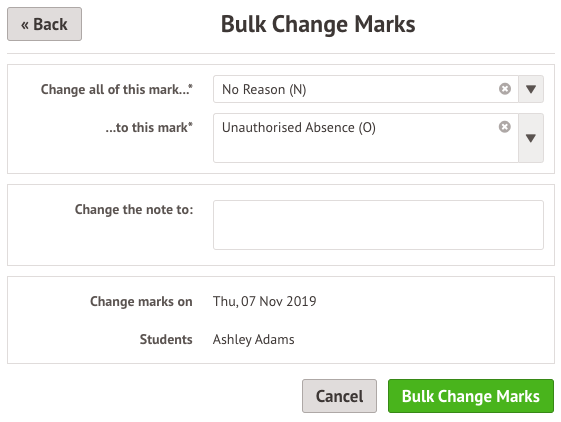 Changing all marks to late, present or absent
Select Bulk set Present, Bulk set Late, or Bulk Set Absent, to change all selected marks to present late or absent.
In the slide over, untick any roll calls and periods you don't want to amend the mark for.
At the bottom of the slide over you can then choose whether to overwrite all the marks or only fill in the blank marks, then click Bulk Set Marks.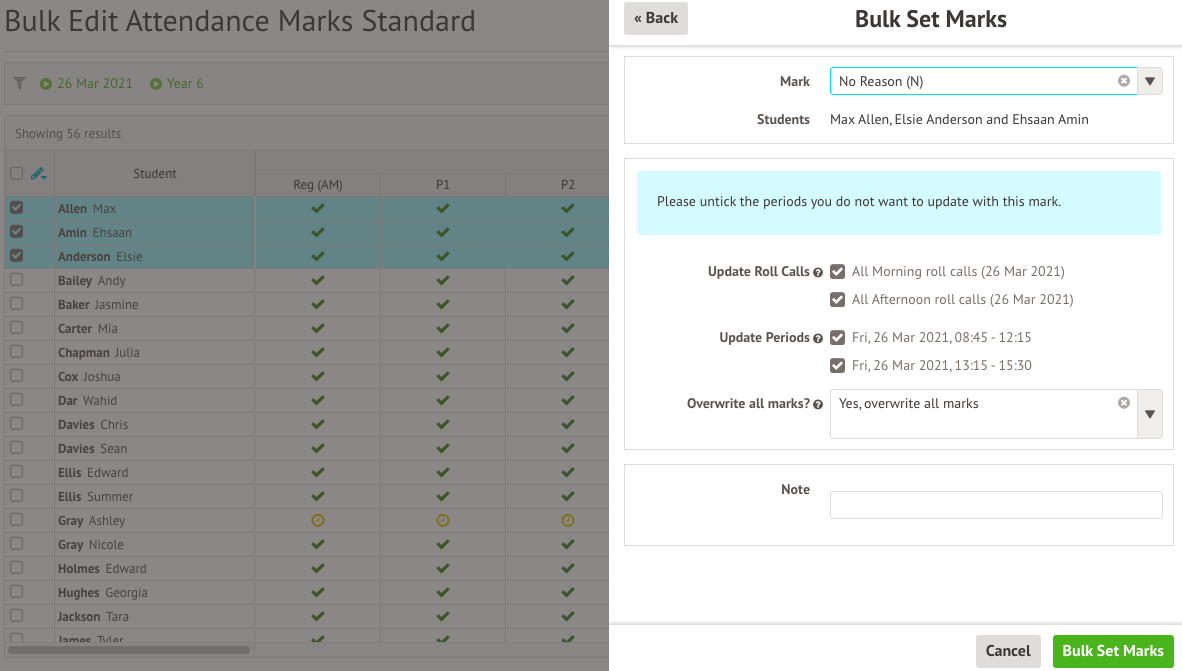 Please note: Bulk editing cannot be done for future registers. Please instead schedule planned absences for the relevant students. To see how to do this, click here.