Creating Attendance Certificates for groups/students

These are sometimes referred to as Individual Session Summary Reports by other MIS systems.
Go to Students > Attendance > Reports.
Here you can either start typing students names or select students from the categories drop-down list. Once you are happy with the settings, click the green button.
Creating DfE Code Reports
Go to Students > Attendance > Reports.
Click the filter bar to choose specific criteria, then click the green button.

How do I generate Attendance Reports about specific students?
You may want to track the attendance of a specific group of students. To do this create a Custom Group first and add the students to this custom group. Custom Groups can be created by going to:
School > School structure > Custom Groups
Set up the custom group and then add members to the group.
If reporting on attendance for this Custom Group, you can do this by using the Statutory Marks report at Students > Attendance > Reports, or directly from the Custom Group overview.
To generate the report, select 'Generate Student Report'. Scroll through the list of filters until you reach the attendance filters. This report can then be downloaded as a PDF or Excel document.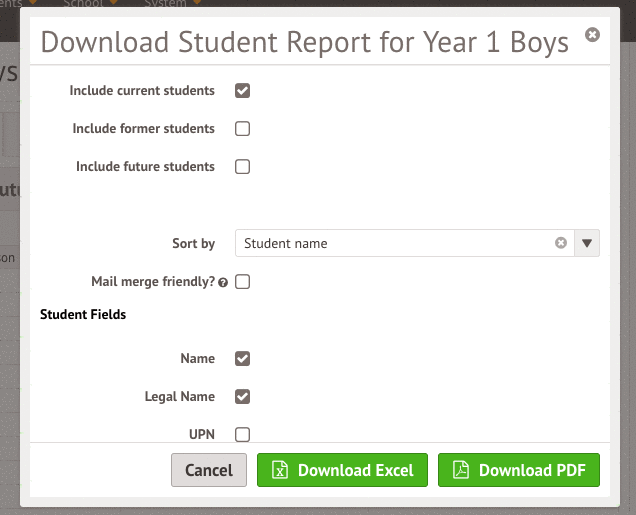 How do I create weekly Attendance Reports?
Go to Students > Attendance > Reports and scroll down to the bottom of the page. Select the dates and click the green button to download your report.
How do I create 100% Attendance Reports?
Check out this article to download our 100% Attendance Custom Report Template.
Go to School > Custom Report Writer.
For full instructions on creating a report from Custom Report Writer, click here.
During Step 3 of the Custom Report Writer Wizard, you can select to include 'Lesson Attendance' or 'Statutory Roll Call (present)' as a column.
During Step 6 choose to filter by a threshold of 100% to ONLY show children with 100% attendance in your report. Set the filter condition to 'Equals (=)'.