The Educational Needs section of the Student Profile compiles all information regarding a student's interventions, special educational needs, gifts and talents, educational plans, events, funding and SEN statements and notes.
Logging an SEN Status and SEN Status codes
If the student has SEN, you'll need to log the appropriate SEN status. To add a new SEN status, you can click the orange button.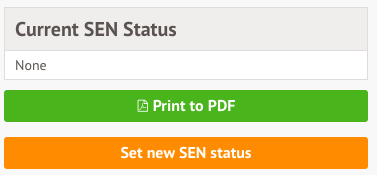 In the slide over, you can add the new status. For the Census, these statuses correspond to different codes:
N - No Special Educational Need or Monitoring

E - Education, Health and Care Plan

K - SEN Support

S - Statement (Now no longer used)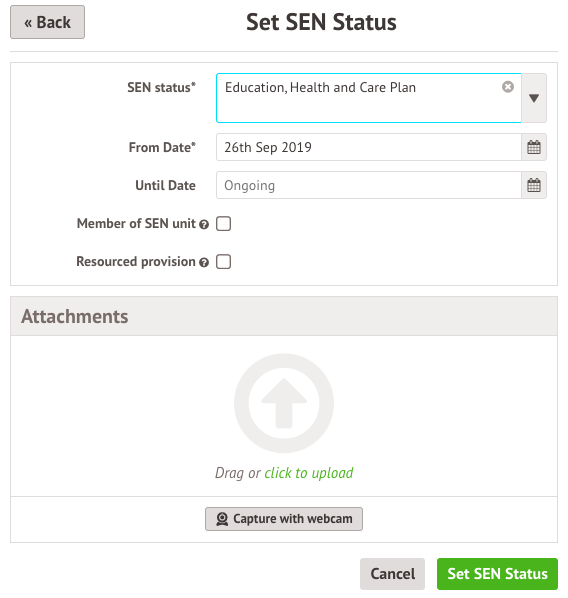 The SEN field in the Educational Needs section will now show the dates of the SEN Status.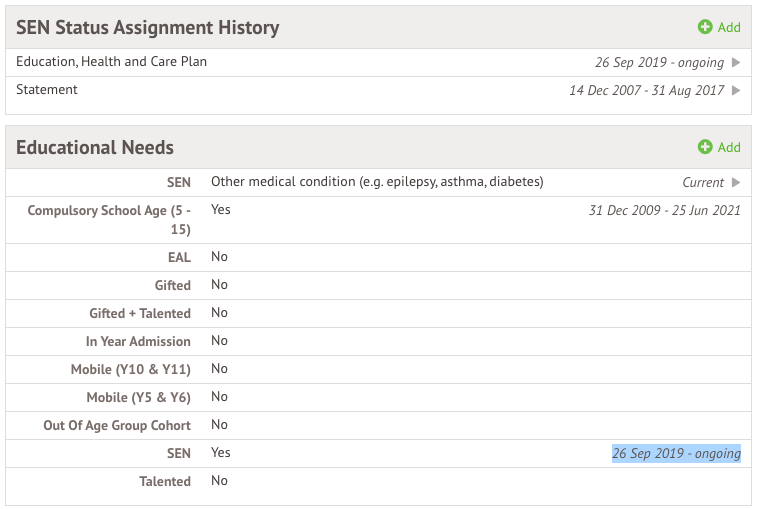 SEN Status Assignment History
This section lists any historic or current SEN statuses. These may be further monitored by clicking on the record and then click on Edit to update as required.
How SEN Needs map to DfE Export Codes
We often get asked why we have more options in SEN Needs than the DfE's Pupil SEN type list, the reason for this is so you have more granularity in recording a student's SEN information but in the background of Arbor, we map our SEN Needs list to the DfE Export Codes.
Here is a list of how SEN Needs in Arbor maps to the DfE Export code: SEN Need Types with DfE code mapping
Please note that this is a list for UK DfE schools. For Isle of Man schools or schools completing the ILR, please contact us if you require a list.
Educational needs
This section presents any particular needs that may be recorded for the student. This information may be reviewed and updated by clicking on the appropriate record and then Edit.
When clicking on the '+Add' sign next to the header, a slide-over is displayed to input and save a new SEN need.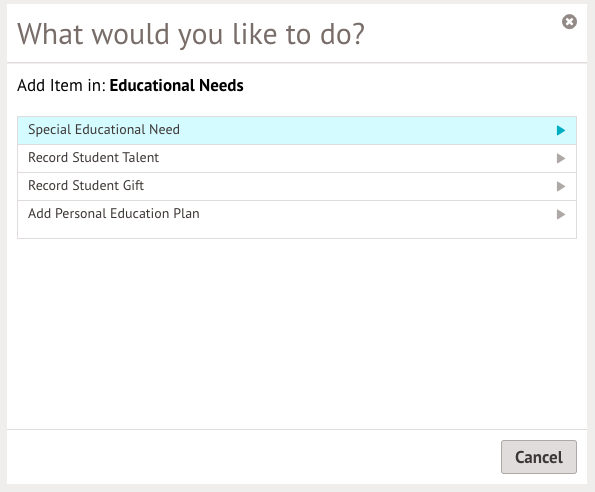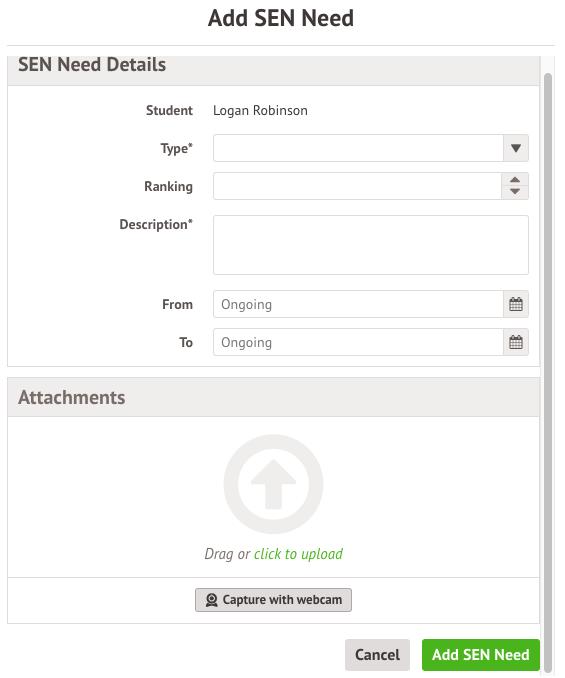 Student gifts and Talents
This section groups all recorded student talents. To add a new record, click on the +Add sign and select whether you will be recording a student gift or talent. A slide-over is displayed to input the right information and create the record.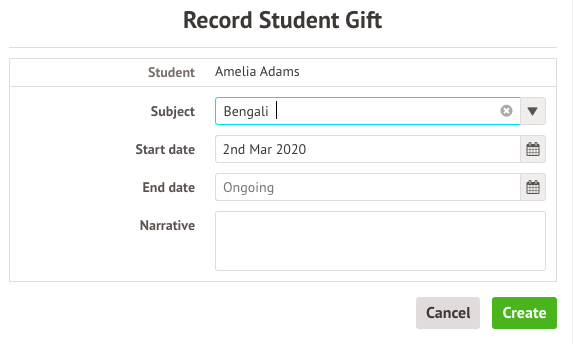 Individual Education Plans
This compiles the student's educational plan. To record a new plan, click on the '+Add' sign and input a summary, dates and relevant content. Attachments may be uploaded and linked with this particular record.
Events
This displays any SEN events recorded. By selecting the'+Add' sign, additional events may be recorded and assigned to the appropriate event type.
Student Funding
This section lists any funding the student is assigned. For example, you may need to report on some student's top-up funding indicator for the census.
You can see a full list of available options here: Adding top up funding

SEN Notes
This section lists and manages the student's SEN notes and relative documents. To add a new note, click on the '+Add' sign and enter the date, summary and note content. Attachments may be uploaded through the slide-over and saved onto the particular record.