There's a whole host of analysis you can do if you use Summative Assessments and have input your assessment data! Watch the video, and click the + symbols to see examples of how you can use each page!
Top Tip: On all of the pages, you can:
Use the filters to select past assessment periods or reporting dates

Select specific student groups or classes to focus your analysis on

Click on data points to take further actions such as adding struggling students into an intervention group.
See key assessment statistics at a glance
Our School Assessment Measures can be used to create bespoke rules for one or multiple assessments combined within an academic year. For example, a common measure in primary schools is the percentage of students who are meeting their Age-Related Expectations grade across Reading, Writing and Maths combined.
With this feature you can:
Set up different rules for each of your year groups

Select which are your key measures to show on your Dashboard

See and download other measures from the All Measures tab

Drill down to see statistics by year, demographic and ethnicity

Take actions with the students in each group, such as adding to an intervention
For example, you may want to see which of your students are working at or above their target in reading, writing and maths combined to send a congratulatory email home.
You can set up a measure for reading, writing and maths combined and set rules for all students taking the KS1 reading, writing and maths assessments.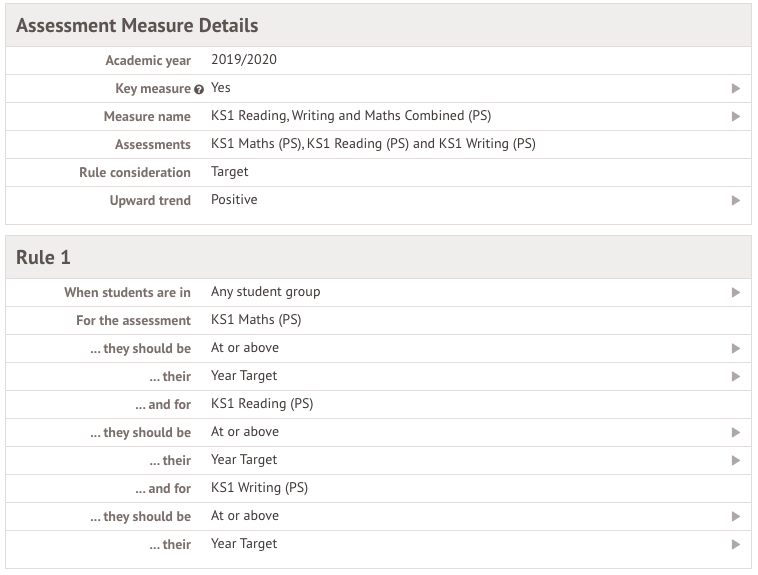 Once your measure is set up, you can see the percentage of students working at or above their target across all the assessments on your Summative Analysis Overview Dashboard.

Compare how your different student groups are doing by clicking a measure. Here I can see that my Year 1 students are doing very well.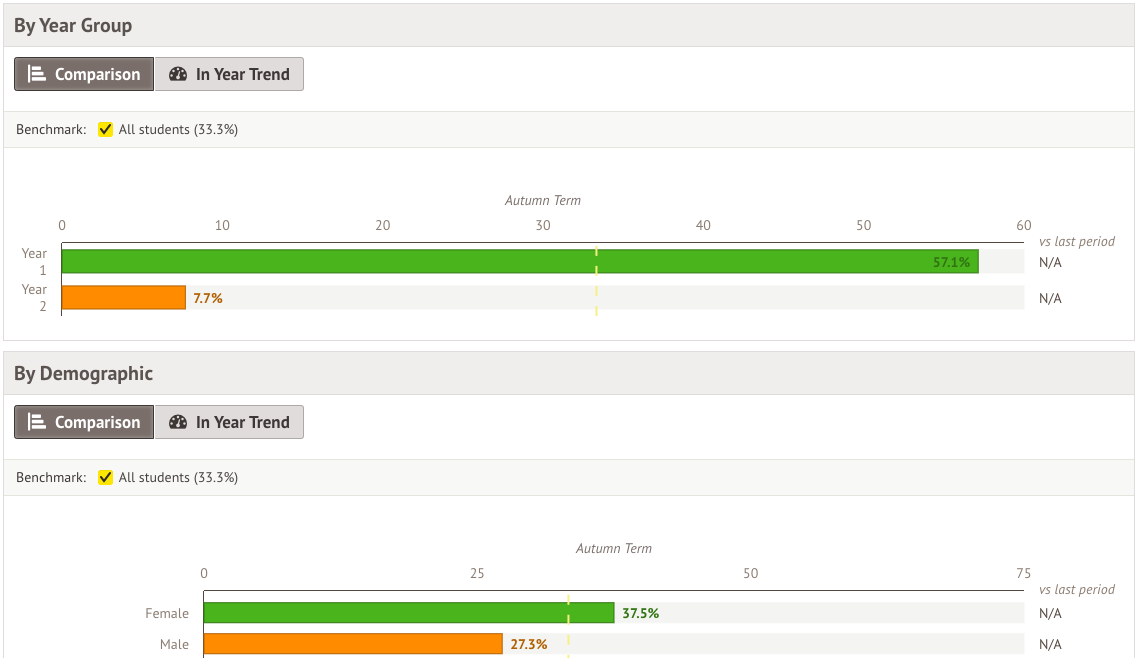 If I then click the Year 1 bar, I can see all of the students who are meeting or exceeding their targets in reading, writing and maths combined. I'm going to send a congratulatory letter to their guardians.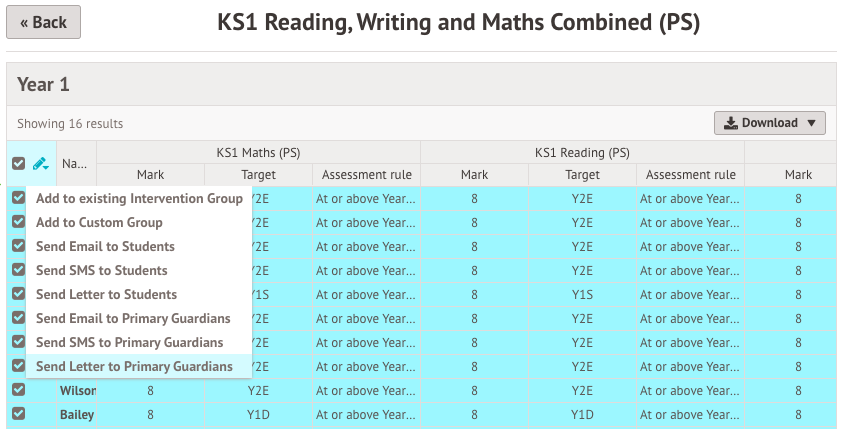 Compare your student group's grade distributions over time
Attainment over Time allows you to see how many students are achieving each grade for one assessment, viewed over multiple assessment periods, for multiple student groups. You can also compare their grades to their baselines!
The table provides a breakdown of the students working at each grade at that given point in time.
For example, you could use this page to see that for a particular class a large number of students are consistently achieving below expected levels each term, and you could have a conversation with their teacher about what support could be put in place.
You can see the distribution of what grades your students are achieving over time. You notice that for your Year 1 class, the number of students achieving the lowest grade (Y1E) doesn't seem to be changing.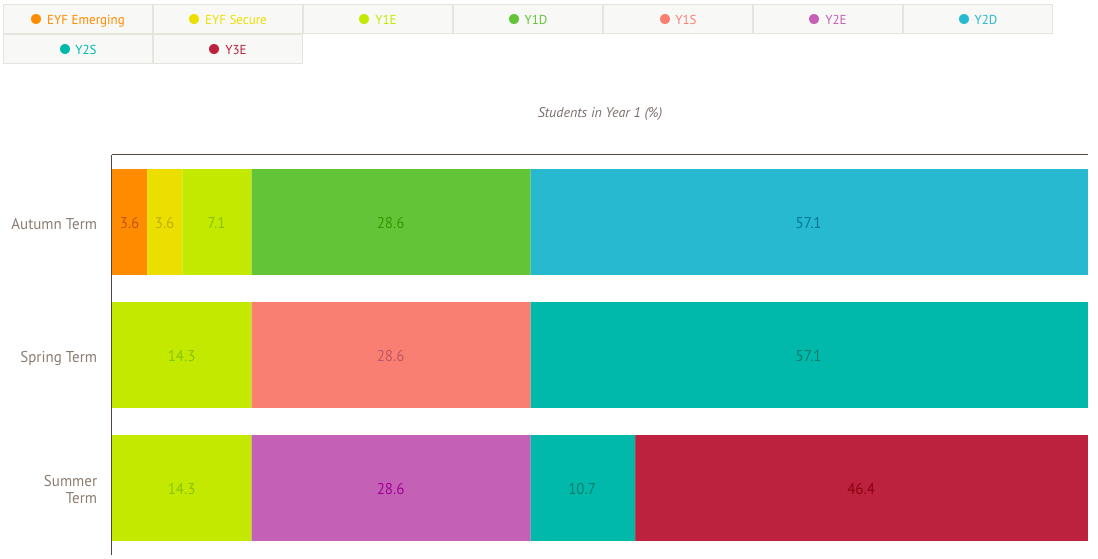 If you click each group you can see which students make up this part of the distribution.
For Autumn term, you can identify the students who started off with low grades. Anna Phillips started off with EYF Emerging, Jennifer Davies started off with EYF Secure and Lizzie Ellis and Mia Allen started off with Y1E.

For the Spring term, you notice that these students are all achieving Y1E.

For the Summer term, you notice that these same students are all still achieving Y1E. No improvement has been made by these students.
Now you know there are students who are not making progress you can take further actions. You can add them to an intervention straight from this page, or have a conversation with the year 1 teacher to see how these students can be better supported.
See where students are working against their targets
The Attainment Expectation page allows you to see the percentage of children who are at different Attainment Expectations at one certain point in time, and across multiple assessment periods. You can see what percentage of students and how many students (in brackets next to the percentage) are working above, at and below their targets for the assessment period selected, and the gap between student group's attainment using the filters.
For example, I've been informed that my looked-after children are struggling in maths and I want to confirm whether this is the case. On the Attainment Expectations page, I can use the filters to select to group results by Demographics vs Inverse vs Gap to see how my looked-after students are doing compared to their peers.
I can see that all of my looked after students are working slightly below or significantly below their targets, whereas 91.7% of my not looked after students are working at or above their target, meaning there's a large gap in attainment.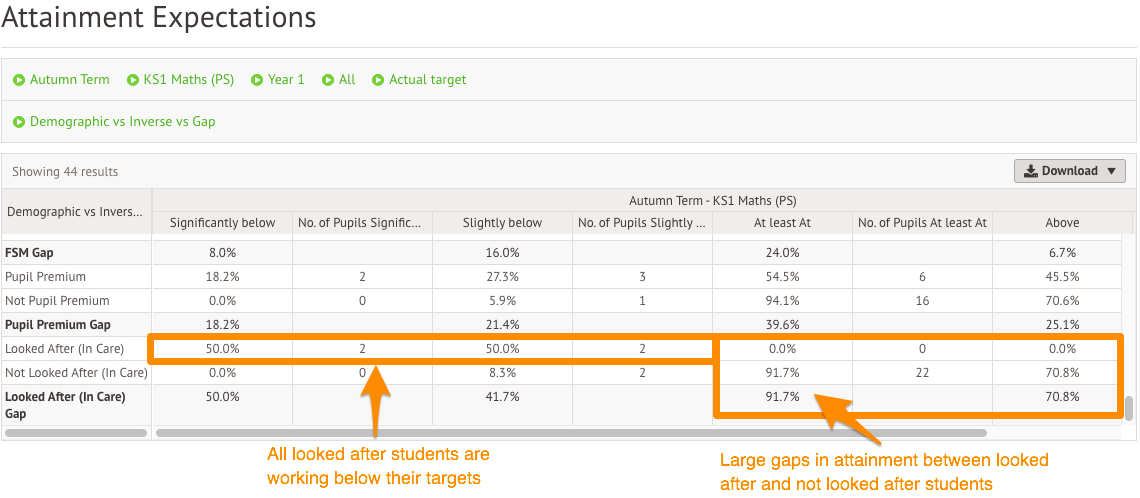 I'll need to identify who my looked-after students are so I can make sure they'll be supported to achieve better in the future, so I can click the student group to take further actions, such as adding them to a custom group.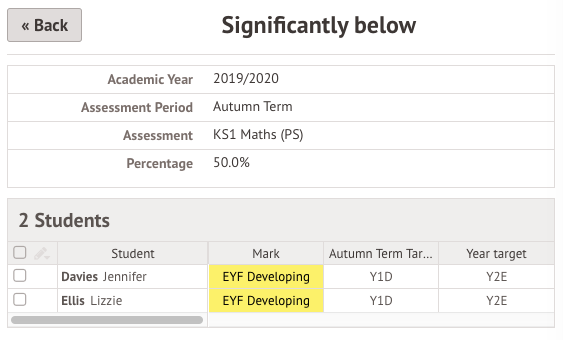 On the Expectation Over Time page you can see the overall trend line over time for the number of students working at the selected attainment expectation.
You can see if students of one demographic are consistently performing worse than another. For example, your SLT can see if your male students are consistently performing worse, and you can then take actions to give them extra support such as enrolling them into an intervention.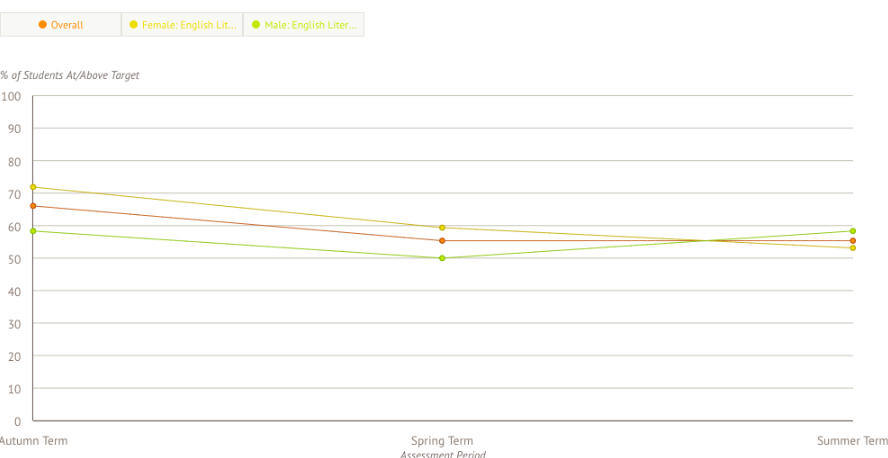 Compare grade distributions for multiple assessments
The grade distribution tool lets you view the distribution of student grades for each assessment. First displaying a summary for each assessment period, you can then dig down into each strand of an assessment (for a summative assessment with strands). This is a really useful page for comparisons across classes and across assessments for the same assessment period.
The table view lets you can choose to display student names in the table view so you can easily see which students are in each group.
For example, you can use this page to compare grade distributions across multiple assessments. Here I'm looking at my EYFS assessments and can see that there are students working below 8-20(S) in the Self-confidence and self-awareness assessment, whereas all students are doing well in the other assessments.

Now you know that students are not doing quite as well in one area of the curriculum, you can take further actions. You can add them to an intervention straight from this page, or have a conversation with the teacher to see if more lessons developing this area could be taught.
Compare current and past grades of two different assessments
Our Transition Matrix page allows you to compare:
Student's starting points in an assessment to their current grades

Student's starting points in one assessment to their current grades in another assessment

Student's starting points in two different assessments

Student's current grades in two different assessments
You can choose the assessment you would like to appear on each axis including the assessment period you would like to view the assessment for by clicking the filters at the top of the page.
For example, I want to make sure all my Maths students have made a good amount of progress this year from their autumn to their summer assessment.
I'm going to click the students who have not made any progress.
I can then see that Mia Allen has not made any progress from autumn, and Anna Phillips performed very badly in the summer assessment.
I can ask their teachers if they know of any reasons why they might not have made any progress, or I can email Anna's guardians directly to ask if there was a reason why she might have done badly right from this page!
I'd also like to check whether my maths class is achieving about the same grades as my writing class. I'm going to select the two assessments in the filters and set the assessment periods as the same.
In this example, I might want to see if we can congratulate Ray and Melissa for their good work in writing, and offer additional support in maths to boost their achievement across all subjects.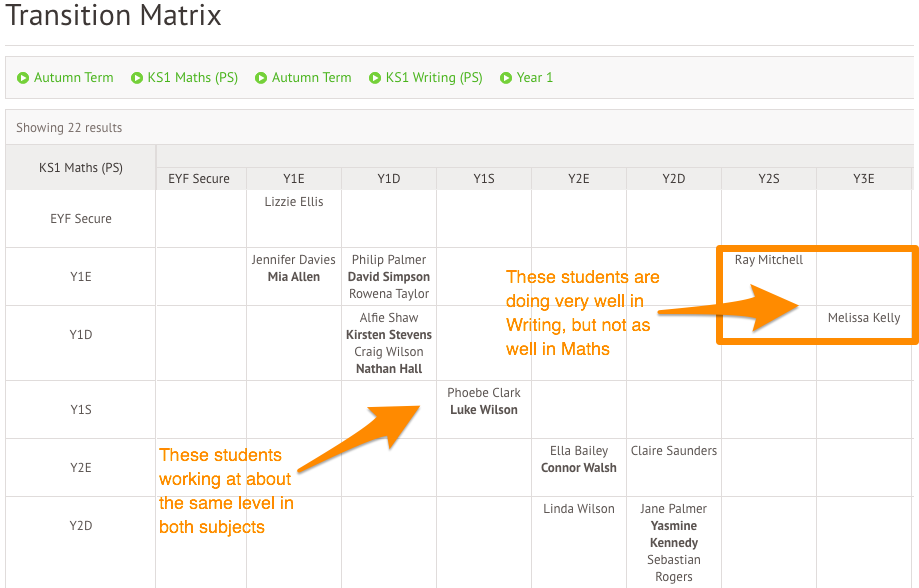 Creating a report of your Progress Statistics
The Statistics page shows a table of your students' average grades including average baseline, average working at grade and average target. It can also be used to find the progress made by certain groups from their baselines.
For example, I want to see whether my male students are making as much progress as my female students. I can see by grouping by demographics that my male students had a higher baseline grade and were initially set higher targets than my female students. However, since then, my male students haven't made as many points of progress.
I can see it will be a good idea to have a discussion with the class teacher to see what we can put in place to help improve targets for my male students or to assess whether the targets set were reasonable.