Updating SISRA Analytics with your Arbor information has never been easier with our custom report writer. First, you'll need to export your pastoral information into SISRA, before you can export your assessment data.
Step 1 - Export pastoral information
Download this report and save the file on your computer until it's needed in the next steps. Do not open the template.
You can then import it into your site by following these instructions: Importing a report
To reduce loading time, this report will default to being empty, so before downloading your report for each year group, you need to click Edit and scroll down to the 'Filters' section.
Add the relevant year group, and click to edit the column.
Change this to be one particular year group.
Save and view the report, then download the file in Excel format by clicking on the download button and choosing the format.
Run the file through the SISRA Excel Add-in before saving as a .csv (MS DOS) file.
Step 2 - Export your assessment marks for one year group
Go to School > Custom Report Writer and click on Create New Report in the top-right of the page. Then click Create New Report.
Choose your report title and under Who or what will this report be about? select Students, then click Next.
In Step 2, change the date range drop-down from Current Academic Year to Today.
In Step 3, type in 'Arbor' into the search box then drag the Arbor Student ID box over to the Added Columns section. A slide over will appear, where you can set the column label to Student ID, then click Save. Do not tick Unique MIS ID.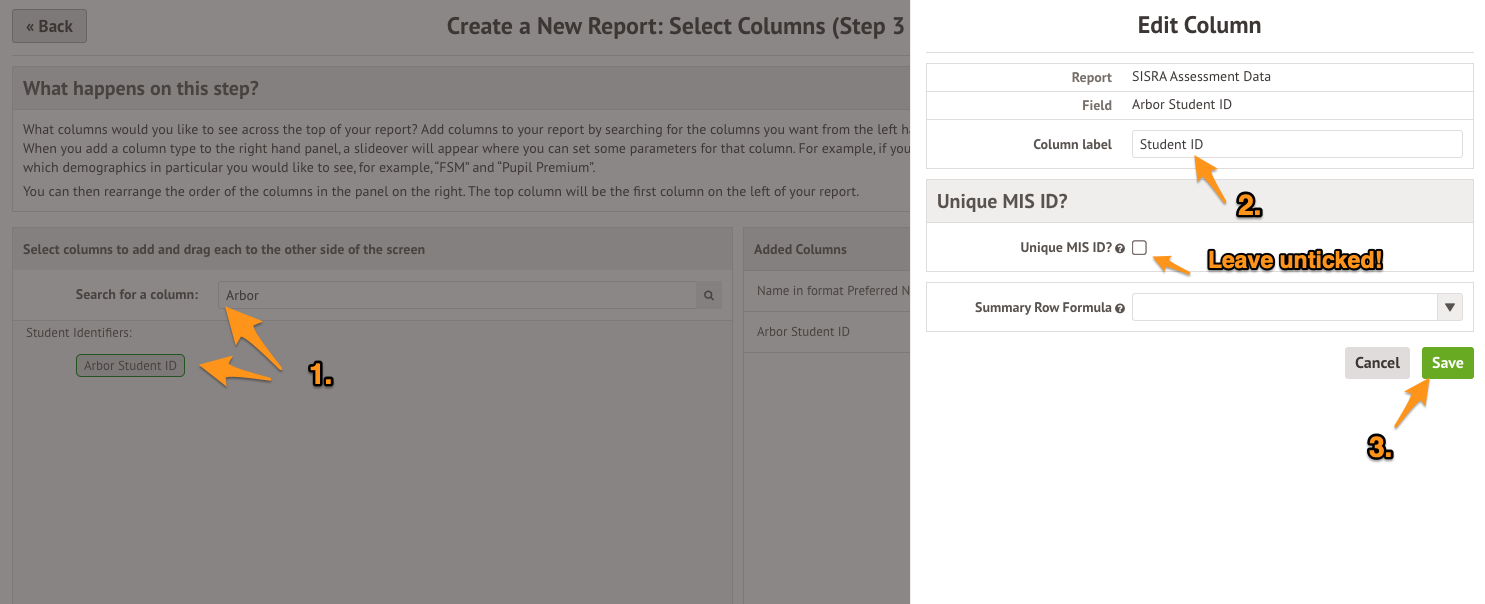 Next, add columns for summative assessment marks. You can see how to do this here: Report on summative assessment baselines, grades and targets in the Custom Report Writer
Repeat this for every assessment you need to add, then click Skip Setup Wizard.
On the next page, scroll down to the Filter section and type 'year group' into the Select filter box. Select Year Group from the drop-down menu and click Add Filter. In the slide over, select the required year group, then click Save.

Click Save & View Report, then click the Download button to select to download it as an Excel file.
Once you've downloaded your report, open it in Excel and run the SISRA Excel Add-In to convert the file to the format required for import into SISRA.
Top Tip: Quickly recreate the report for another year group
If you need to quickly recreate the report for a separate Year Group, using the same assessments, just follow these steps:
Click the

Duplicate button, then in the duplicated report, click the Edit button.

Edit the

Report Title

as required.

Scroll down to the

Filters

section and click on the pencil icon next to the

Year Group

filter.

In the slide over, change the Year Group, then save your changes and view the report.