In this article we will look at how future guardians can update their student details in the Parent Portal, making collecting information easier.
To be able to use the Parent Portal/Arbor App to collect information on applicants you must have completed Step 3 in the New School Year Setup process. For guidance on your New School Year Setup see this article.
Did you know you can also use data collection sheets to do this? See this article.
Sending out your welcome emails to future guardians.
To send out your login emails to your future guardians you must have at least one guardians email address.
To send out your emails go to Students > Parents and Guardians > Parent Portal Usage and click on the Future Students Tab.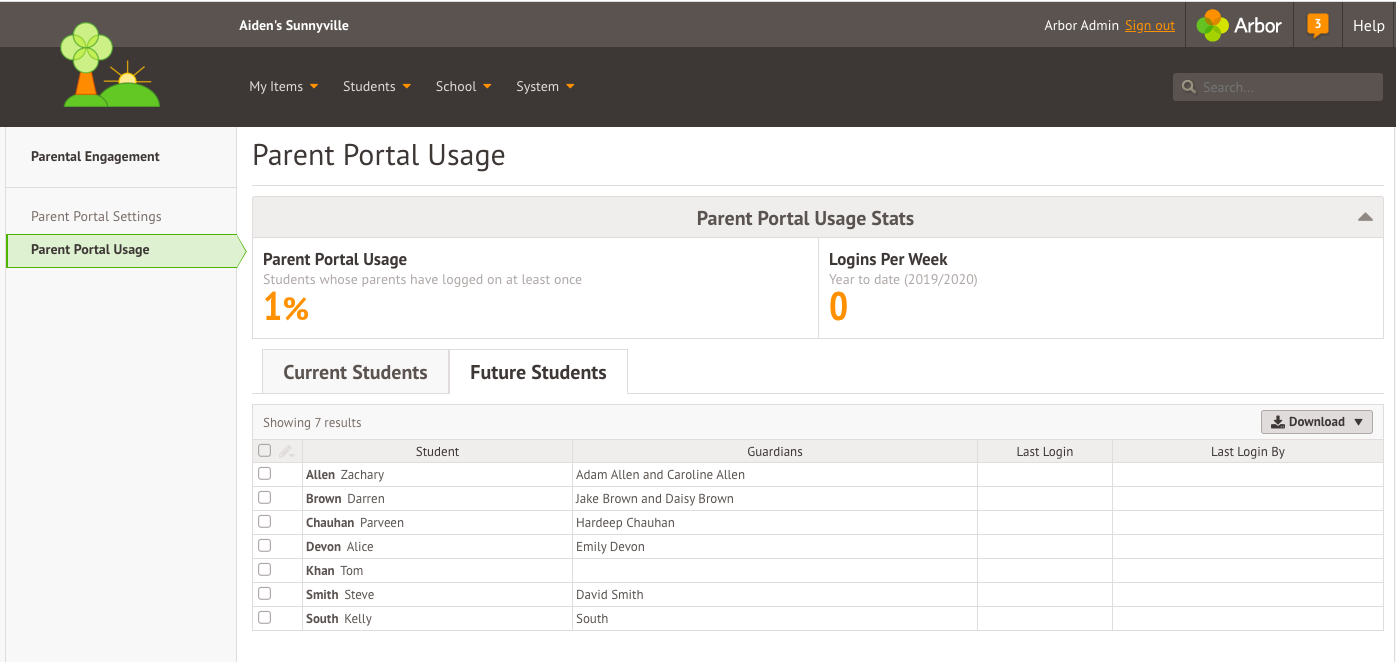 You can click on the select all box and use the pencil icon to click resend guardian login details.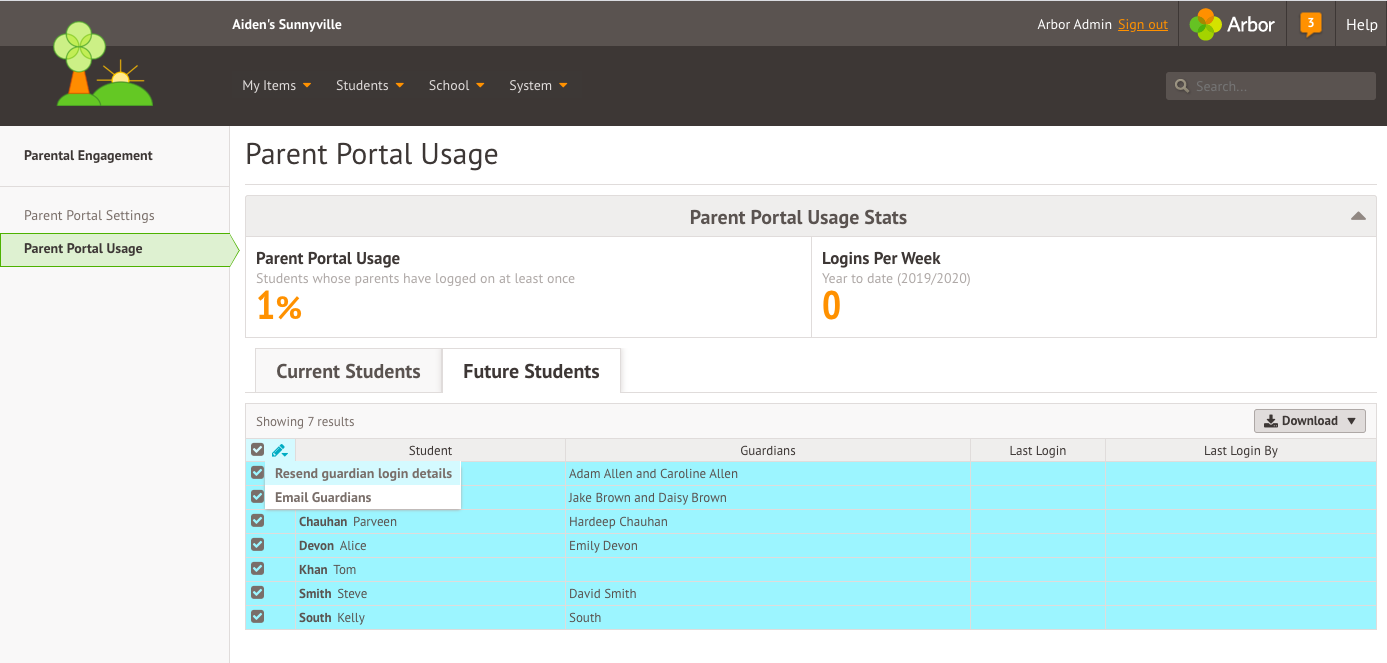 This will send out the login email to any selected future guardians.

If guardians contact you saying the link is expiring you can send them the URL from your homepage. This link won't expire!
Approving requested changes
If you have your Parent Portal Settings set to do not auto-accept record changes you will need to manually approve these. We recommend having this set to don't auto-accept changes as the school may need to see supporting documentation for certain changes such as name changes.
To check your setting go to Students > Parents and Guardians > Parent Portal Settings. You will be able to see a full list of all your settings.
Any requested changes and updates will show in the Data Quality Dashboard you can find this by going to School > Data > Data Quality Dashboard > Student Record Changes > Pending Changes.

You can click into the requested change or update and approve/reject the change, you can also add any supporting notes as well.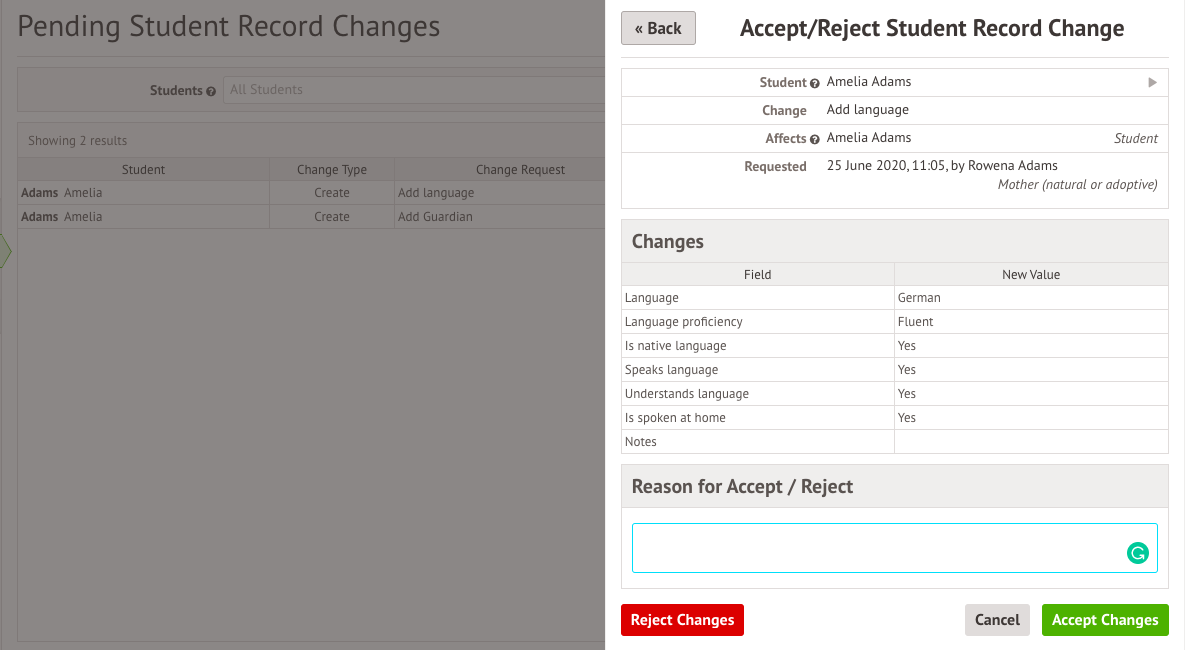 If you accept the change this will then show on the student's profile.
You won't get a notification if any new change requests so you will need to manually monitor this page.
For instructions on how primary guardians can add this information in the Parent Portal see this article.
Troubleshooting
Is the logging in process the same for the primary guardians of future students?
As long as you have completed step 3 in the New Year Setup, your future primary guardians can log in using the same process of everyone else. Once they have been sent the welcome email they can follow the steps to create an account. They will still need to pass the data protection steps for their student by putting in the date of birth. Don't forget we recommend using a computer/ laptop the first time they do this!
If I only have the details of one guardian can they add the other contacts?
As long as you have the details for one guardian they can log in and add the other guardian's details, the only thing they can't do is say who is a primary guardian. They need to contact the school for them to update this.
Is there a limit on the number of contacts a guardian can have?
There is no limit on the number of contacts that a guardian can add, they can add as many as that student needs.
What we if have auto-accept changes on?
If you auto-accept changes on then you won't need to approve these, and changes that the guardians make will show on the student's profile.
What if we don't want future guardians to be able to log in?
If you don't want future guardians to be able to log in then just don't send them their welcome email. This won't notify them that they can log into the Parent Portal.