Preparing for this census
See this article for your key census dates: School Census help and guidance
Then follow this article to see what's new this census, and how to prepare your data to minimise errors before you run a Dry Run: Preparing for the school census
Make sure you have the right permissions to be able to access the census and edit data

Prepare your data for the census, including filling in any gaps, mistakes and duplicates

Make sure you're recording data in line with DfE guidance by taking a look at what is new for this year's censuses
Download and print out the School Census Preparation Checklist before doing a Dry Run.
Running your census
Generating a Dry Run
Go to School > Data > Export > Data Returns. Here you will see a list of the different censuses for the academic year to date.
If you have recently joined Arbor and this is your first time using our Census, you will still see a list of all the Census return dates for the academic year but these will not contain any Census return data relating to your school.
The date on the left-hand side of the page is the official census day and the date in italics to the right-hand side of the screen is the deadline date for submission to the DfE. Please be aware that some Local Authorities may want you to return your census to them before this date.
You may be asked to fill in some missing data on your school site first. Just click it to add this in.
Once you have selected the Census date, click on the grey School Census button to navigate to that specific Census' overview page.

You will be taken to the Census Overview page. Start your Dry Run by clicking the orange button.

A pop up will appear to confirm the Census you are generating. Once the Census has been generated, you will get a notification in the speech bubble in the top right-hand corner of your screen letting you know that the Census generation is complete.


Refresh your screen (by clicking on the circular arrow beside the web browser address).

Scroll down to the most recently generated Census and click on it to start resolving your errors.

You can then work on your errors (see the next section on how to do this). To regenerate your Dry Run after resolving errors, just click the orange button on the right-hand side of your page.



Generating the Census on or after Census day
You will be able to generate your Census from the same Census Overview page that you have been using to generate your Dry Runs - School > Data > Export > Data Returns > Select Census. Click the School Census button.

On the right-hand side of the page, select the orange Generate Census button.


Once the Census has been generated, you will get a notification in the speech bubble in the top right-hand corner of your screen.

Refresh your screen (by clicking on the circular arrow beside the web browser address).

On the newly refreshed page, you will now see on the left-hand side menu that you are working in your generated Census.

Solving Errors or Queries
Once your Census or Dry Run has been generated you'll see errors and queries that need to be resolved. The Dry Run allows you to start working on these before census day and prepare all your information in advance of the actual Census.
All errors must be resolved during Dry Run or census, but some queries can be left unresolved if you have a valid reason why this information flagging the query is correct. When submitting your census, an explanation as to why that query exists should also be submitted to COLLECT. You can use the DfE's COLLECT guides for help with what explanations to submit.
To view and amend errors/queries you need to have generated a Dry Run Census or Census. Go to School > Data > Export > Data Returns. Select the date of the Census, then click the View and Fix errors button.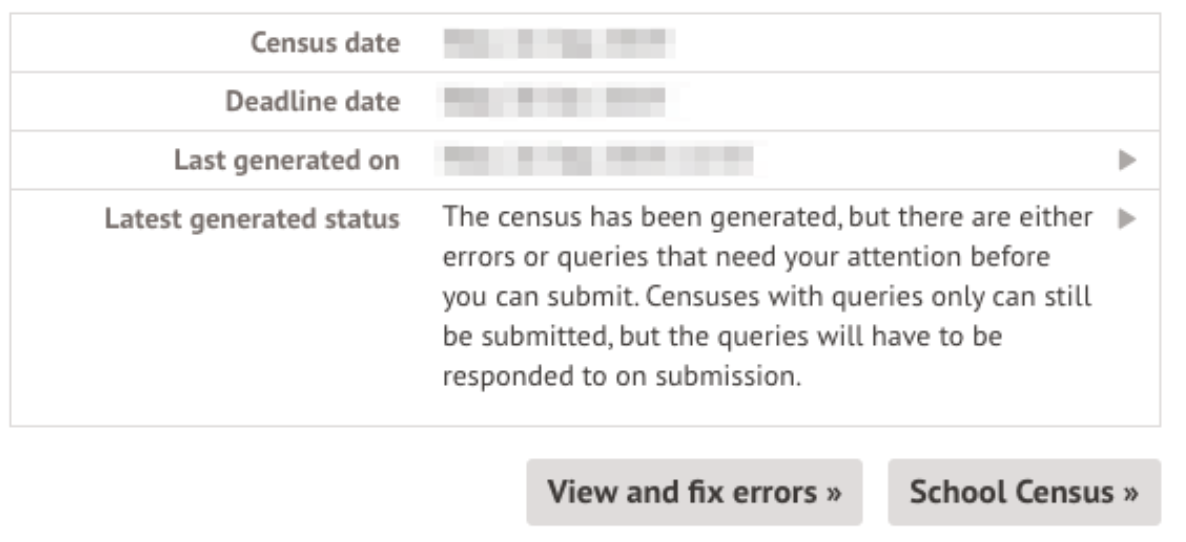 You will be taken to your most recently generated Census where you can resolve your errors and queries.
Top Tip: We recommend that you work through your errors and queries in batches and then regenerate after resolving a few to minimise time spent waiting for regeneration. Remember, the errors will only disappear after you've regenerated your census!
What's the difference between Arbor and DfE errors?
Resolve your Arbor Errors first. This will usually clear one or more DfE errors at the same time.
When you click on an Arbor error, a slide over will open where you can enter the right information.


Once you have resolved as many Arbor errors as you can, start resolving your DfE errors.
Some DfE errors are clickable, and you'll be taken to a page where you can make amendments to resolve the error such as the Student Profile. We're unable to open a slide over to resolve the error directly from the census, as the list of errors for the DfE can change each year, and errors often have multiple methods to resolve them.
All DfE errors will have a specific error code supplied by the DfE that you can use to find more information. To find out more about what certain error codes mean and how to fix them, head over to our Census Help Articles where you can find detailed steps on how to address some of the most common errors and queries.
Top Tip: Always regenerate your Census before leaving the Census pages to ensure that any work you have done is saved and recorded.

How to resolve errors
Errors will remain in the list until you regenerate the Census. Errors will only clear on each successful regeneration. We recommend that you do not regenerate the Census upon clearing each error as waiting for each regeneration would take up a lot of time - instead, resolve your errors in batches.
In the example, you can see that Max has an Arbor error flagged as Language Missing.
As you can click Arbor errors, click on the box beside the student's name and a slide over will appear where you can enter the information. Then click the green button and move on to the next error.

Further details you need to fill in on the census
On the left-hand side of any Census page, you can see areas where you can input your on-the-day information. What appears will depend on your school type - click here for further details from the DfE.
Meals
For Reception, Year 1 and Year 2: Universal FSM taken on census day - Inputting this information can clear queries 1878Q, 3080Q, 3085Q and 3090Q. On census day, you'll need to follow the instructions in this article: On-the-day Meals errors and queries for the census
Number of Free School Meals taken on census day - All schools need to add this number in to clear error 1310: On-the-day Meal error 1310
Part Time students
If you have any nursery students, you must specify whether they are full-time or part-time students. You'll need to follow the instructions in this article: Part Time students for the School Census
Admissions Appeals
The DfE asks you to add in the number of admissions appeals numbers for the last year - you will need to fill in these fields even if you did not have any appeals: Logging admissions appeals and appeal numbers
Pupil Reconciliation and Classes
On census day, you'll need to resolve the errors and queries below:
Error 5160: Class information is missing

Error 1000: Pupil reconciliation does not match the number of pupils on roll

Query 1270: No classes shown for an expected year group

Query 1110: No support staff reported for any class

Error 1170: Class activity is missing or invalid

Query 1180: Please check: activity shown as other for all classes

Query 2090: Nursery pupils reported but no nursery class records

Query 2100: More FT nursery pupils than the number on nursery class records

Query 1230: Please check: KS1 or reception class with pupil/teacher ratio greater than 30
These should be resolved by completing the Pupil Reconciliation section of the census, rather than correcting each error one by one. You can see our guidance on filling in these sections here:
Pupil Reconciliation - Balance the count of students enrolled at your school and the number of students scheduled to be in class at the time of your census.
Classes - How many students and staff are in each class at the time of the census.
Submitting the census
Follow this article to see how to check, complete and submit your census: Submitting the School Census
You can either choose to view your Census summary live on your Arbor dashboard using the DfE Census Summary Inspection or download it in PDF format using the Download DfE Summary.
Then download and submit your census file to COLLECT or to your LA.
Then download and print out the School Census Checklist to help ensure you've completed it correctly.
You can also mark the census as complete in Arbor to remove our banners: Can I remove the census banners on My Homepage?
Additional resources
The DfE provides their Census information in a searchable format on their website. Click here to access the DfE Census information.
You can get support from us in-app! Just click on the Chat bubble in the bottom left of your site. Take a look at how to get the most out of our chat functionality here: Using Webchat
For more support, including how to sign up for our upcoming census webinars or book in a 15-minute session with our expert Support Team, check out our School Census help and guidance.
We've got articles and videos on our Help Centre to help resolve common errors here. You can type your error code into the search bar - for queries, typing it in with a Q at the front may not return the result, so please type either:
The number code only e.g. 2965
The number followed by Q e.g. 2965Q