For links to other useful guides, webinars and bookable support slots with our Support Team, click here.
Changes to the census this academic year
There are no major changes to the School Census for the Autumn Census 2022, aside from:
We've introduced a new

National Tutoring Programme

Student Funding Type, and deactivated

School Led Tutoring Programme. Don't worry, you don't need to update to the new type, as the hours page and your School Census will output correctly with either funding type. You can read further details

here.
We've introduced two new In Care Statuses for

inside England or Wales

and

outside England or Wales

to replace

Adopted from care. You can still report on the old status in

Students > Demographics > Looked After (In Care)

and your existing reports in the Custom Report Writer. For the Census and to create new reports, you

must

replace the old status with one of the new ones, or you'll receive errors in the Autumn School Census.
There are some additional pieces of data schools will need to report in the Spring 2023 Census - Young Carer, School hours, Alternative provision company details. You do not need to add these now, but they will be required for the Spring Census.
For full guidance from the DfE on changes to the census, click here, or for further information detailing what data your school must return in the census, click here.
Preparing your data
Before the Dry Run facility opens, you can start preparing for Census using these three key areas:
Check your recorded School Details by going to

School > School Details

.

Check for duplicate student profiles in the Suspected Duplicates section
Add and update basic details in the Students > Identity and Students > Demographics sections. Just click a cell to add the data!
Permissions
You will need the School: Data Returns: Administer permission to be able to access and run the School census.
You'll also need specific permissions to resolve certain errors and queries, depending on the area you're resolving the error for. Some example permissions you might need are:
School: General Admin: Administer - Access and edit the data in the Data Quality Dashboard for students
Student Profile: Admin: Administer All Students - Add student funding or early years pupil premium eligibility.
Student Profile Language Abilities: Administer All Students - Add language abilities.
Student Profile: In Care: Administer All Students - Add in care notes for students.
Student: Consents: Administer - Update YSSA
If you don't have the permission, you'll need to ask your admin team to give you permission using these instructions.
Preparing your school data
Check your recorded School Details by going to School > School Details. Ensure that your LA is filled in, Establishment Number, School telephone number and email address, Intake Gender, School phase, School type, Governance type, Intake type and URN all have information present (especially important to check if you have recently become an Academy).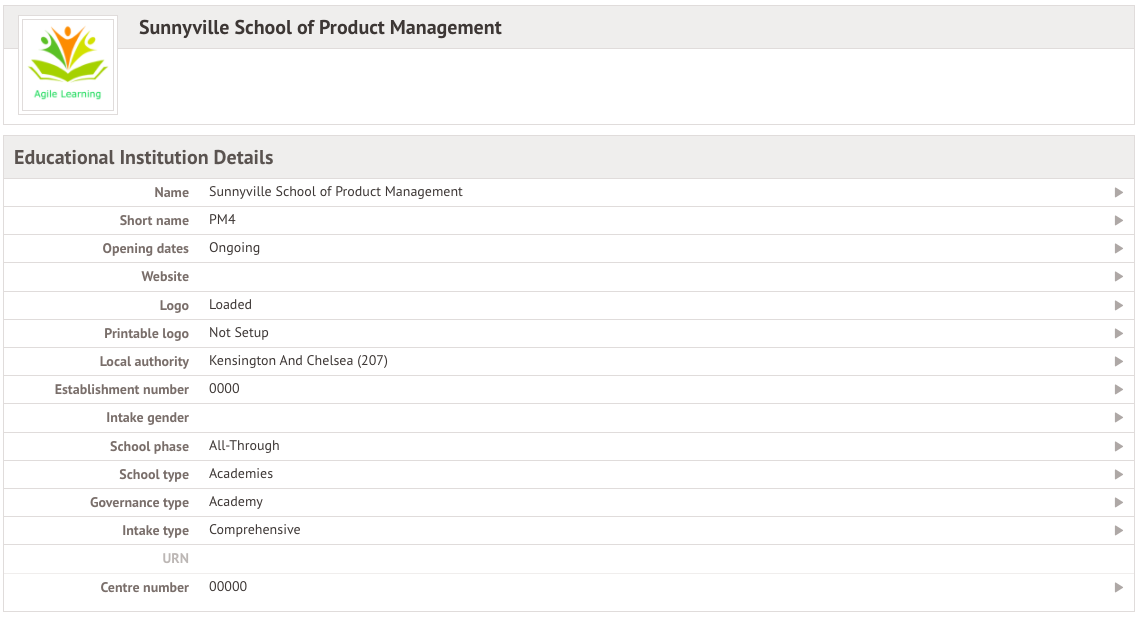 Merge or delete any duplicate students
You can see a list of potential duplicate students in School > Data > Data Quality Dashboard >Suspected Duplicates > Students.
You can then merge or delete these. Take a look at this article to see how to do this.
Top Tip: If you know that two students are duplicates but they aren't flagging as such, make sure their names are identical.

Check data for students
To check that all students have information entered for key Census fields, go to School > Data > Data Quality Dashboard > Students. This will open up three sections where you can update and add information - Contact Details, Identity and Demographics. Click into each to check your student data.
Top Tip: You'll need the School: General Admin: Administer permission to access this area. If you don't have permission, ask your office team to give it to you using these instructions.
Religion, country of birth and nationality are not reported in the census, so these fields are not required.

Assign UPN - Make sure all students have a UPN. If a student has no UPN against their profile they will show up in the list here. To generate a UPN for a student, use the bulk actions.
To assign a known UPN to a student, add this from the Identity section of their student profile.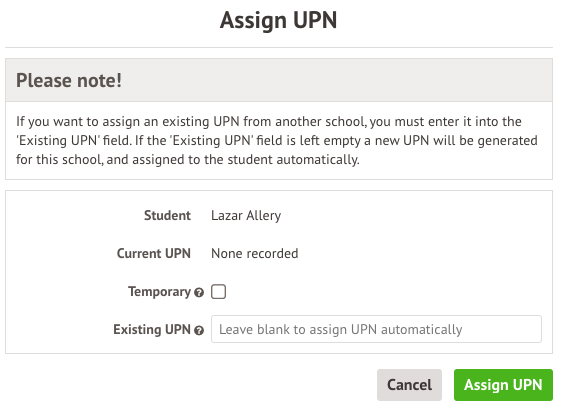 Update Basic Details - This allows you to quickly check that you have filled in some key information regarding students.
To add or change any of the information, just click on the cell you wish to edit and a slide over will appear where you can add or update the correct information. For example, to add an Ethnicity source, select the students then select Bulk Set Ethnicity to choose the source.

For Nursery years: Update Funded Hours - Clicking on this will take you to a table that contains hours and funding information required in the School Census for Early Years and Nursery students. This data is not reported for 4-years-olds in Reception, so Reception students are not included in the table. For each individual student the number of funded hours allowed depends on the student's age and NC year. You can see full guidance on what to fill in from the DfE here: Funded hours
Please note, for students that are not entitled to extended hours paid for by the government, do not enter anything into the Extended hours field. Hours paid for by the child's parents or the school should only contribute to the Hours at setting total.
You can update an individual student's hours by clicking on their name. You'll need to ask the parents if you do not know a child's code.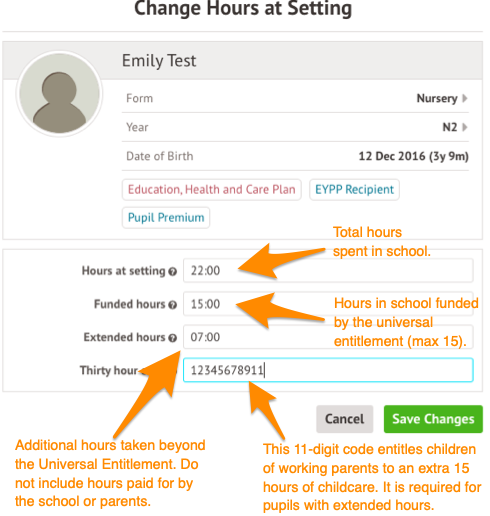 You can also add some information in bulk, but you will still need to add the codes in by clicking on the students.

If a student is 2 and has funded hours, you'll need to add a funding basis. Click the student's name to add a funding basis (this cannot be updated in bulk).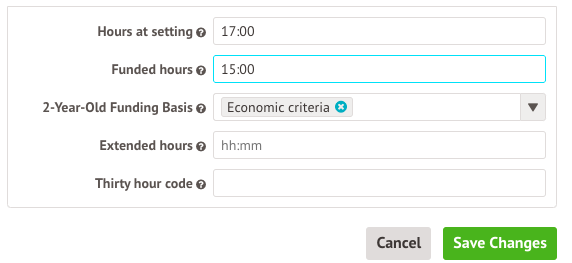 Update National Tutoring Programme Hours - If you have recorded a student as being in receipt of School Led Tutoring or National Tutoring Programme funding, you must add their number of tuition hours. You can see how to do this here: National and School Led Tutoring funding and teaching hours

For students 11+: Update YSSA - If you have students whose information you are sharing with Connexions etc make sure that this is noted in the Youth Support Services Agreement section.
If you're not requesting this information, you can mark your students as Unsaught.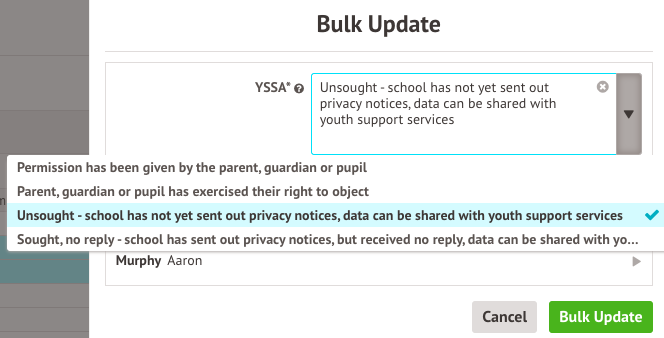 For Post-16: Update Learning & EEP Hours - This page allows you to update student EEP and Learning Hours in bulk. Values with a white background are derived from the sum of the learning hours entered for each student's programme enrolments. You can check the breakdown of student's hours to see which ones are missing by clicking a student's name. See more information on this here: Planned learning and EEP hours

To add in any missing hours to programmes, go to School > School Structure > Programmes of Study. If this page is blank, see this article to set up your programmes first. Select the programme then the programme instance, then add in the Planned Learning Hours.
If the programme runs for two years, make sure you've set the learning hours for the first and second years. If you don't see the second year here, it means you haven't yet created the next academic year. You can either wait to fill the hours in when the year is created, or create the year by following step 1 in this article.
Top Tip: Be sure to also include any work placements for students. Record work placements by setting up programme instances with the right qualification award reference, then adding the students to them by following the instructions in this article.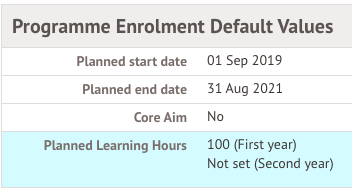 For Post-16: Update GCSE Attainment for Funding - If you have any post-16 students you'll need to record their prior attainment in English and Maths for the last two years. You'll need to check and update any attainment that has changed.
Take a look here for full instructions: Adding prior attainment for English and Maths

What's next?
Once you've checked your site and filled in any missing data using the instructions above, you can get started on your census.
Before generating your dry run, go through our School Census Preparation Checklist. It will help eliminate a lot of the most common errors and queries schools encounter on the dry run.
Once the census dry run is open, you can run your dry run census and get it ready for submission. See here for when the dry run opens and to access your full census guide: School Census help and guidance