You can cancel student participation in wraparound care clubs to refund the balance back onto the student's customer account type. Please note that it is not possible to do this in bulk for all students in a club.
Permissions
You'll need the School: Extra Curricular: Administer permission to cancel and refund wraparound care memberships. If you don't have the permission, you'll need to ask your admin team to give you permission using these instructions.
Cancelling
If the student was already charged for this session, the invoice will be cancelled and their customer account balance will be credited.

If you choose to invoice once the session takes place and the session has not happened yet, the invoice will not be created.
In bulk
Go to School > Activities > Clubs and select the club. Go to Club Participants from the left-hand menu, and select a student.
Tick which sessions to remove the student from (or click the box at the top to select all), then click the Bulk action button to select Remove Student from Sessions. 
For one session
Go to School > Activities > Clubs and select the club. From the Club Overview, click into the session you want to remove students from.

Select the session.
Click on the student to remove in the Students section.
Click the red button in the slide over. Please note: this will remove all participation for the session. If a student was signed up to more than one time interval, it will remove them from both.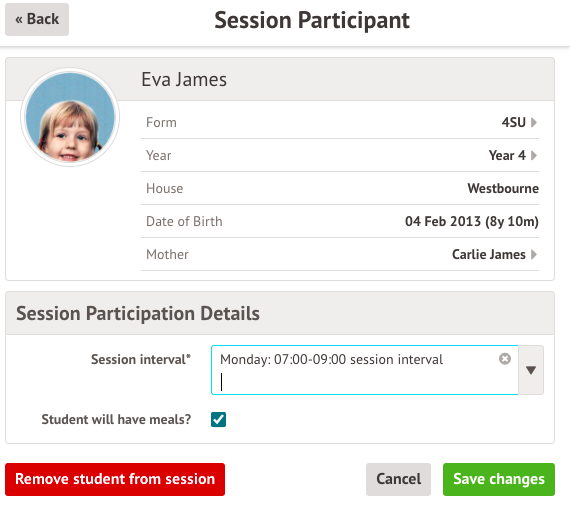 Reconciling cancellations
To reconcile invoices created when the memberships were booked, you can go to School > Payments > Accounts > Invoices and select the customer account type you've chosen in your Wraparound care club setup. Select the invoice.
In the slide over, you can see any items linked to the invoice and their status. You can click the More Information button for a full breakdown of the invoice.
Credits for cancelled participation will be added back onto the student's account.