Using the Analysis page
We set whether you can do analysis for DfE statutory assessments depending on the students at your school. If you have primary-age students in your school, you should be able to see the Analysis section in Students > Assessments > DfE Assessment.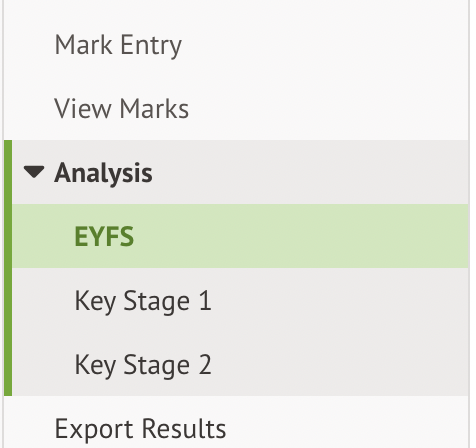 If your menu options look like the screenshot below and you have primary-age students, please get in touch with us via email and we can enable this on your site.
Using the Mark Entry page
When viewing DfE statutory assessments for past academic years (selected using the drop-down), you will only have data on that page if you created the assessments and entered the data for that year directly into Arbor.
If the data was imported from another MIS, the assessment will not appear here. However, you can still find this data - see the section below for more details.

Analysis outside of the DfE area
Even if you can't access the DfE statutory assessments analysis pages here, you can still: