Interventions a student is involved in and their reviews and costs can be seen in the student's profile in the Intervention section from the left-hand menu.
Permissions
To see and use this section, you'll need either the School: Intervention: Administer All Interventions or Administer My Interventions permission.
You also need to either be the creator of the intervention or the intervention group lead (see step 2 here) to see intervention notes.
If you can't access this area, ask your admin team to give you permission using these instructions.
Download interventions and SEN
You can print out this information by selecting the Print to PDF option in the top right-hand side of the page. Select which interventions to print the information for.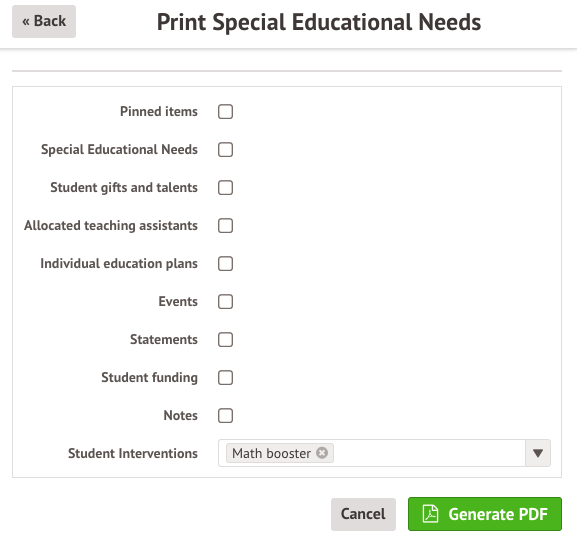 The PDF will then download to your computer, which you can open and view or print.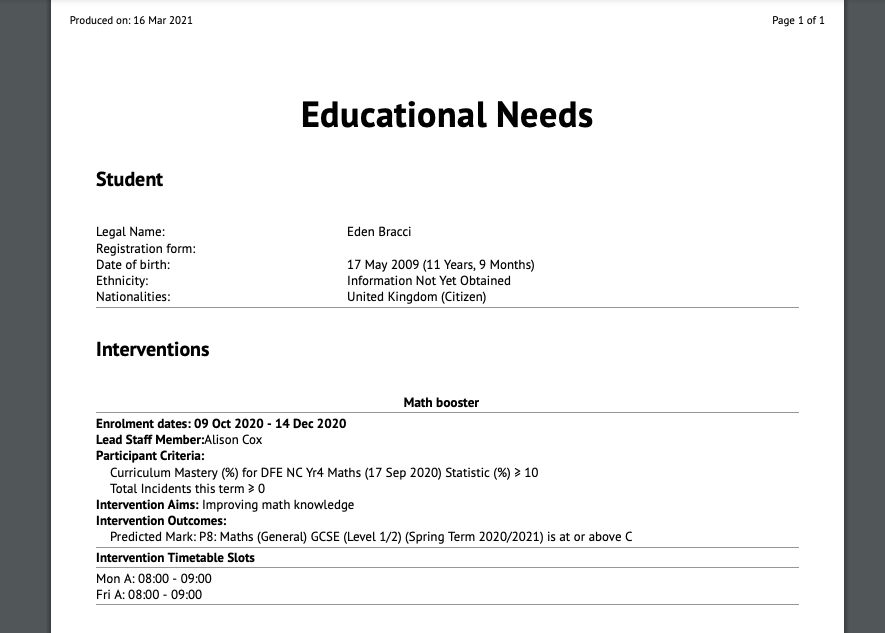 Enrolling a student into an Intervention
To add a new intervention from the student profile, click on the Interventions section on the left-hand side of the students profile.
Click on the +Add sign next to Interventions and you will have the ability to add the student to an existing Intervention.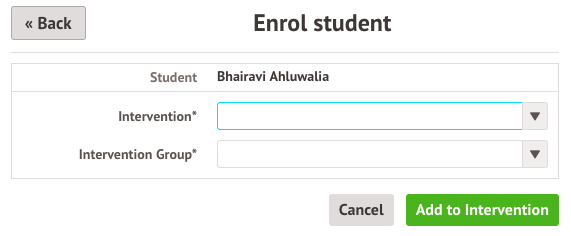 Click the orange button on the right-hand side to add them to an ad hoc intervention.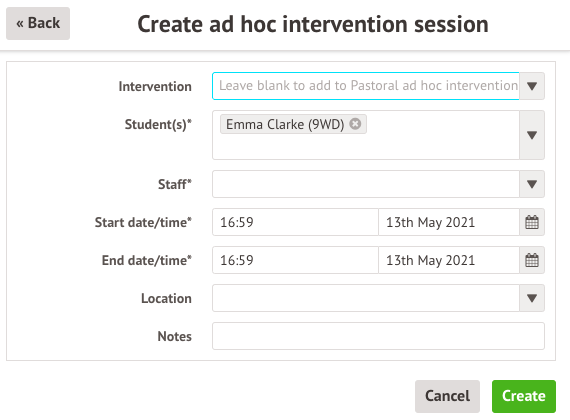 Adding costs and funding
You must first click on the intervention which is cost & funding is going to be added onto, this can be selected from the list found under Interventions.
Once you have clicked on the intervention, you will be presented with a slide over. Click on the grey More Information button. This will take you to the intervention overview where you can add costs.
Intervention notes
Here you can see any notes you have permission to view.
You can click on a note to edit it. You won't be able to click the Save Changes button if you didn't originally add the note.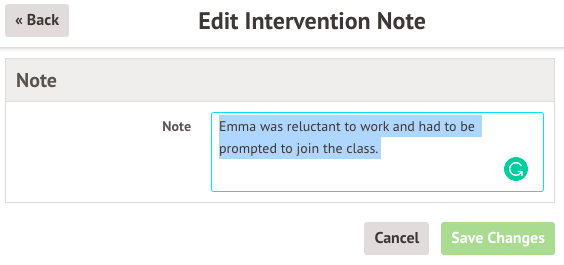 Ending student enrolments in interventions
Unenrolling
Click into the intervention you want to unenrol the student from and click Edit in the slide over.

Change the end date, then scroll down and click the Save Student Intervention button.

Removing an intervention
If you've added a student to an intervention by mistake, you can delete them from the intervention. Please note that this will remove the student from all past sessions of the intervention and there is no way to undo this deletion.
Click into the intervention you want to delete the student from and click Edit in the slide over.

Scroll down to the bottom and click the Delete button.