The Intervention Review screen allows you to review the progress of an intervention to date. When the review is complete, it is possible to:
schedule another review

extend the intervention

end the intervention prematurely

finish the review
Permissions
You'll need one of the School: Intervention: Administer permissions or one of the Student Profile: SEN: Administer permissions to manage students in interventions. If someone can't access a certain area, you can give them the right permission using these instructions.
Please note that only the person who logged the intervention review note can edit it, regardless of permissions.
Reviewing the intervention
To complete any of these actions, go to Students > interventions > Select the Intervention. In the Intervention reviews section, you can see any completed and upcoming reviews.
Click on the review to open a slide over. Click More information to get to the Intervention Review page.
Here you can schedule another review, extend the intervention, end the intervention or finish the review by clicking the relevant buttons on the right-hand side.
For relevant interventions, the Outcomes Met table shows how many students have met their outcomes to date.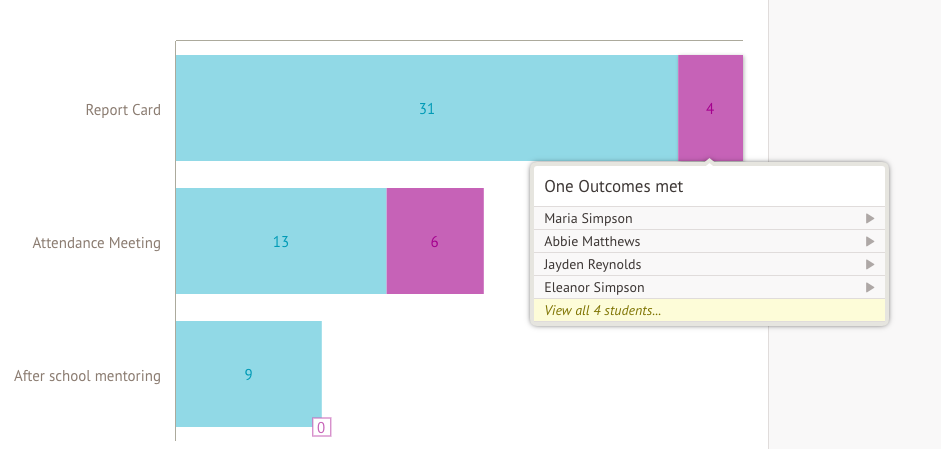 Delete an intervention review
To delete a review, click on the review, scroll down in the slide over, and click Delete intervention review.
Please note that if the review has been completed, or there is a note, it isn't possible to delete the review.
For example, here I've clicked More information, and you can see that a note has been added. It is not possible to delete the note once added, so in this case, you won't be able to delete the review.