Interventions provide a comprehensive view of all interventions and allows SEN Coordinators and school leadership to monitor the allocation of resources and track trends over time.
Follow the instructions below to set up your alternative curriculum interventions.
How long will it take?
Set up the intervention and lead - 5 minutes

Schedule sessions - 5 minutes

Add criteria and outcomes - 10 minutes

Enrolling students manually - varies by number of students

Add strategies - 10 minutes
Permissions needed
Manage interventions - One of the School: Intervention: Administer permissions or one of the Student Profile: SEN: Administer permissions, including creating an intervention right from any page with bulk actions, such as a summative assessment marksheet or the Lesson Dashboard.
Manage intervention costs - Finance: Administer or Intervention: Intervention Finance Administer
Schedule or edit intervention sessions (timetables slots and staff) - School: Teaching: Administer
Add intervention notes - you'll need to have either created the intervention, have the School: Intervention: Administer All Interventions permission or be set as the Lead Staff Member for the intervention.
If someone can't access a certain area, you can give them the right permission using these instructions.
Accessing interventions from the dashboard
You can reach the Interventions Dashboard from Students > Interventions.
Click on an intervention to view details, enrol students or access a student intervention record.
Intervention categories
The Setup section allows you to set up and configure your interventions to meet your reporting needs before you begin using it. Go to Students > Interventions > Setup > Intervention Categories.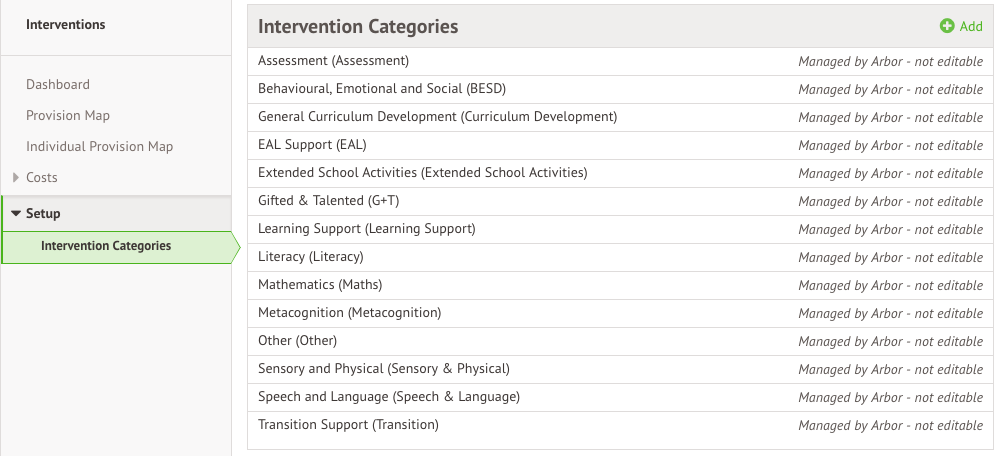 Here you can see a list of all the intervention categories currently set up for your school. Intervention categories are a way for you to group together and define different categories of interventions based on their particular area of focus.
For example, for reporting purposes, most schools wish to differentiate between interventions focusing on providing support to EAL students and gifted and talented students.
To save you time in getting up and running with interventions, Arbor has defined a set of generic intervention categories, but you add a new category by clicking +Add.

Setting up a new intervention
Creating an intervention from the dashboard
Step 1 - Create the intervention
Click +Add from the Interventions dashboard.
Choose if you want to set up intervention groups (these can also be added later). Each intervention can be divided into groups which can take place at different times, in different locations and with different members of staff throughout the week.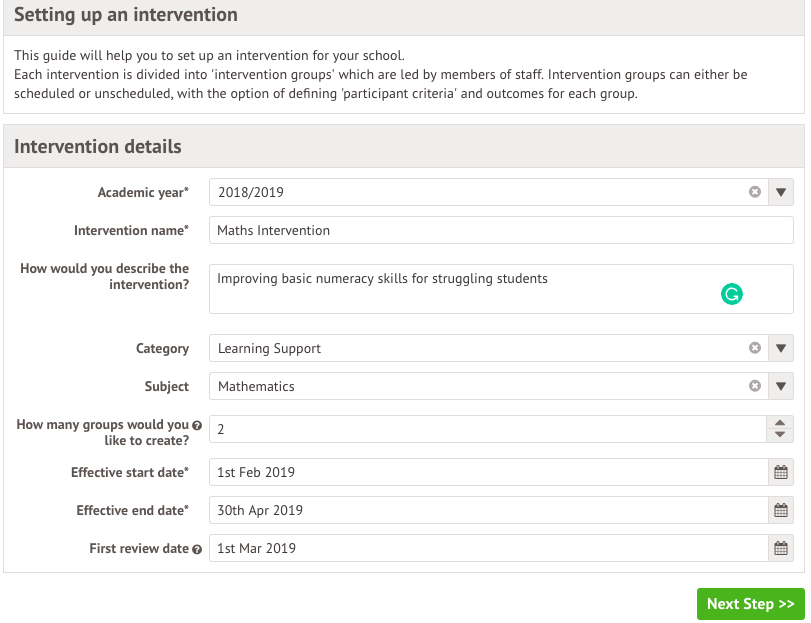 Step 2 - Add an intervention group lead
To add an intervention lead, click into the Lead Staff Member field on the intervention Overview.
Add a staff member, then click Save.

Step 3 - Scheduling intervention sessions
Some intervention groups do not need to be scheduled (e.g. students on a report card). These can be left as Unscheduled. It is also possible to have a mix of scheduled and unscheduled intervention groups.
Unscheduled intervention groups are particularly useful for monitoring the progress of a group of students without taking them out of lessons. This may be useful when an intervention needs to escalate e.g. in a 'Behaviour Intervention', students may start on a 'Level 1 report card' which is unscheduled, but then escalate to 'Level 2 one to one mentoring' intervention which is a scheduled session at 8:00 am until 8:10 am every day.
To schedule sessions, select the group you would like to schedule sessions for from the Intervention overview page. Click on Intervention sessions in the left-hand menu.
Click +Add to choose which type of session to schedule. In my example, I have selected the option to schedule regular interventions.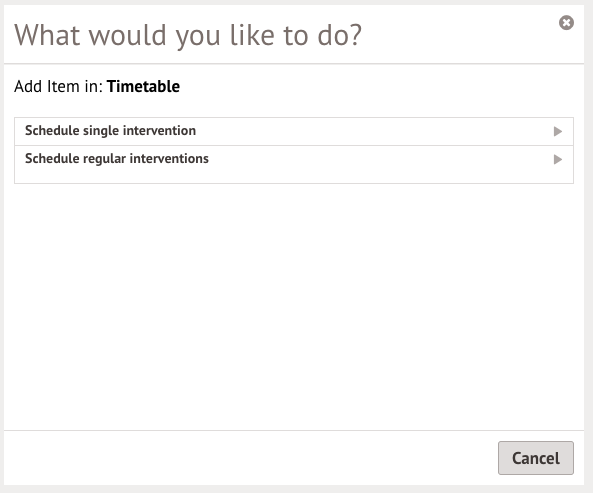 Select the days of the week you want the intervention to run on. Here you can choose which week to run on if your school runs a two-week timetable, as shown below. When you have selected your settings, click the Schedule intervention sessions button.
You can only select one room for the intervention, but you can add multiple staff members.
You can choose whether to require an attendance register or a room - great for interventions that take place outside school hours or classrooms.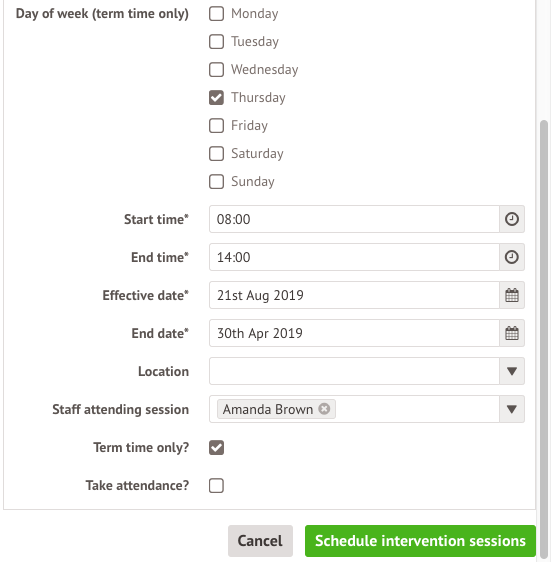 Step 4 - Add participant criteria and intervention outcomes
The participant criteria define a group of students that you wish to target with the intervention. Once the participant criteria are defined, only students that fall within that criteria can be enrolled in the intervention. For example, you might want to automatically add students who are achieving below the expected standard in your assessments.
You can add criteria from the Intervention Details tab of the Overview.
After selecting a filter, you must click Add Filter to set the filter conditions.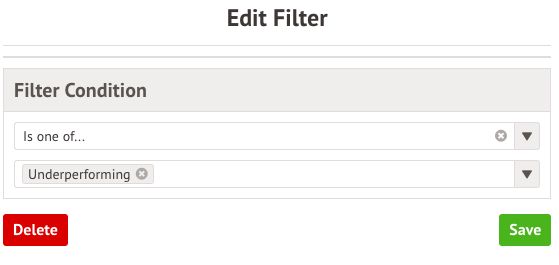 Intervention outcomes - the intervention outcomes are a set of targets that you hope to achieve by the end of the intervention. The success of the intervention can be measured by how many of the outcomes each student has met.
Important: it is not possible to edit the Intervention Outcomes after the intervention has started.Without outcomes, there are no success criteria to measure the success of the intervention.
After selecting a filter, you must click Add Filter to set the filter conditions.
Click Next to complete the Intervention setup and go to the Intervention Overview.
Step 5 - Enrolling students
The Enrol students page shows a list of all of the students within school that meet the intervention's Participant Criteria. Students can be enrolled from the start of the intervention by using the Enrol students bulk action.
If a student falls outside the defined intervention criteria, you can still enrol them into the intervention from the Enrol Students page. Click the Enrol a different student button.
Students can also be enrolled in an intervention group by using the bulk actions found on tables throughout Arbor.
(Optional) Step 6 - Adding student intervention strategies
In addition to adding outcomes on an intervention level, it is also possible to add individual student strategies to each student enrolled in an intervention. Student strategies are useful when adding personalised information to an individual, or groups of students in an intervention.
To add strategies, go to an Intervention group's Overview page. If you have set up groups in your intervention, select a group.
Click the Add Individual Student Strategies button, and fill in the slide over, then click Save.
Please Note: it is not possible to add multiple strategies for one student. Adding a new strategy will overwrite the previous entry.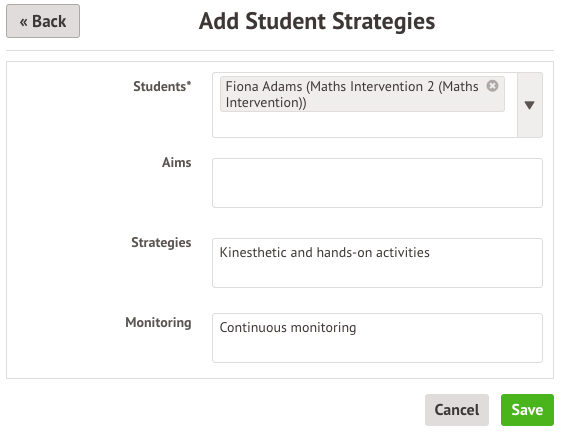 To add strategies in bulk, select students from the Enrolled Students table and select the Student strategies bulk action.
When a strategy has been added, it can be viewed by clicking on the student's name.
Creating a quick intervention
If you've got the School: Interventions: Administer permission, you can create an intervention right from any page with bulk actions, such as a summative assessment marksheet or the Lesson Dashboard.
Creating a quick intervention
Just tick the students then click the Bulk action button to select Create New Intervention.
We've also added this Create intervention option to the Quick Actions menu on the Homepage.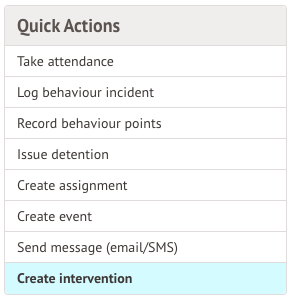 Add the details in the slide over and your intervention is created!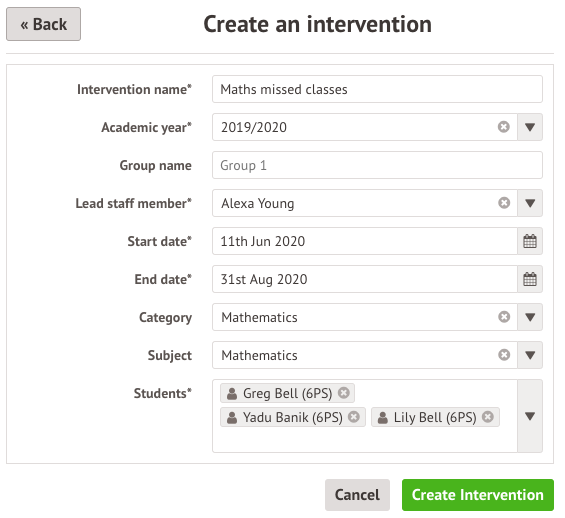 If you click the link in the notification, you'll be taken right to the intervention overview where you can add student strategies or complete other actions.


Editing an intervention
You can edit an intervention by going to Students > Interventions, selecting the intervention and going to the Intervention details tab.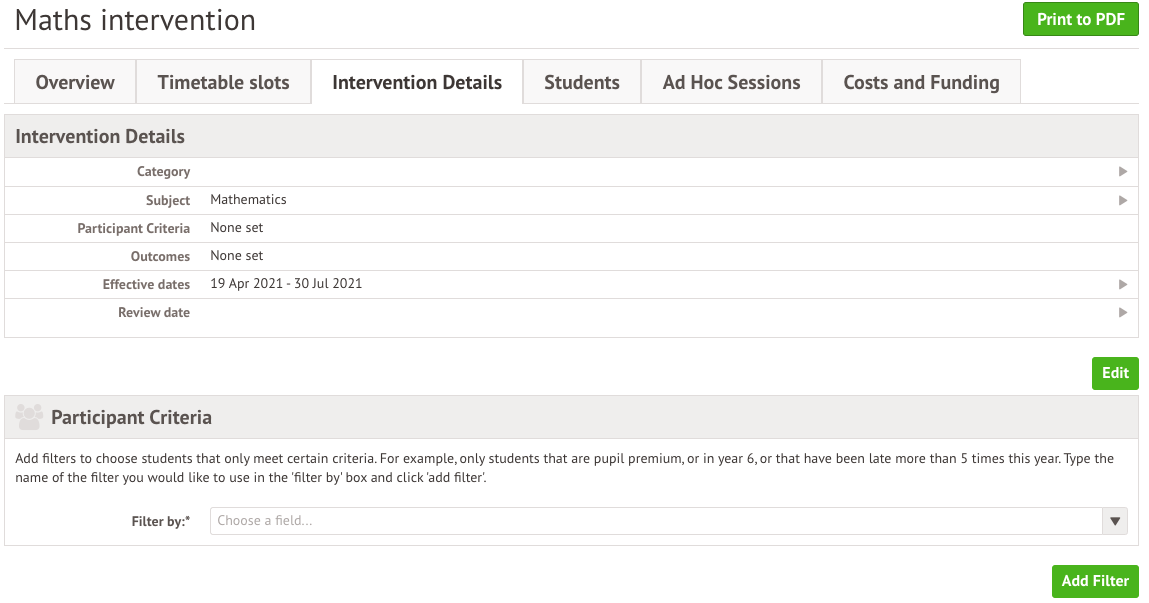 Here you can edit any of the intervention's basic settings such as the Participant Criteria and the Intervention Outcomes, as well as delete the intervention entirely.
Please Note: it is not possible to edit the Intervention Outcomes after the intervention has started.
To edit the basic details, click the field you would like to update, then update the slide over.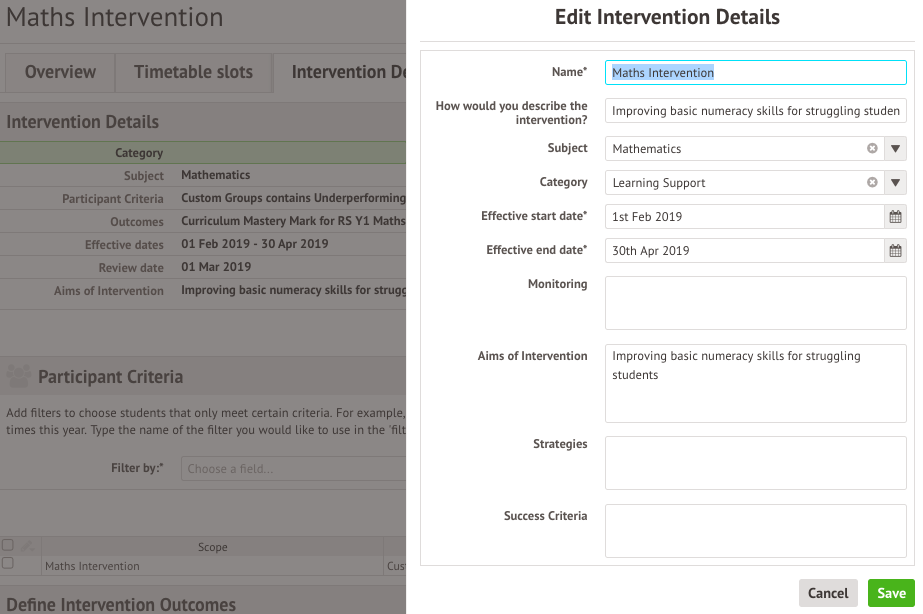 To add groups to an existing intervention, click +Add in the Intervention Groups section on the Overview Tab, and update the slide over to add another group.