Go onto School > Timetable > Timetable Administration > Timetable Slots.
On the Timetable slots page, you are able to take several actions, use the filter panel at the top of the page and filter your timetable slots by subject, course/class or year group. This will help you easily identify lessons that have the same teacher or are in the same room.
You can click on an individual timetable slot to edit it. When editing, you can change the room or add/remove a teacher from the timetable slot. You can also change the time and date of the lesson itself. Finally, you can change the effective date of the timetable slot e.g. shorten a timetable slot from spanning the whole academic year to just lasting from September - December. If you would like to take these same actions but apply them to several timetable slots (e.g. change effective dates to all lessons in the same course/class), then use the checkbox on the left-hand side of the page, and select the timetable slots you would like to edit. Click on the option you would like to apply to the selected timetable slots.

Edit effective dates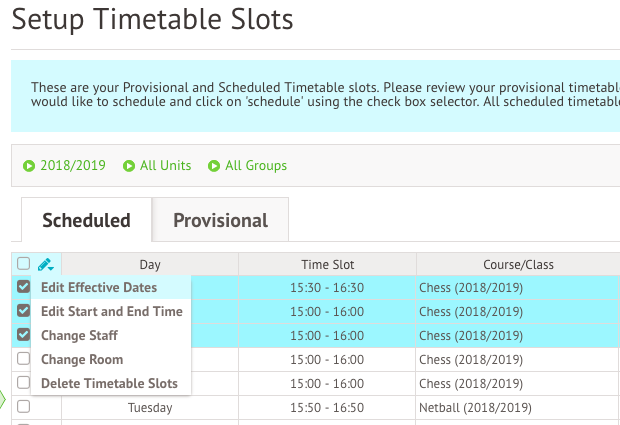 A list of options will populate, click on the Edit Effective Dates. This will then load a slide over. Amend the dates and then click on Save Changes.



Changing the time slots
To change the time, tick the lessons you want to amend and then click on the green pen at the top of the list. Once the list populates click on Edit Start Time.
A slide over will then load to Change Timeslots, amend the start/end times for these lessons and click on Save Changes.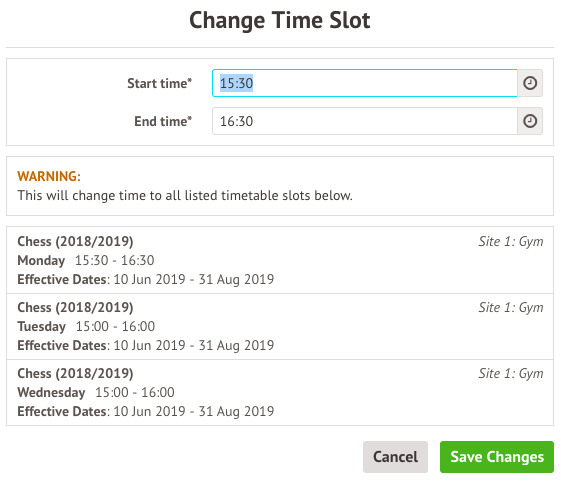 Deleting time slots
Tick the lessons that you want the time slots deleted from and then click on the green pen. From the list click on Delete Time Slots.

A slide over will then load with the list of lessons. Click on Delete so that all the time slots are deleted.