If you have enabled Parent Portal, the next thing to do is to send the login details to the Primary Guardians.
To do this, go to Students > Parents & Guardians > Parent Portal Usage.
This page indicates the Primary Guardians that have not yet logged onto the school's Parent Portal, as seen below: 

You can send login details to Parents/Guardians of current students as well as future students by selecting which group you'd like to administer from the drop-down menu on the left of the screen: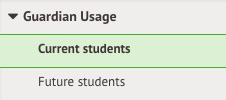 Sending Guardians their login details
Click on the box next to pencil at the top of the grid, so that the full list is selected:

Click on the highlighted blue pencil: 

 the click on Resend guardian login details
In the slide over, whether to send them an email or an SMS (The SMS will advise them to call the school so that an email address may be added onto their profile), then click Send Details.

The Guardians will then receive the following email with the school details and relevant information:
This Parent Portal Usage list will get shorter and shorter as more Primary Guardians start logging into the system - only users who haven't yet logged in will appear on the list.
PLEASE NOTE: You may want to send an email directly from the school in advance, to ensure Primary Guardians can look out for the Arbor email containing their logins. Since it would be the first communication from Arbor to your Primary Guardians, there is a possibility that the email will go straight into a junk or spam folder.