Before using exams in Arbor, you should ensure your centre is set up.
Permissions
You'll need the Qualifications: Administer All Students permission to set up your centre and exams. If you don't have permissions, ask your administration team to give you permission using these instructions.
Set up your centre
To set up your Exams, go to Students > Examinations > Administration > Centre Setup. Click anywhere you see an arrow icon to add information. Ensure you have:
The school's Centre Number - The Centre number is a five-digit number that all schools (centres) entering candidates into exams need to have. It forms part of each candidate's UCI number, a unique number allocated to all candidates that are entered for exams. Arbor only supports one Centre Number per site.

The name of your school's Exams officer (s) - Exams Officers can be assigned to the role by giving them the Business Role of Exams Officer.
Default sitting times - you can see further guidance on this here.
Whether to show exam information on the Student Portal.

Any text you want to display on the candidate labels and timetables

How to sort exam registers and candidate lists
Whether to show Access Arrangement reasons on exam registers
You don't need to add Awarding Organisations, as these will appear when you add Qualifications.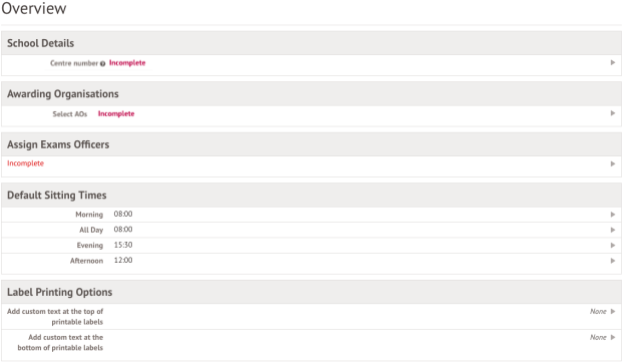 Qualification offering
You'll need to add the awards and units your school is offering from Students > Examinations > Qualifications > Qualification Offering. Click the +Add new button to add a new Qualification.
For more information on what EDI and Non-EDI qualifications are, click here.

In the slide over, find the award or unit. It is easiest to search by entering the QAN code. Click on the Award/Unit drop-down and select the exam, then click the green Add Offering button.
For EDI qualifications you can also use the qualification scheme code (found on the exam specifications, for example, GCSE English Language). Find this using the Ofqual register. It is displayed as the Qualification number.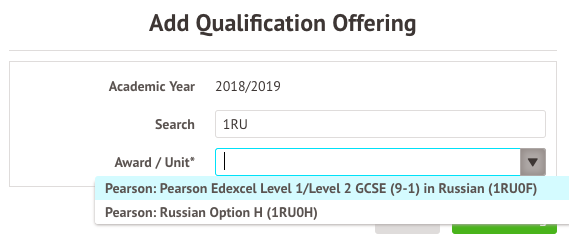 For Non-EDI qualifications, you can subscribe to the learning units on the next page.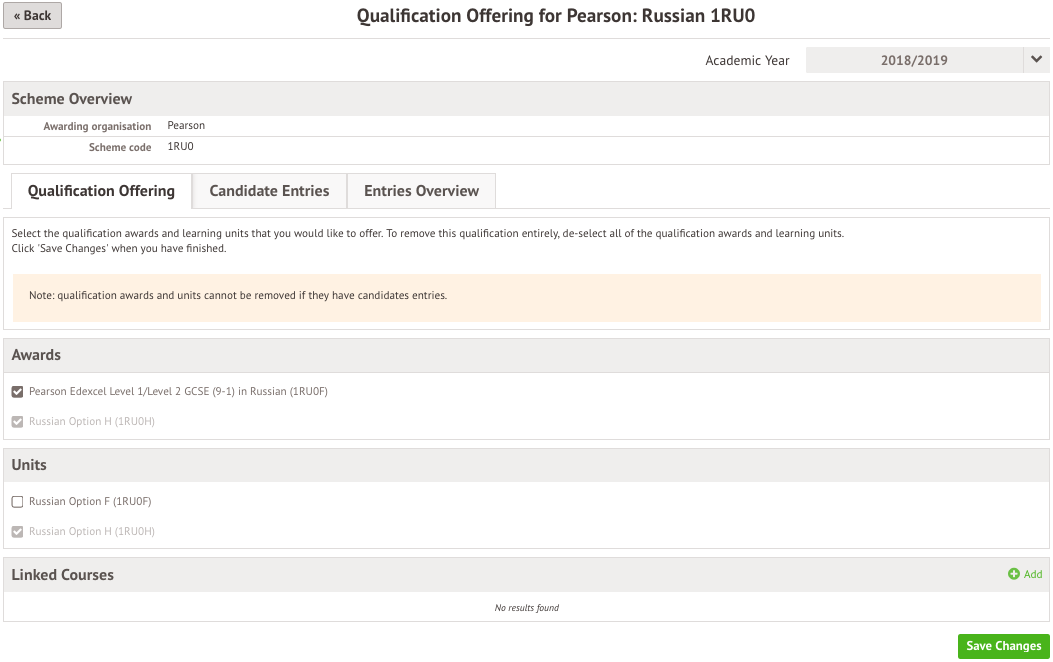 When you click Save Changes, you can then add an assessable for each learning unit. Once you have chosen your assessables, click Create.
Top Tip: If you don't want to create an assessable for a learning unit right now, skip by removing the assessable code.

Once you have added your assessables, you will receive a message to the top-right of your screen.

You can view all Qualifications under their relevant headings at Students > Examinations > Qualifications > EDI/Non-EDI.
You can add further assessables by selecting the award, selecting the unit you want to make entries in to, and clicking the green Create an Assessable button.


A new section will appear at the bottom of the unit page displaying assessable instances.
An Assessable Instance is an Assessable that takes place at an exact time and date. It is useful to create assessable instances if you have an exam or a piece of coursework with a definite deadline.
You do not need to set these up for coursework components, as these can take place at any time.

You will need to add an instance for all units assessed under exam conditions. This will ensure the Assessable shows up on a candidate's timetable.
Linking orphan awards and units
Each qualification award has a corresponding set of learning unit(s). The link between the award and the learning unit(s) is defined by the awarding organisation (the exam board) in the qualification's base data. We import basedata, so you don't have to worry about amending it.
However, sometimes the base data doesn't define the link between the award and the learning unit because, for example, the award is an A-Level where schools can pick and choose the learning units associated with an award. In this case, the award doesn't have a link to corresponding learning units or the learning unit doesn't have a link to a parent award. They become 'orphan' units and awards.
You can manually link orphan awards and units by going to Students > Examinations > Qualifications > Qualification Offering. Select the award, then click the green Qualification Offering button.
On the Qualification Offering Overview page, scroll down to the manual section and select to manually link a unit or an award. I'm in an award, so I need to link it to a unit.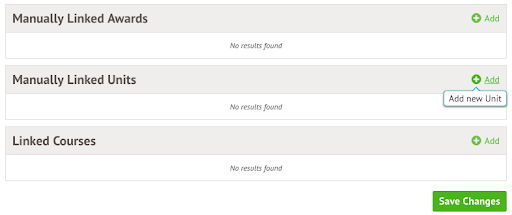 Search for the learning unit's code, select it from the drop-down menu, then click Add Offering.The award and learning unit will then be linked.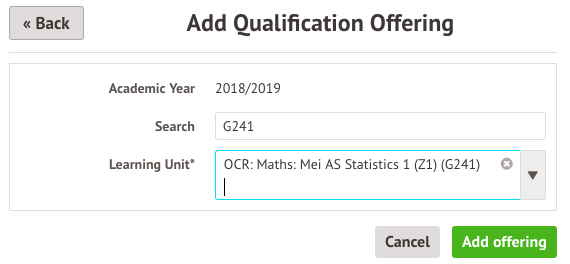 FAQ
Why can't I find the qualification or unit to add?
When you add the qualification or unit to your Qualification Offering, make sure you search in the box for the QAN code or the name. You won't be able to search using the short code.
Why isn't my qualification listed in Arbor?
It's very rare that we don't have a qualification listed in Arbor. If the qualification isn't in the Ofqual database, then it's likely non-accredited qualification.
Why are the awards/units greyed out when you go into qualification offering?
This happens when there are students provisionally entered into the award or unit. To unsubscribe to the award/unit, please ensure that all students have been withdrawn from the award/unit.
Why would I link a course to the Qualification Offering?
Linking courses allows you to create printable entry sheets to enable teachers / Heads of Departments to check that entries are correct.
How do Key Skills qualifications work in Arbor?
As long as the qualification is listed in the Ofqual database, we can support it. Key Skills qualifications can often be re-sat multiple times throughout the year. We support this as long as the exam board's basedata allows for this.
What's next?
Once you have checked your centre setup and added the exams you'll be offering to your Qualification Offering (you can see how to do this here), the next step is to make sure you have your candidates set up: Setting up your exam candidates ready for entries