If your school offers Pearson BTEC qualifications, these will need to be set up on your Arbor site's Qualification Offerings page in order to make EDI entries and assign candidates to their room and seat. The process of setting up BTEC qualifications on Arbor is slightly different to most other qualifications - this article aims to explain the steps you'll want to take in order to have your BTECs set up correctly.
What will I need?
Pearson's Entry code information - available online or as a PDF download.
Access to Pearson Direct if basedata is required.
The entry codes for any BTEC Units, and course/scheme codes for your centre's version of each BTEC Award that is offered.
BTEC Basedata
Arbor automatically imports all publicly available basedata - this includes BTEC Unit basedata for series such as January or June (available via the Pearson website). This basedata is imported overnight on the day it is released - so should appear for use in Arbor the day afterwards.
At the present time, we are unable to automatically obtain/import BTEC Award registration/result basedata for the September (9B) and July (7B) series - you will need to obtain this basedata from Pearson Direct, and email it in to myteam@arbor-education.com - this will then be imported by our Second Line team. Please see this article for further details around 7B files.
When requesting basedata from Pearson, please ensure the correct year's basedata is provided - this will be indicated by the filename you receive (e.g. a 7B22 basedata provides the July 2022 series, 9B21 provides the September 2021 series).
Adding BTEC Awards to the Qualification Offering
Once you've provided us with your BTEC basedata and it has been imported into Arbor, we'd recommend you then add your BTEC Award(s) to the Qualification Offering page as the first step of the setup process. When adding BTEC Awards, it is often more efficient to use your school's course code for the qualification, rather than the QAN - this is because the former should return the exact result you require, whereas the latter with return a list of all versions of the Award that we have on record. You can see the difference this makes in the following two screenshots: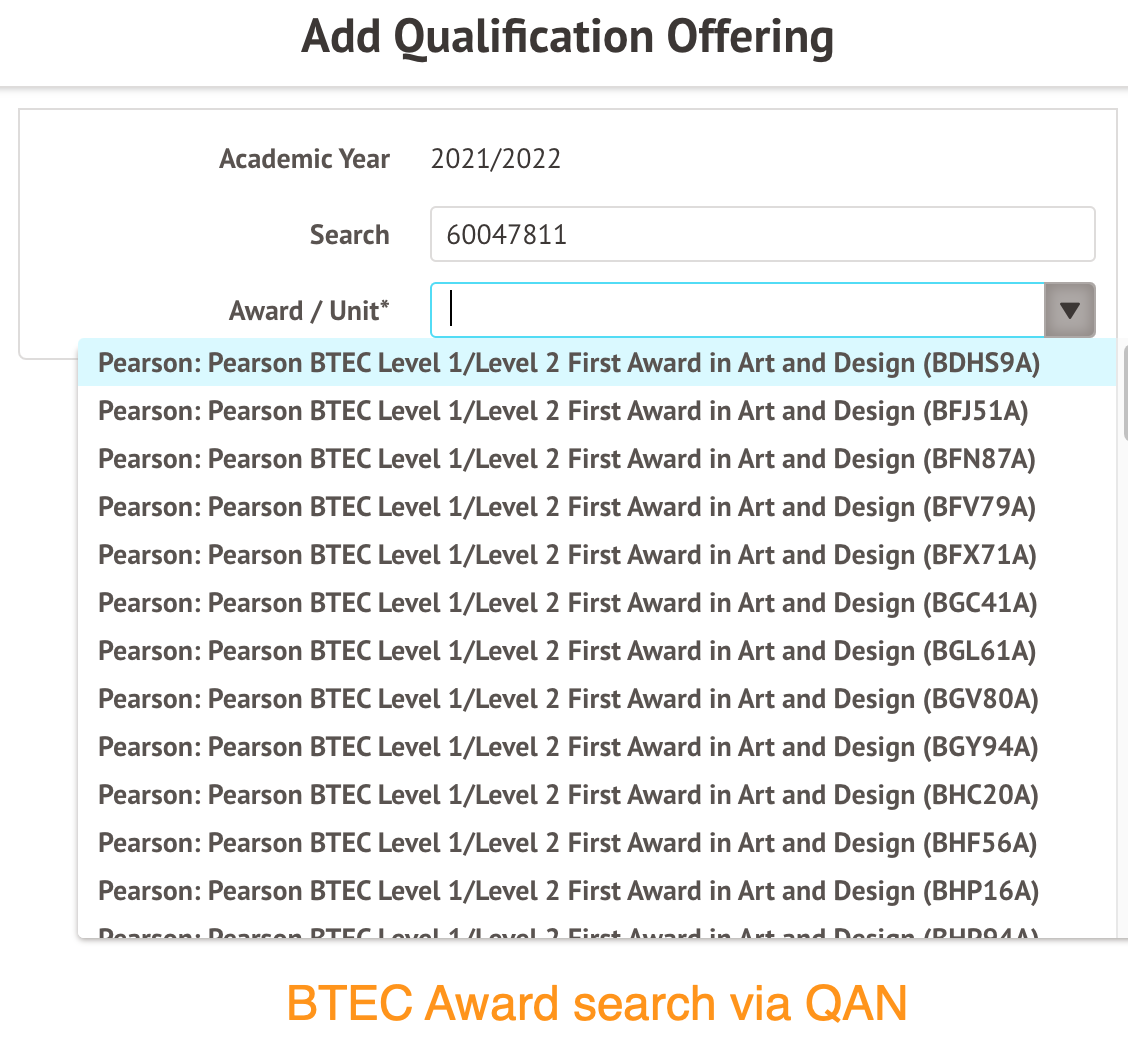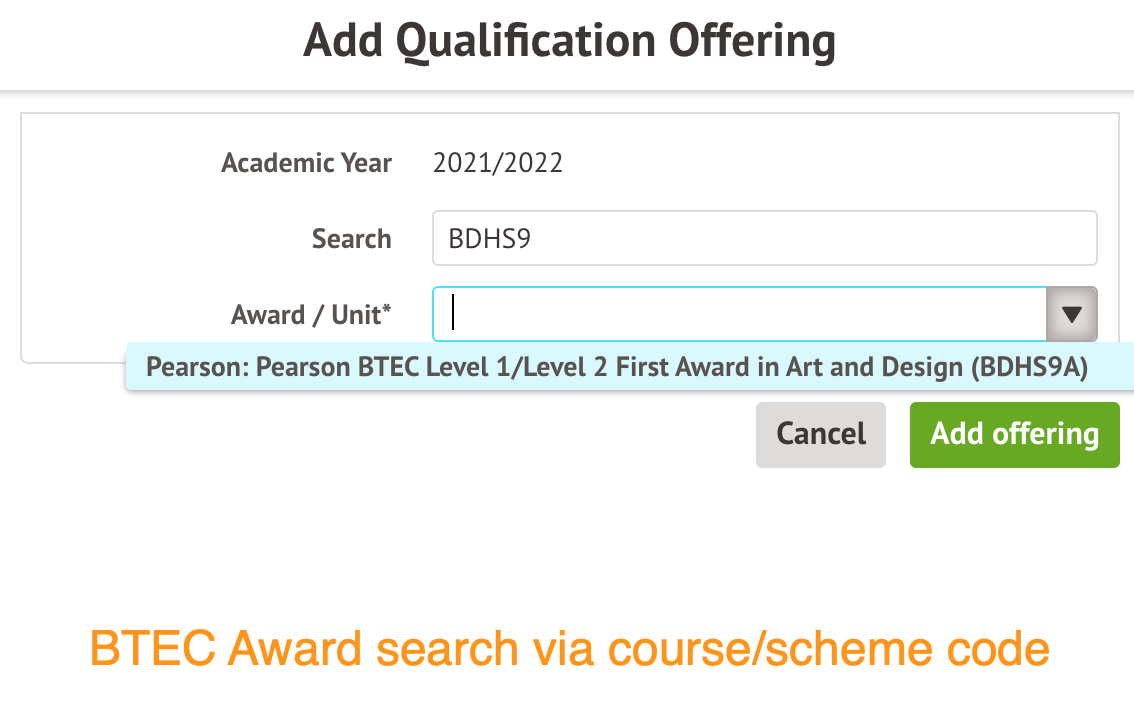 Adding BTEC Units to the Qualification Offering
When adding BTEC Units to your Qualification Offering page, we recommend using the Entry Code - this should produce a single result for you. Please note that it is only possible to add externally assessed BTEC Units to Arbor (i.e. units that are published in Pearson's 'Entries' guidance)- internally assessed Units/components are not available.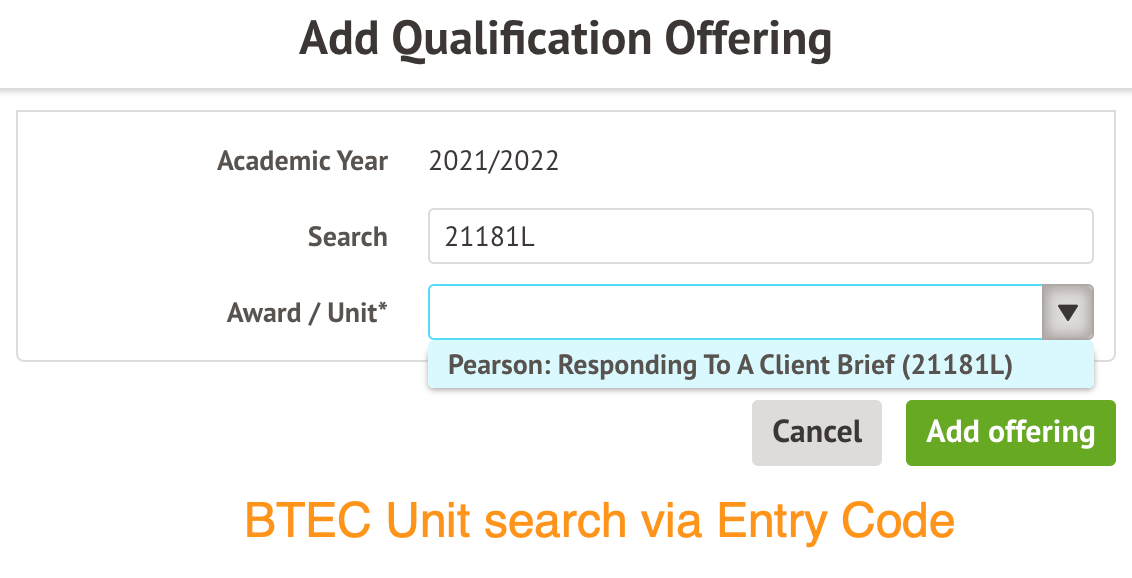 Linking BTEC Awards and Units
Once you have added your BTEC Awards and Units to the Qualification Offering, you can link them together in order to make for easier administration, such as making entries and withdrawals.
To link an Award and Unit, follow these steps:
Head to the unit's page via your Qualification Offering.

Once the Qualification Offering for (Unit's name) page appears, select the Qualification Offering tab.

Scroll down to the 'Manually Linked Awards' section, and click 'Add'. On the slideover that appears, enter your Award's course/scheme code - the appropriate option should appear in the drop-down menu for your to select. Once the option is selected, click 'Add offering'.

Once this has been done, you'll seen the Award appear under the Manually Linked Awards section. You can also then find the Unit on the Entries by Student Group page if you've selected your course/scheme code as the 'Scheme (EDI Only)' option.