Once you have checked your centre setup and added the exams you'll be offering to your Qualification Offering (you can see how to do this here), the next step is to make sure you have your candidates set up.
Permissions
You'll need the Qualifications: Administer All Students permission to set up candidates. If you don't have permissions, ask your administration team to give you permission using these instructions.
Adding candidates
Candidates are added via Students > Examinations > Candidates > Internal Candidates.
You can go through and assign UCIs and Candidate numbers to each candidate, if needed, by clicking the empty field.

You can also use the bulk assign functionality by ticking the boxes next to the candidates and then clicking the blue pencil to display a list of potential actions.

Click +Add to add candidates in a variety of ways (by name/year group/course).

You can add your transferred candidates in this Candidates section.
Transferred students are students who need to sit an exam at a different school to the one that entered them – because they've moved house, been in the hospital, or other exceptional circumstances. For more guidance from AQA, click here.
There can be two types of Transferred candidates, Internal or External:
Transferred Internal candidates: these are normally Dual Subsidiary students, who are entered into exams by your centre but must sit their exams at another centre. Results included for subject analysis purposes. These students will be shown on the Internal Candidates page.
Transferred External candidates: candidates that a centre accepts for exam sitting purposes, but whose entries are made by another centre. No results are received so no analysis is possible. These students will be shown on the External/Previous Candidates page and can also be added here.
To make entries for external candidates on Arbor, you must first create a basic student profile for them on Arbor. They should not be enrolled at your school. Once you have created the external candidate, follow the same process as for internal candidates to register them as external candidates by assigning UCIs and candidate numbers.
If you can't find the external candidate in the list on this page make sure you add them by clicking the +Add button on the right and choosing their profile in the drop down that appears.
They will then appear in the list and you can add their UCI and candidate number.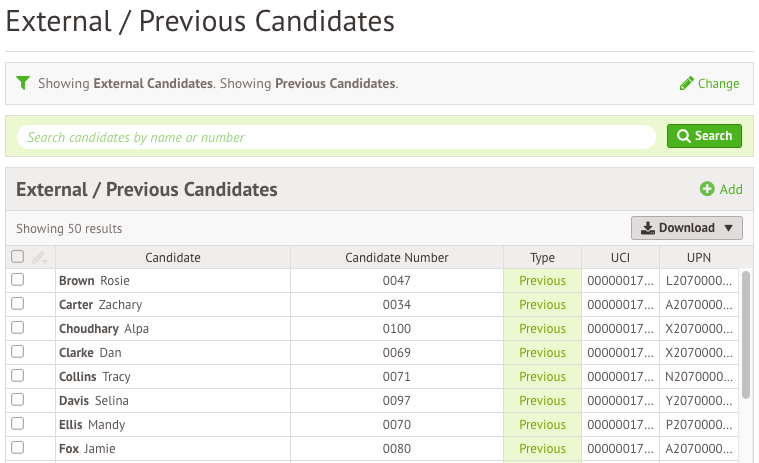 Printing candidate labels
Candidate labels can also be printed from the Candidates pages once candidates have been added. Just tick the boxes next to the candidate names and click the blue pencil icon to select Print Candidate Labels. You can then choose what data to include on the label.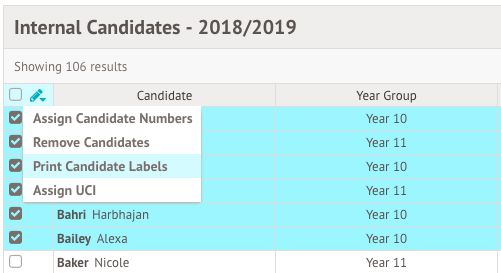 Candidate UCI and Candidate numbers (UCN)
UCI
If the students do not already have a UCI, you can add them from Students > Examinations > Candidates > Internal Candidates. Just click on the UCI field to update the information in the slide over. You can see more details on UCIs here: Adding and editing exam candidate Unique Candidate Identifiers (UCIs)
Candidate numbers
You can add candidate numbers from Students > Examinations > Candidates > Internal Candidates. Just click on the field to update the information in the slide over.

You can also tick the students to automatically generate candidate numbers for, then click the blue pencil icon and select Assign Candidate Numbers.
Top Tip: Group all your candidates missing a number by clicking the column header.

You can't delete a candidate number, but you can click the field to edit it to a new value.

What next? Make entries
Once you have your candidates set up, you can enter them into exams: Entering candidates in Arbor