We have a specialised area of Arbor to manage payments and purchases for your school shop, including tickets, tuck shop purchases or uniforms. With this feature you can:
Manage different available items with different prices.

Allow parents to select items to purchase through the Parent Portal and Arbor App.

Reconcile payments made, items ordered and tick them off once issued.
School Shop is only available in our Payments Plus package. If you'd like to upgrade, or for more information on Payments Plus, please contact your Account Manager at accountmanagers@arbor-education.com
Top Tip: Make sure you have set up Card Payments on your site to allow payments via card.
Permissions
Finance: Administer - Set up and manage your School Shop
Finance: View - View products and purchases, but not edit any information
If you don't have the permission, you'll need to ask your admin team to give you permission using these instructions.
How long will it take?
Switch off your previous setup - 2 minutes

Set up your account - 5 minutes

Add school shop products and prices - 10 minutes per product
Switching over from Clubs or Customer Account Types
To switch over, first decide when to switch. We recommend switching over during a break in the school year such as a half term or holiday - you might want to send your parents an email or in-app message to let them know about the change on Arbor.
We currently use Customer Account Types
If you've been using a Customer Account Type top-up account to manage payments and invoices for items, go to School > Payments > Setup > Customer Account Types.
Select the account and click Edit in the slide over.

Change this account so parents can no longer see it in the parent portal and can no longer be topped up via card, so it can no longer be topped up.
We currently use Clubs
If you've set up in Clubs, go to School > Activities > Clubs and select the club.
Click into the membership periods and prices and click Edit in the slide over.

Delete the information in the Guardian Portal Signup section, then click Save Changes.
This means it will no longer show on Parent Portal or the Arbor App so parents cannot make new purchases. Any parents who have already made purchases will still be able to see the purchase.

Setting up your School Shop
Follow the instructions below to set up an item in your school shop. You can have multiple items linked to the same School Shop account, or create multiple accounts for pay out to different providers.
Step 1 - Create the Customer Account Type
Follow these instructions to create your new Customer Account Type: Setting up a new payment Customer Account Type
Make sure you select the Category of School Shop. This means that parents can't top up the account, but they will be able to purchase the items.
Selecting to Show in parent portal will display the account so parents can purchase items.
Step 2 - Add School Shop products
Go to School > Payments > School Shop and you'll see your currently active (purchasable) and inactive items for purchase. Click +Add to add a new item.
Add the details into the slide over:
Choose the item to be purchased, and add an extra description if required (this will also show for parents).
Select which students are able to purchase this item - for a custom set of students you can use a Custom Group.
Add a maximum number of the items that are available, or leave this blank to have unlimited. Once all items have been sold, they can no longer be purchased.
Add a maximum number of the items available per student, or leave this blank to have unlimited. Once all items have been sold, they can no longer be purchased via the Parent Portal and Arbor App, but you can purchase on their behalf manually.
Use the Parent Portal Availability section to choose when this item is purchasable through the Parent Portal and Arbor App. Leave these times and dates blank to manage purchases manually, and not show these on the Parent Portal and Arbor App.
You'll then be taken to the product overview page, where you can click any thing with an arrow > to amend the details.

Click into the Product Picture field to add an image. This will show in the parent Portal and Arbor App so parents can see what they are purchasing.
The Accounting Details section allows you to link each School Shop product to a Customer Account Type, to allow products to be grouped together for reporting and reconciliation purposes.
You'll need to select an account type to use, which is why you need to set this up in step 1.

Step 3 - Add item prices
The Product Prices section allows you to set different prices for different students or groups of students. Click +Add to add a new price.

The price for students will be the lowest price set for them. So in the example below, a Pupil Premium student would pay nothing.

Viewing and logging purchases
You can see how to log purchases manually here: Manually purchasing School Shop items and marking items as issued
You can see how guardians can purchase items here: Purchasing School Shop items on the Parent Portal or Arbor App

Reconciling purchases
Any School Shop purchases will be included in Arbor's built-in reconciliation reports. To view these, go to School > Payments > Reconciliation.
The Money Received report will include all card transactions made for School Shop purchases. Click a row in the table to view more details about the Incoming Card Transaction.
The Consolidated Report will list all transactions, including invoices and credit notes across all payment accounts. School Shop purchases will appear here alongside all other payments made through Arbor.
The Accounts > Invoices report will show all invoices generated. If you have grouped your School Shop products into different Customer Account Types, you will be able to select these account types separately to view all related product payments grouped together.

FAQ
Can applicants purchase School Shop items?
To enable purchasing for applicants, you'll need to add the applicants to a custom group following these instructions: Custom group for applicants and admissions
You'll then need to add eligibility and a price category for that custom group for the School Shop item.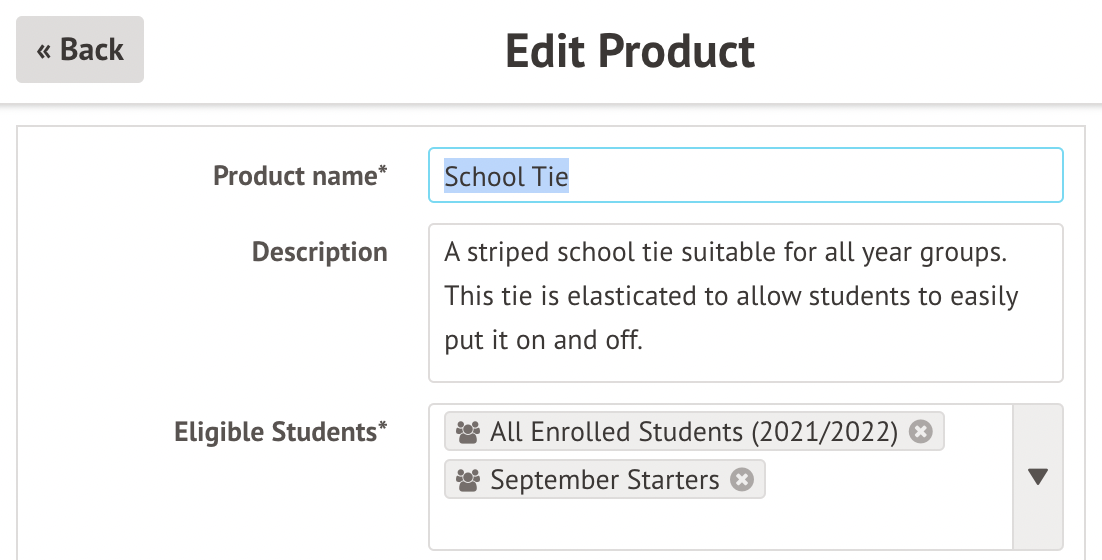 What happens if you edit the item name after purchases?
For example, if you change the item name from 'Bag' to 'Book Bag'. The old name will still show on invoices, such as on the student's profile in Payments > School Shop > Invoices.

Can we edit the prices once an item has been purchased?
Yes, changing the price will not affect those students that have already made purchases. A new price will be applied only for future purchases for this product.
Can we delete an available item?
Click into the item name, and click the Delete Product button. You can only delete an item if no purchases have been made.

What happens if you try to purchase more items than there are available?
School staff or parents can only put through a purchase if the number of items they are trying to purchase is the same as or less than the number of items left. For example, if there are 2 ties left, a parent trying to purchase 3 they'll get a note, and must change it to this number or below e.g. "The maximum value for this field is 2".
If no items are available, the +Add button will disappear, and parents won't be able to pay through the Parent Portal or Arbor App.
What is the minimum price for an item?
The minimum price for items in the School Shop is £1.
Can we log purchases of items in bulk?
You can only log purchases one student at a time.
Can we log purchases via cash, cheque or bank transfer?
No, payments can only be made via card. Parents can pay via the Parent Portal or Arbor App, or your school staff can make the card payment on behalf of the parent.
Can we have free items?
Yes, you'll need to set prices for all students as £0. You'll need to add the price of £0, or the item won't show on the Parent Portal or Arbor App to be purchased.
What happens to the items next academic year?
The products will remain active, and available to the students who were in the student groups selected last year. To make the items available to new students, or different student groups, simply select your new student groups or year, then add prices for them.