In Arbor, you can view and download a list of your school's leavers (such as year 11s or year 6s), or send communications such as email or SMS.
Looking for a more detailed report with dates of birth? Try our report: Report of leavers who left your school last year
Permissions
You'll need the Student Profile: Enrolment: View All Students to view the leavers page. If you don't have the permission, you'll need to ask your admin team to give you permission using these instructions.
On the Students > All Students > Browse Students > Leavers page, you can see students that have left your school since the beginning of the current academic year. You'll see their year group, leaving date, the reason for leaving and destination.
Please note that for 'Destination' to be filled in, you'll need to have either set their destination school when they were off-rolled or added it to their profile in the 'Education & Employment History' section, with the expected started date at the new school included.
Clicking the filters at the top of the screen allows you to select relevant dates and specific un-enrolment reasons to filter for.
You can bulk select multiple students to perform a variety of actions such as sending communications to parents.
You can also click a student's name to be taken to their student profile.
Sending communications
Students who were unenrolled this academic year
To send a communication to students who were unenrolled this academic year or their guardians, tick the students and click the Bulk action button. Select the communication type.
You'll then be able to write the message and send it out.

Students who were unenrolled last academic year
If you want to send a communication to students who were unenrolled during a previous academic year or their guardians, you can't use this page. If you select students who were unenrolled last year, the To field will be blank.
Want us to improve this in future? Please submit feedback here: Communications improvements

To email this group, you'll need to set up a custom group of the people you want to send the message to. You can see how to do this here: How to create and use Custom Groups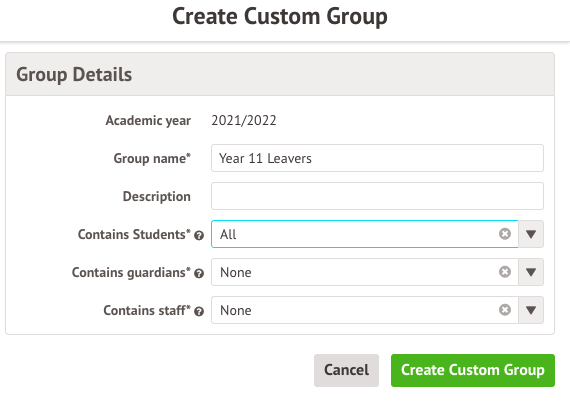 You can then use the normal Mail Merge area to send them an email, letter, SMS or in-app message. Just select the custom group in the To box.